Today, over 40% of marketers are using shoppable videos to offer convenience to their consumers…
…and that number will increase as more brands start leveraging shoppable content.
Shoppable videos feature have embedded links that enable viewers to purchase products through a single click by simply clicking on an area of the video.
They replicate the typical ecommerce website experience, but make it more convenient for customers.
Not only this, shoppable videos support the entire customer journey and enable brands to engage with their audience more effectively.
6 Tips to Create Interactive Shoppable Videos for Your Brand
Shoppable videos are a great way to simplifying the buying funnel for customers as it reduces the number of steps a consumer needs to take to buy a product.
With that said, it also offers uncapped ROIs, greater conversions, and valuable performance insights you can't obtain otherwise.
To help you get started, here are a few results-driven tips and best practices that ensure maximum customer engagement.
1. Let your viewers know that they're watching an interactive video
Ads appearing between video streams are a common thing for the users. However, to make your shoppable ad effective, you need to let your audience know that they're watching an interactive video.
It sounds simple, but with how new interactive content is, many viewers aren't going to initially notice that your video is interactive. By adding a clear indicator, you can pique interest and improve engagement simultaneously.
You can incorporate a slate as a clear CTA, which clearly states that the video is interactive.
Here's an example (notice the box at the top left):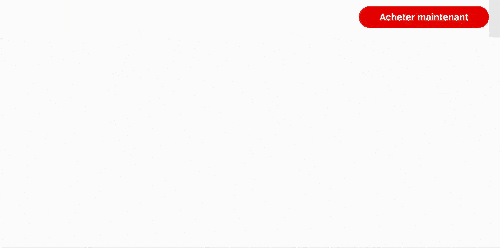 Also, you can add a voice-over or video narration in your video.
Here are a few methods you can use:
On-screen text: "This is an interactive video."
Voiceover/Narration: Basic guidance telling them how to shop from the ad.
Presenter/Artist: "If you want to find out more about this product – click here/click now."
2. Include a shoppable link near the beginning
The average attention span of an internet user is only 8 seconds.
Therefore, if you want your viewers to interact with your video, you need to include at least the first shoppable link in the first few shots of the video.
Here's an example. Notice how the first interactive elements show up within just the first 2 seconds of the video:
You don't want to force anything just for the sake of this advice. However, in general, the sooner you can include a shoppable link or element, the better.
3. Let the actionable shots linger a little longer
When you inform your viewers about the interactive video feature, they might take some time to understand and absorb the information.
They might also take some time to decide if they should or should not click on a particular element.
For that reason, it would help if you give your viewers some time to understand what you want them to interact with by leaving elements on the video long enough for the viewer to both process the information and click on it with ease.
About three to five seconds or so is enough for most elements, but keeping them on longer if you can manage it (even up to 10 seconds or so) can be better.
Here's an example from Ted Baker where items last just 3-5 seconds: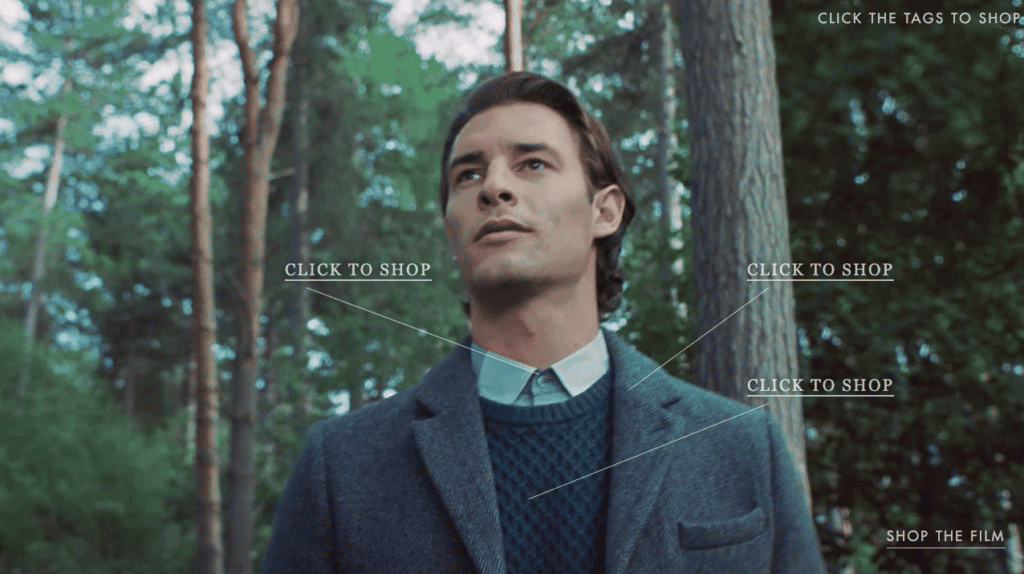 In the video, some of the elements go by a little quick, which can be annoying. However, for the most part, the clickable elements are clear, easy to click on, and last a good amount of time.
However, again, watch over your own video after you're finished adding the interactive elements in to make sure the duration that each interactive element stays on the page feels comfortable to you.
4. Focus on a few items only
Generally, your shoppable video is going to be an ad. If that's the case, you're likely interrupting someone while they're watching an entertaining video.
It's not that they don't like you, it's just… ads can be annoying (thank you for the 10 ads you send me every single day, Grammarly).
For that reason, it's is best to keep your content both concise and entertaining.
To fit all your content in a considerably short time frame, focus only on a few items. Overloading viewers with too many clickable elements is likely to overwhelm them.
How many interactive elements? There's no science to it, it could be 3 or 15 depending on the circumstances, product, and content.
However, if you use your best judgment while rewatching your native video or ad, you should be able to sense if you're hitting viewers with too much.
Fortunately, the good thing is that if you use an interactive video platform like Spott, you can always add or remove clickable elements within seconds, so you can get to that perfect balance: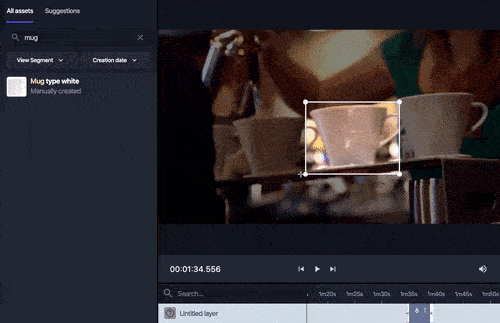 5. Focus on creating great, interesting content
If you want to hook viewers to your content, you need to offer enticing content that compels them to watch the ad and interact with it.
It's easy to place so much focus on making the content shoppable and enhancing conversions that it's not even entertaining to watch.
If anything, you should work to make your interactive content even more captivating, often through the use of mild storytelling.
You need to create something extraordinary if you want to peg viewers attention. That's not always the case and it doesn't need to be, but it should be the goal whenever possible.
6. Incorporate your brand in the entire ad
The most important part of an interactive video is to incorporate your brand in every shot. Every ad should reflect your brand in every way possible.
This helps the viewers recognize and memorize your brand. Even if the viewers don't click through, they might pay a visit later on.
It is most likely to happen if they liked the product displayed through the ad or something about the ad that remained in their mind. Incorporating the brand will help them get to you later when they are ready to buy from you.
You can use your brand logo on the corner of the frames throughout the video or customize the CTA to keep your brand included in every possible manner.
Craft high-impact shoppable video
Modern consumers have become prone to ultra-convenience.
For that reason, consumers prefer easy and seamless online shopping experiences.
The simpler and more seamless you can make that shopping experience, the better. And that's exactly what interactive content like shoppable video allows you to do.
If you're looking to take your e-commerce or online lead generation to a new level, shoppable video is a brand new frontier, one that brands can't ignore if they want to maximize conversion rates moving into the future.
Ready to start creating shoppable videos and engage your audience to the fullest? Try Spott today!