The standard for what consumers expect from brands is changing at a blistering pace.
Where once a stellar customer experience meant prompt replies, discounts, and a quality product, the standard now also includes:
Ongoing brand communication
Regular product updates
And helpful content
Notice the pattern: the customer journey is no longer a one-and-done experience.
Now, the expectation from customers is that they're choosing you for the long haul.
And that's really the feeling, as more consumers and B2B customers choose for themselves who they do business with rather than be sold to, with digital content putting them in the driver seat of the customer journey in many ways.
If you want to engage customers and keep them around long-term, whether you:
Run a subscription model
Drive repeat sales, or
Simply make much of your sales via referrals and word-of-mouth from longtime customers
You need to provide value to your customers far beyond the moment of purchase.
That's where great customer engagement marketing comes in.
What is customer engagement marketing?
Customer engagement marketing sounds snazzy, but it just refers to:
Any marketing effort whose purpose is to (at least partly) increase the engagement level of your customers with your brand.
So then, why is customer engagement important?
Why is engagement marketing important?
This is where content and social media come in.
Both have made it easier than ever to engage with customers.
Plus, to do it in a hyper-personalized way that makes those engagement efforts tenfold more effective.
Content gives your customers value and something to talk about, while the social channels that content lives on like Facebook, Instagram, and YouTube allow you to have an open conversation with your audience.
Not only are you able to meet them where they already are (are they a regular Insta user? They'll find your content there. YouTube junky? Check) but you can have a conversation with them via replies/DMs/comments.
Even if they never reply, they gain value from the content and communicate in other ways via likes, which makes them feel engaged.
Everything, from the entertainment they get from your content to the value they receive, creates a positive emotional response in connection with, and perception of, your brand that works to strengthen the bond between brand and customer.
Fortunately, the social part isn't something you need to handle. The platforms are already there for you to take advantage of.
The only thing you need to handle is the content creation.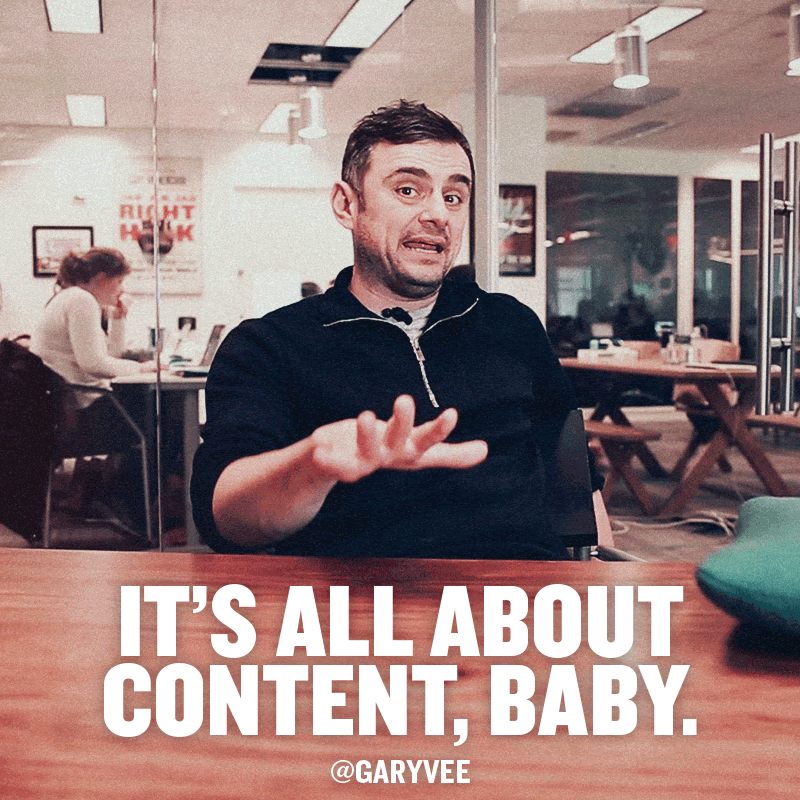 So, let's go over some tips for improving your engagement marketing through content.
3 Tips for Improving Your Engagement Marketing
Below, we'll cover some tips for improving your engagement marketing.
After that, we'll look at some real examples of customer engagement marketing in action to give you a better idea of what it looks like (and give you ideas about what you can do).
Here are some tips for improving your customer engagement marketing:
1. Update your existing content marketing strategy for engagement
Whatever you do, don't take this to mean that you need an entirely new or different marketing strategy for engagement.
Chances are, you already have a full-blown content marketing strategy in place.
Instead of crafting an entirely new strategy, the sensible thing to do is to review your current strategy and think about how you can improve engagement with it.
Later, you might decide to make certain changes with future iterations of your CM strategy.
But, for now, use what you have and experiment with your existing content to see how you can improve your overall brand engagement across all platforms.
2. Lean in to your brand identity
Content is about more than just entertainment and even value. It's also about tribe.
We self-identify based on certain values, ideas, and interests, and a brand can represent and embody one or more of those things.
Often, brands that understand and utilize this are those with the strongest supporters and most loyal customer base.
So, what does this have to do with improving customer engagement?
While it can seem a little scary at first, if you're a successful brand already, you probably know by now that niching down doesn't hurt your business. In fact, it helps you convert better.
In the same way, leaning in to your brand identity through your marketing can attract and create fervent customers and brand flag bearers.
For example, if you support veterans with every purchase through your business, run a series of ads making veterans the topic of the ad.
Like this example from Nine Line Apparel: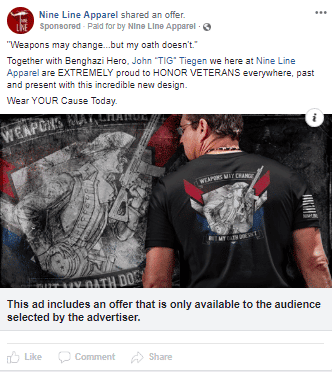 Strong message, right?
But it speaks directly to their target audience. Instead of being afraid of making too strong a statement, they know their brand identity and their target customer and speak directly to them.
3. Use personalization to speak directly to your customers
Depending on your product or service, personalization can be taken to varying levels.
However, across the board, all brands can take advantage of the power of personalization and the power it has to enhance engagement.
This can come in a few different forms.
One of the best-known examples is Amazon's recommendations section, which uses an algorithm to recommend products it thinks you'll like based on your purchase history:


If you can't yet invest in this kind of sophisticated recommendation program, or it's just not a fit for your business model, there are other options too.
Email marketing personalization has become easier than ever, with most platforms offering features that allow you to fully personalize what emails a subscriber receives.
For example, depending on what product your customer purchases, you can deliver to them a custom sequence designed to show them how to make the most of it, such as creative ways they can use the product that they might not have thought of.
Of, better yet, you can use examples from your social channels to show what previous customers have done, then use it as a plug to get them to join a Facebook page or group and become a more integrated part of your community.
3 Awesome Customer Engagement Marketing Examples
Now that we've covered some overarching tips for improving your customer engagement marketing, let's go over some real-life examples.
The examples, below, all from big brands, should at least get your creative juices flowing and show you what some of your options are.
There is no guide to customer engagement marketing.
All you can do is take stock of your assets and think of unique ways you can use those tools to better engage with your customers.
The digital world has opened up unlimited pathways to engage with your customers, so the only limit is your creativity.
Here are some examples:
1. Starbucks Reserve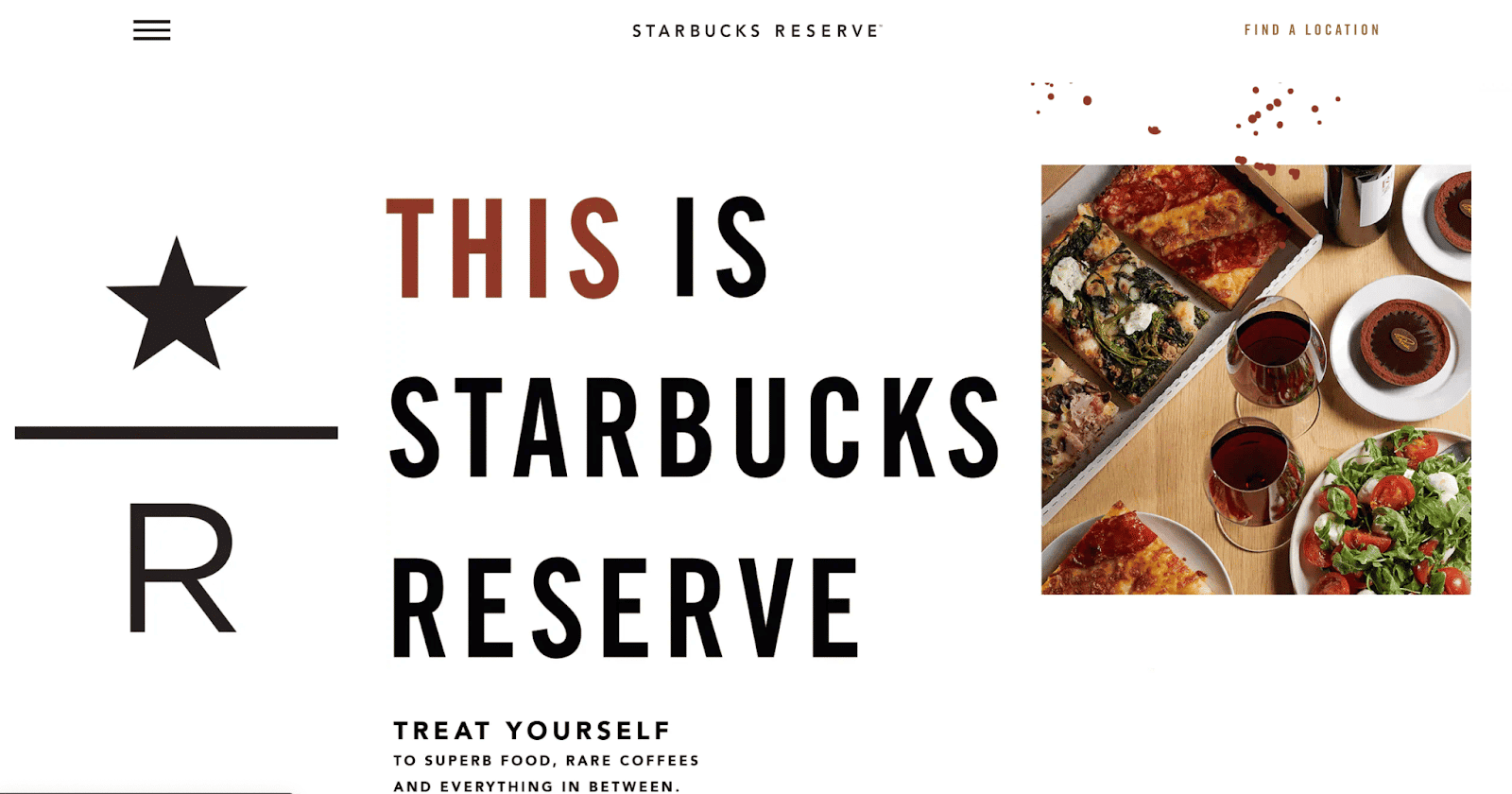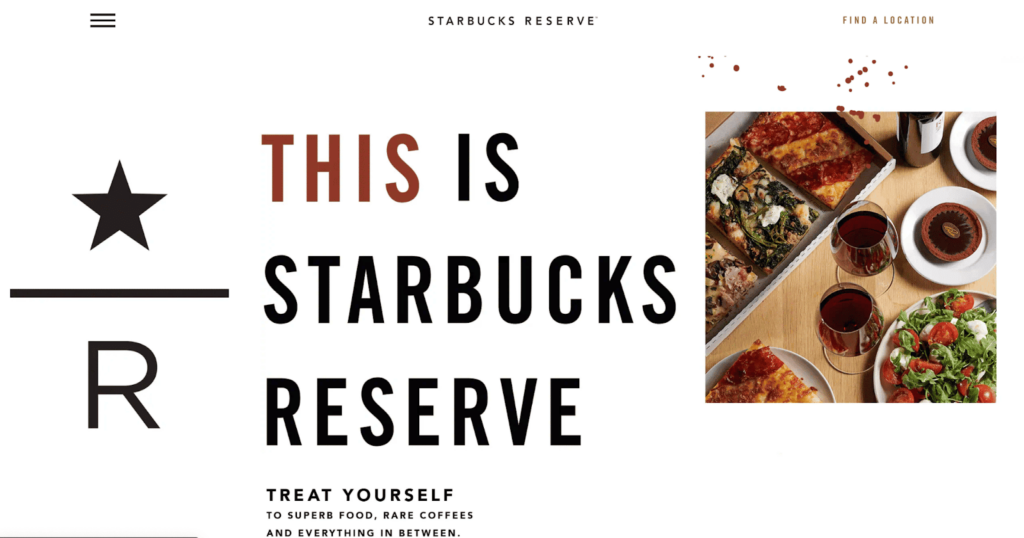 You could argue that Starbucks doesn't need to do anything to improve their customer engagement.
After all, Starbucks drinkers tend to be pretty hooked.
Despite this, the brand continues to think up new and innovative ways to connect with their customers.
One recent iteration of this is Starbucks Reserve.
Starbucks Reserve is a special program that allows diehard Starbucks fans to get even more from the brand.
Members can meet with baristas and coffee specialists to learn more about their favorite brews, watch them craft those and other rare drinks right in front of them, and even try certain rare drinks you otherwise wouldn't have access to.
It rings similar to Disney's own unique "secret" fan club, D23, which offers members exclusive deals and access to special shows and events.
Membership programs like this work wonders for engagement, as they give more serious fans the chance to satiate their appetite more and engage with the brand on a higher level.
Plus, these clubs and programs can often double as great opportunities for gathering feedback and testing new features, products, and ideas in general.
2. Fender Play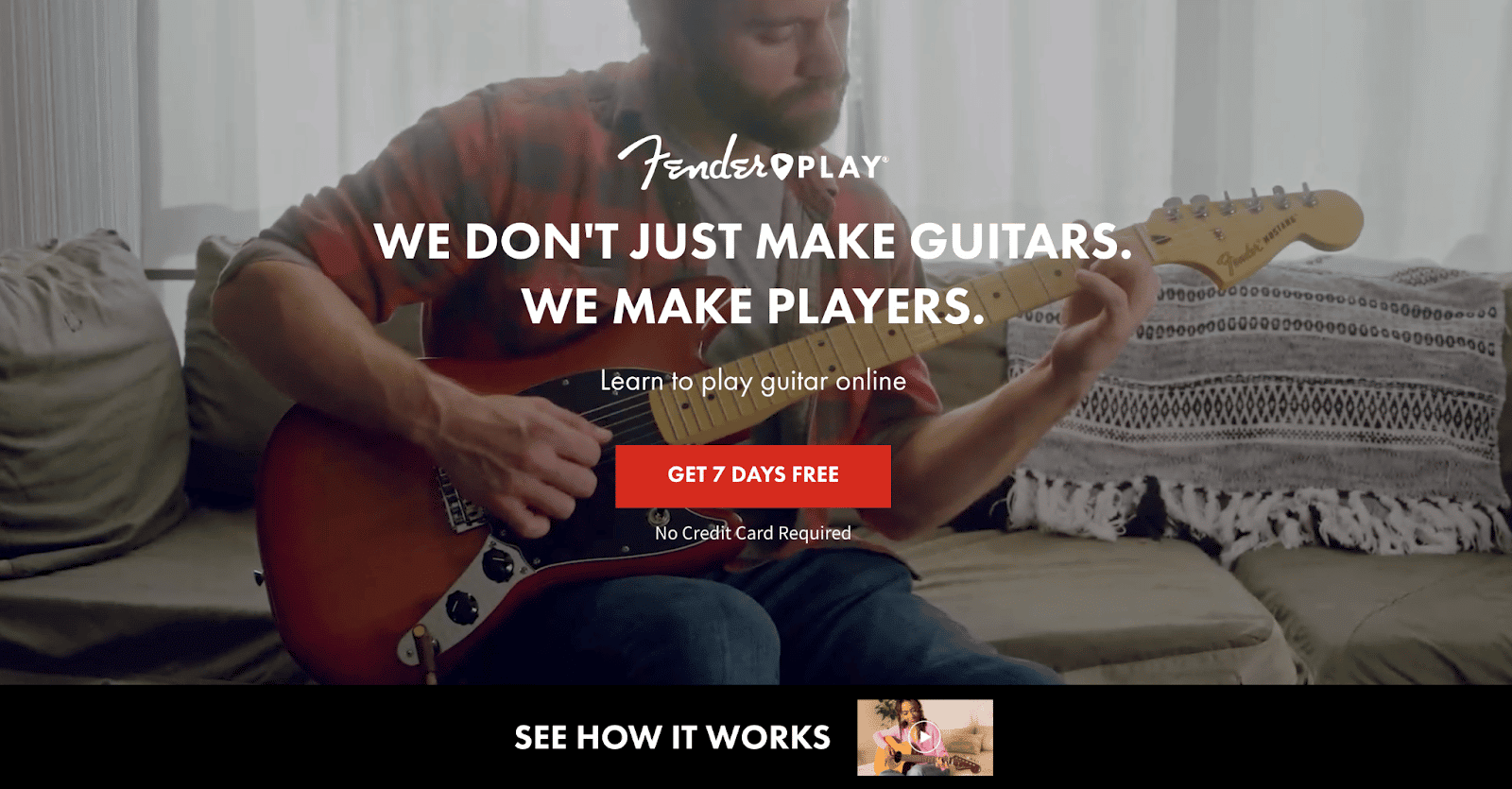 Fender Play is the perfect example of a brilliant solution to a fundamental business model-based problem.
According to the world-renowned guitar maker Fender, after the first six months of learning guitar, new players won't ever pick up a guitar again.
That poses bad for a brand that wants to sell more guitars.
Their solution?
Fender Play, an app that offers subscription-based online guitar lessons that users can take anywhere in the world from experts.
With Fender Play, Fender was able to extend the customer journey long past the point of purchase and go with them on the journey to learning their new instrument, supporting them in their growth along the way.
And, as a result, help new players stick with it long-term, leading to more long-term and even lifelong Fender customers.
Talk about a great customer engagement strategy.
Fender Play's tag line, "We don't just make guitars. We make players" perfectly encapsulates the ideology.
Fender expanded its customer vision from the point of sale to that new player's journey to learning how to use and play their instrument.
In the same way, you can think about how you can follow your customer beyond the point of sale and continue to help them on their journey as it relates to your product or service.
3. Netflix Custom Recommendations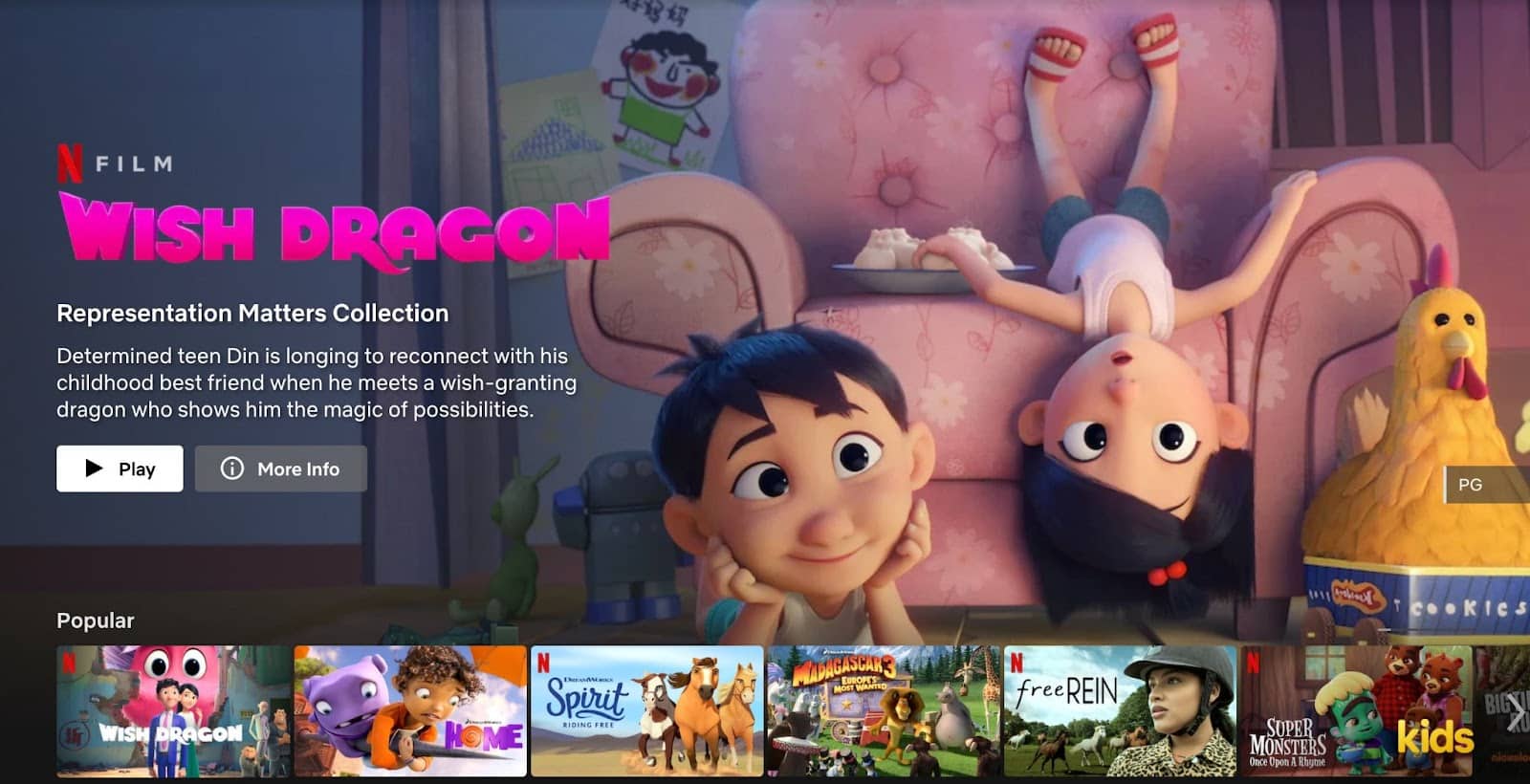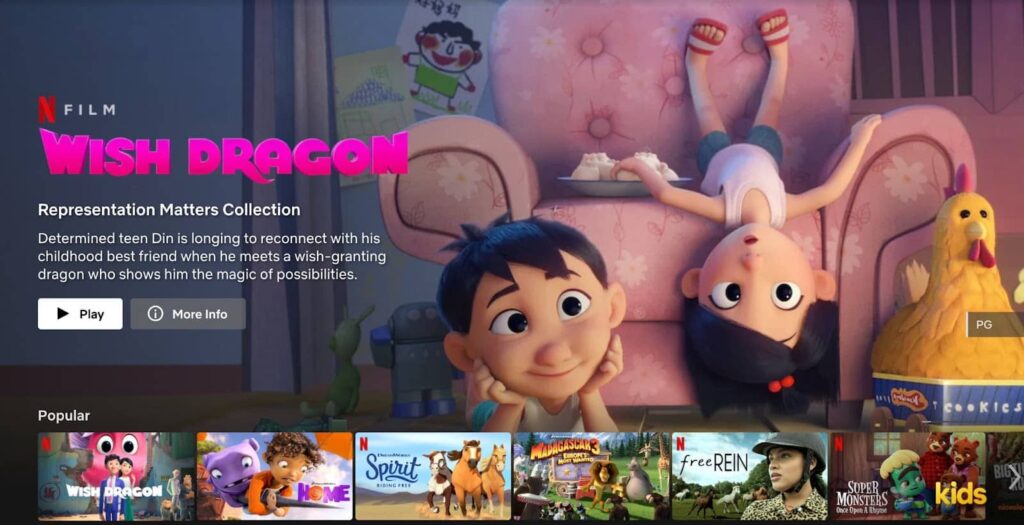 Unless you've been living in a bunker for the past decade, you know how effective Netflix is at recommending new content to you.
Using previous watch data in combination with an aggregate of customer data, the app uses an algorithm to recommend other movies and shows it thinks you'd like.
What you may not have realized is just how brilliant this is at keeping you engaged with the app.
Imagine this:
It's thirty years in the past and T.V. is a collection of channels with a pre-determined schedule.
Suddenly, someone tells you that, if you watch their channel, you choose what you want to watch, when you want to watch it.
What's more, the channel will automatically recommend what shows it thinks you'd like based on what you've watched before.
Which channel are you most likely to watch:
The one that spits a bunch of content at you, or
The one that goes the extra mile to customize your experience with recommendations?
Nowadays, with everything from your YouTube to your Facebook feed working similarly, it can be easy to forget that Netflix is a pioneer of this kind of AI-enhanced feature.
Netflix has taken this even further by creating their own exclusive content based on what they've seen their users watch most.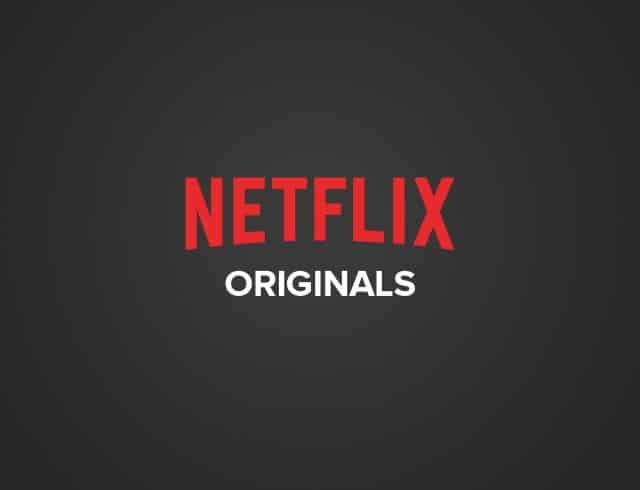 Now, if you're thinking, "I can't do anything like this, but thanks," hold on.
You might not be able to create a custom algorithm for your users depending on your resources, but you can create customized content in much the same way.
Plus, remember that these examples aren't meant to be taken directly in every case.
Sure, creating a special customer loyalty club or an app that helps your customers continue to engage with your product long after they've purchased are great ideas.
However, what works for you might not necessarily be either of those things.
Use this and the other examples primarily as inspiration for your own creative customer engagement ideas.
Engagement is the result of long-term brand vision
Throughout this guide, we've covered everything from the basics of customer engagement marketing to tips and real-life examples.
If you take anything away from this guide, it should be the above: that engagement results when you execute on your long-term brand vision.
With a long-term vision, customers are no longer transactions, but partners.
You understand that, long-term, it's the referrals and word-of-mouth that spawn from your customers having a stellar experience with your brand that makes all the difference.
Customer engagement is about a perspective more than anything else, something you should keep at the forefront when you craft your next major digital marketing plan if you want long-term success.
Ready to start engaging your audiences? Start with Spott and build interactions today!