It's no secret that video marketing is key to any good digital marketing strategy in 2021.
What is less well known, however, is how to do video right.
Brands are becoming more video-savvy by the day, so if you want to keep up, you need to understand the ins-and-outs of what works, when, and why.
And test, test, test.
Only you can test to find out what resonates with your audience. But we can help you better understand how to capitalize on the power of video and maximize your ad and native marketing campaigns.
And that's the purpose of this guide.
Below, we'll cover:
What is video marketing?
The benefits of video marketing
How to produce your first marketing video (step-by-step instructions)
Types of marketing videos
How to start your first video marketing campaign
And the future of video marketing (and why you need to know where it's going)
If you're just starting out, let's start from the top by talking about what video marketing actually is and the benefits of it.
What is video marketing?
Video marketing refers to the use of video content to market your product or service.
The purpose could be singular or multiple, including everything from:
Increasing conversions
Brand awareness
Engagement
Educate
Or simply to provide value to your existing customers
Video marketing doesn't refer to just one type of video or platform.
A marketing video could be highly information, entertaining, or both. It could be a Facebook Live, Instagram story, YouTube video, or even a video that lives natively on your blog.
Why you should start using video marketing (if you haven't already)
Chances are, you use video marketing already.
In fact, according to Hubspot, 81% of brands use video for marketing purposes. That's up from 63% the previous year, and that number only continues to grow.
Why are so many companies using video in their marketing campaigns?
The stats speak for themselves:
Brand awareness
According to a report by Insivia, viewers retain 95% of the message communicated through video.
Text content? A paltry 10%.
Video is bar-none the single most effective medium for increasing brand awareness (not to mention educating your customers).
High shareability
Another stark comparison:
According to a study by Simply Measured, social video gets an incredible 12x more shares than text and link posts combined: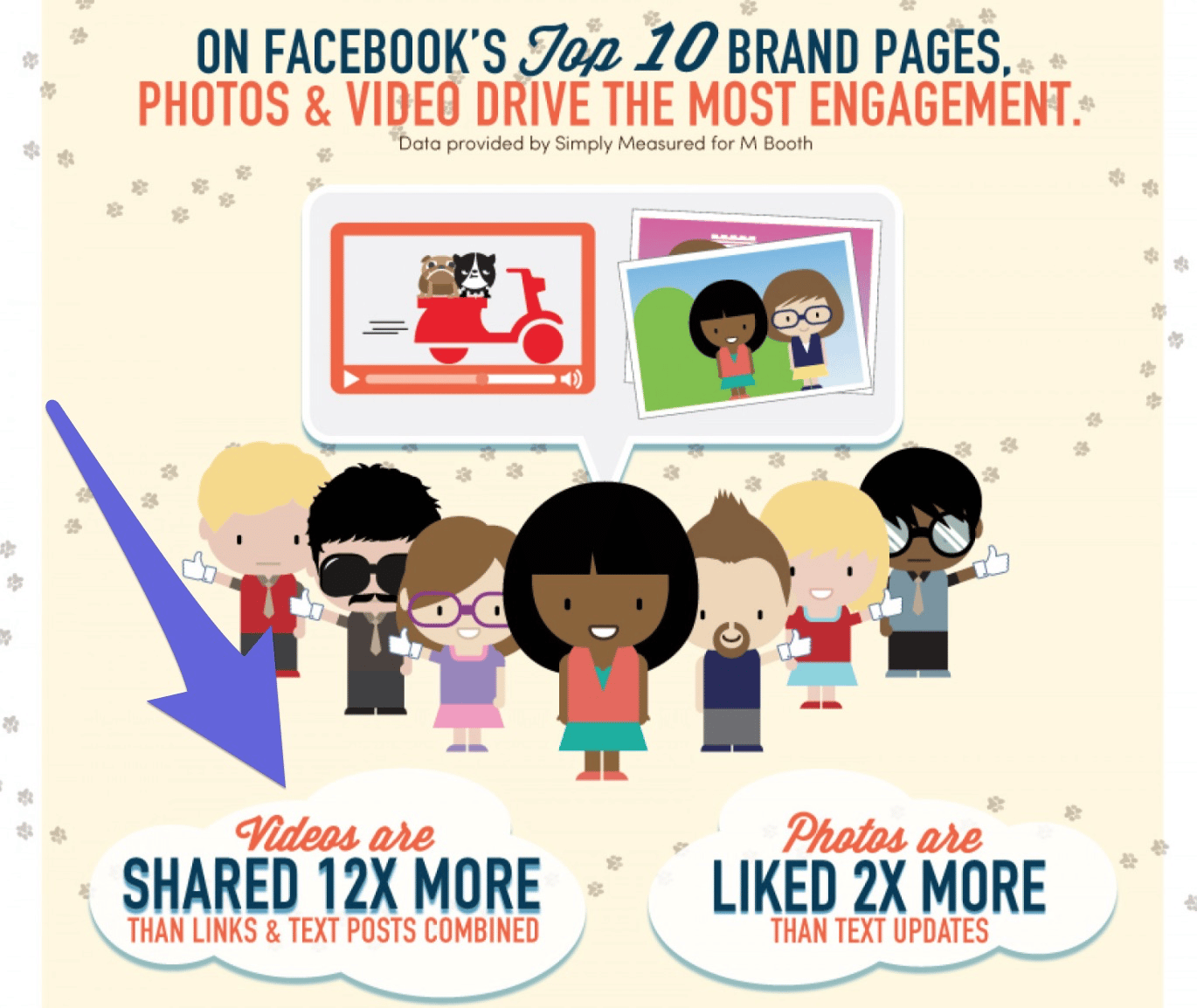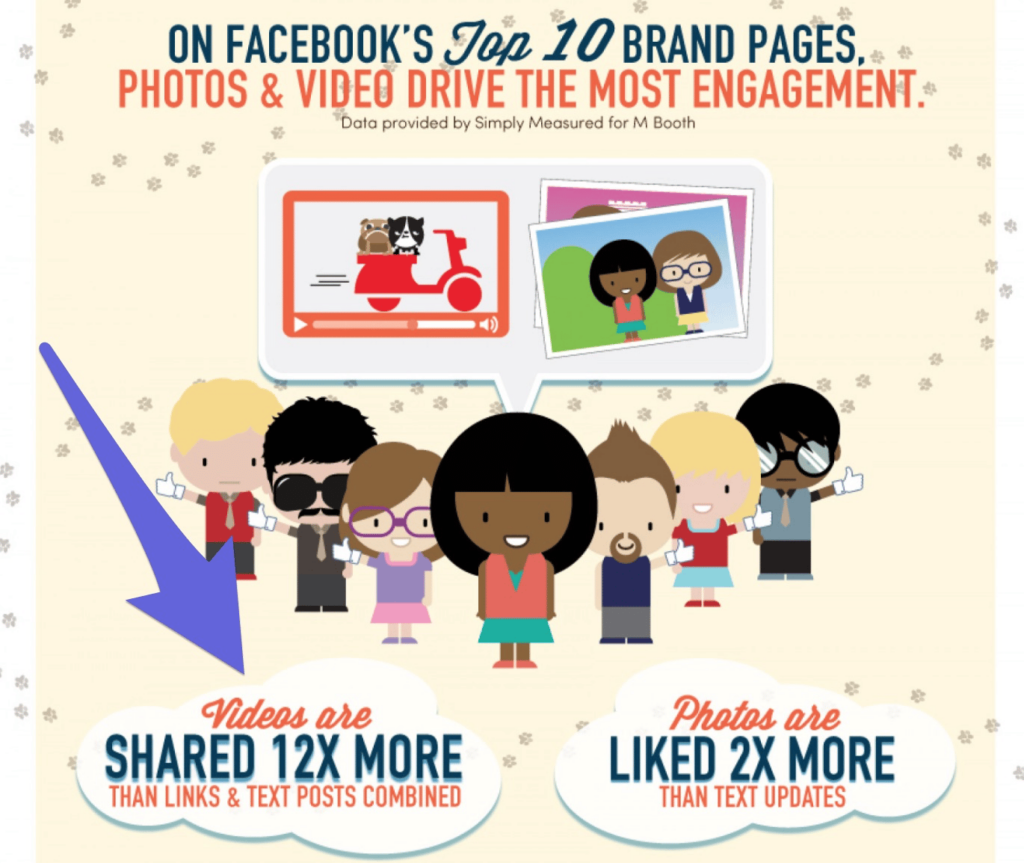 Conversion
One of video's greatest strengths is its ability to increase conversion rates.
According to a report by Aberdeen Group, brands who incorporate video into their campaigns see an average 34% increase in conversions.
ROI
According to Wyzowl's State of Video Marketing 2021, marketers feel more positive about the return on investment that video offers than ever before.
According to the study, marketers report that video strongly influences everything from traffic to leads and sales. Plus, it's a great educational tool as well.
These stats are pretty compelling, especially if you have yet to implement video into your marketing campaigns.
But not to worry. If you haven't jumped on the video bandwagon yet, it's not too late.
In the next section, we'll break down step-by-step instructions for producing your first marketing video.
How to produce your first marketing video
Producing a video can seem like a gargantuan task.
You need to come up with your outcome or goal for the content, generate ideas, shoot the video, edit, and then implement it into your current or new marketing campaign.
Fortunately, though, producing video is easier than ever.
In fact, if you have any of a number of recent smartphone models, you can produce a quality video on your own.
And if you rather go another route,countless services exist that offer things like explainer video animations that are affordable even by solopreneur standards.
Below, we'll be going over each step to produce your first video.
In video production, professionals tend to separate this into 4 steps. Including:
Planning: Often referred to as creative planning
Pre-production: Preparing your video
Production: Shooting & recording
Post-production: Editing,or taking your completed footage and adding things like graphics and voiceover.
Then, in the next two sections, we'll talk about types of video you can create and how to put together a video marketing campaign.
Planning
The first phase, creative planning, is what comes before you take steps to produce anything.
In the planning phase, you (and ideally everyone on the team) should outline things like:
1. Your goal
What do you hope to accomplish with the content?
Consider what your KPIs are to validate the value of adding video to your marketing campaigns.
Also, consider what you hope to accomplish by using video (i.e. why are you using video with this campaign? What can video do that's unique compared to text and imagery?).
2. Audience and funnel placement
Who is the video being crafted for?
Also, where does the campaign sit on your funnel? Both of these should influence how you create the video, not just how you use it.
3. Platform
Is this designed for YouTube? Social? Your website?
Each has subtle differences that are vital to consider when producing video.
For example, social is more short-form while YouTube can be longer.
On YouTube, you can add cards and other elements to get people to click through to other content (or a link to your website). That's something you can take advantage of, but only if you think ahead about how it's going to show on YT.
4. Type of video and budget
There are several different types of visual presentation, from animated to having a real person in front of the camera.
What is the best way to communicate your content and achieve your goal?
5. Other needs
What do you need to produce the above video?
Does your video need an actor? A script? Animation? A location? Every video is different, but it's at this stage that you'll want to be clear on what you need to make the project a success.
Don't worry about taking the next step and gathering anything together yet.
For now, just plan things out.
Next, we'll start bringing it all together in what is essentially phase II of pre-planning.
Only instead of discussing and writing down your plan, we're going to take all the necessary action steps to prepare to shoot.
Pre-production: Plan your video
What the heck is pre-production?
Pre-production is where you get into the nitty-gritty of planning your video.
Such as:
1. Write your script
If you go with something simple like an animated explainer video, you'll still need to get a script written.
This isn't necessarily a word-for-word script though like a teleprompter offers, though.
For some people, an exact script like that helps. For many, though, simply having detailed bullet points that outline the video's content is ideal and allows for a more natural feel.
It all depends on how you're producing your video.
If you're getting an animated explainer video done, you'll need an exact script for the voiceover.
If you're recording someone internal to the company, you might still want a script to make sure the video turns out how you want.
However, if the content is something you manage, own, or are an expert in, having some loose bullet points to guide you might be better.
2. Gather your camera gear
Depending on what kind of video you'll be producing, you'll need various types of gear.
An animated video like the one we mentioned above might require nothing if you're sourcing voiceover as well.
If you or someone on your team is doing it, though, you'll need quality audio recording equipment.
You can go with high-end audio equipment, such as: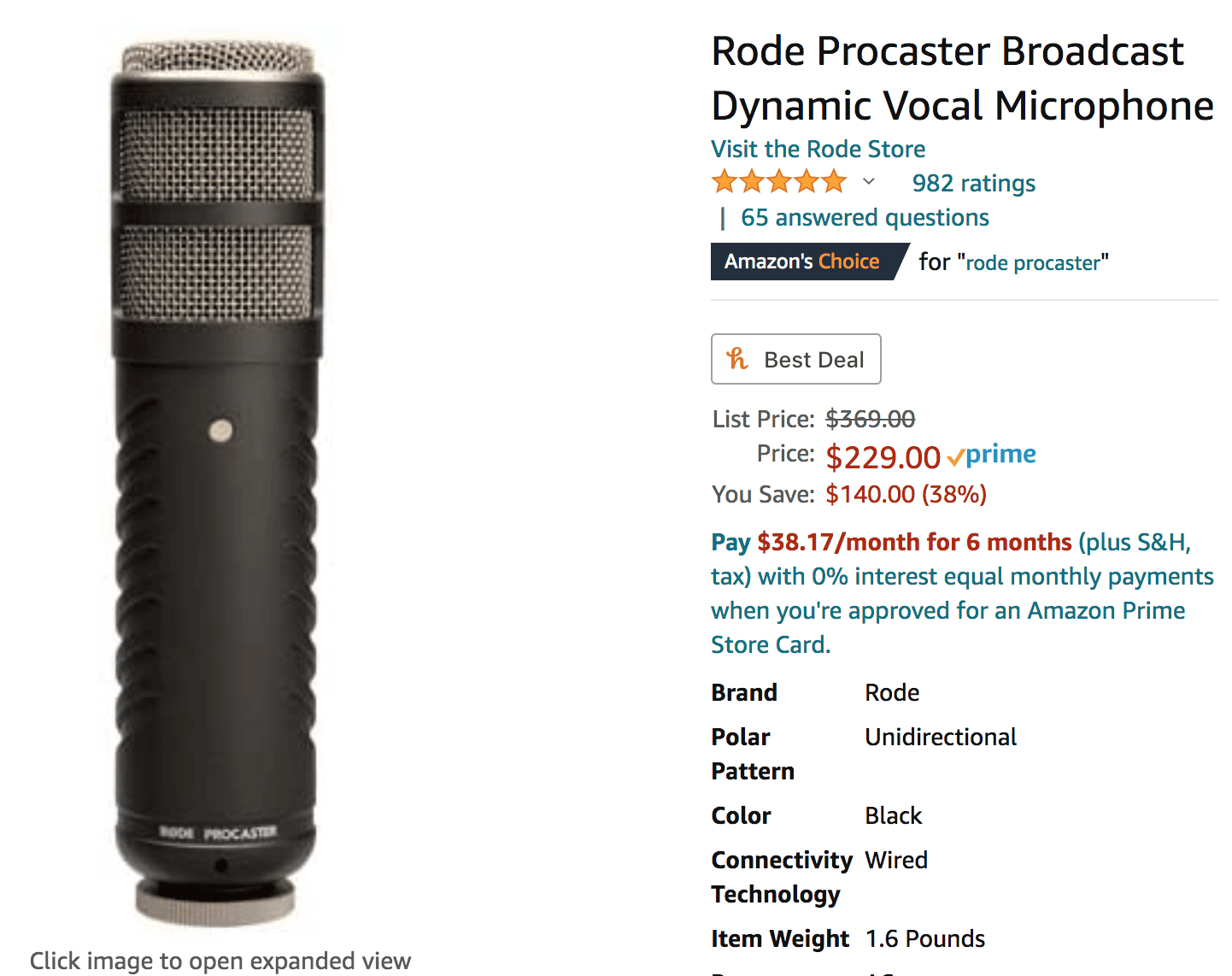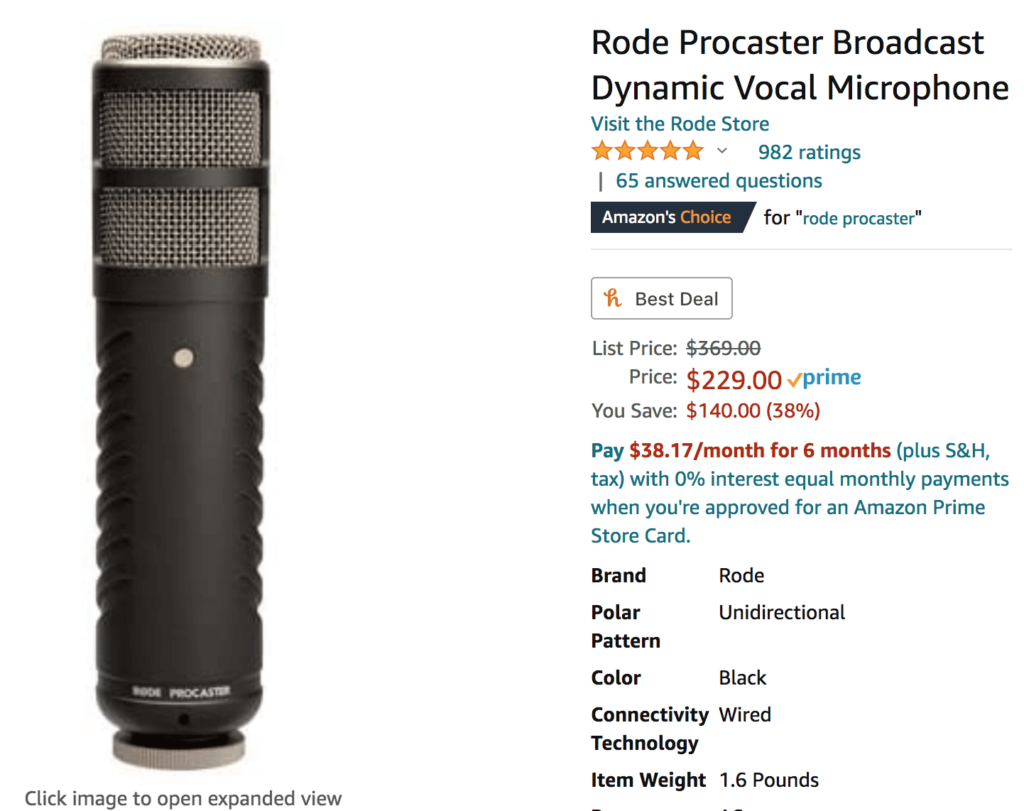 Those are both some of the best podcast/voice recording mics on the market.
However, if you don't have a large budget, you can go with something more economical but still high quality like the Shure SM58 ($100).
Alternatively, if you're doing the whole production yourself, you can go one of two ways:
Minimal budget: Use your smartphone (ideal if you have something like the latest iPhone or Pixel, but many smartphones work.
Higher budget: A DSLR camera such as the Canon 80D.
If you have a higher budget to play with, getting something like a Canon 80D or 90D or something even newer will allow you to produce super high-quality video.
Here's a quick example: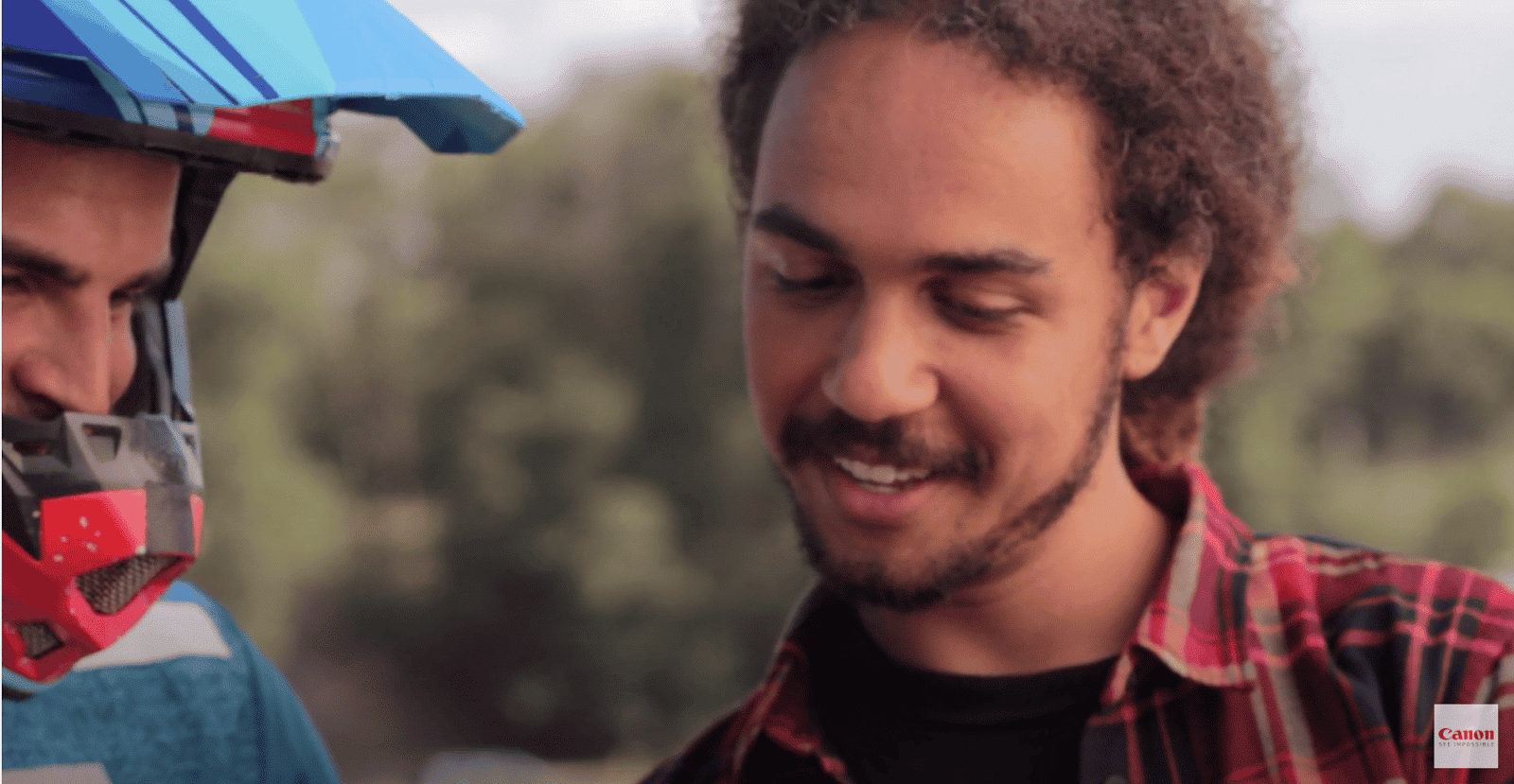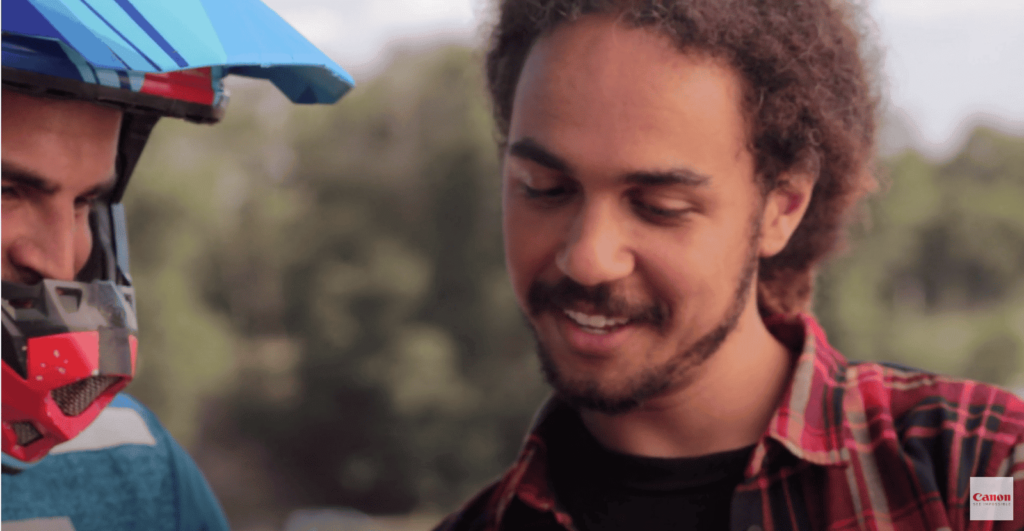 When you step into professional camera territory, there's a lot to learn about which settings are optimal.
However, most modern cameras like the Canon 90D have an auto setting feature that gives you great results in every situation (the camera adapts based on the exterior conditions such as lighting, etc.).
So, you don't necessarily need to spend hours learning how to work the camera to shoot great video with it.
Just keep in mind the same camera in the hands of a professional is going to be noticeably improved. So, hiring a pro should be considered if it makes sense.
3. Set up your studio
Lastly, if you're shooting the videos yourself, whether in the office or on-location, you'll need to think about how to set up the optimal shooting conditions.
Shooting during the day is easy. There's lots of sunlight, and light is critical for good videography.
However, shooting at night is notoriously difficult. If you don't have a professional shooting for you, chances are you should avoid shooting outside at night if you need to shoot on location.
YouTuber Peter McKinnon has a great video about shooting at night, if you absolutely need to without a professional: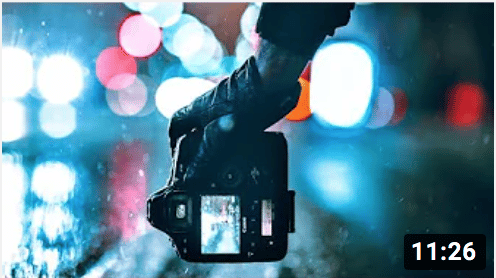 If you're shooting in a studio, it's all about getting the optimal lighting.
A $2,000 DSLR camera isn't enough to make your video high quality on its own. You need good lighting.
Fortunately, it's not hard to put together a good lighting set up, no matter your budget.
If you're running on a minima budget, you can use something like this amazing guide from Wistia on how to produce high-quality video just using your smartphone: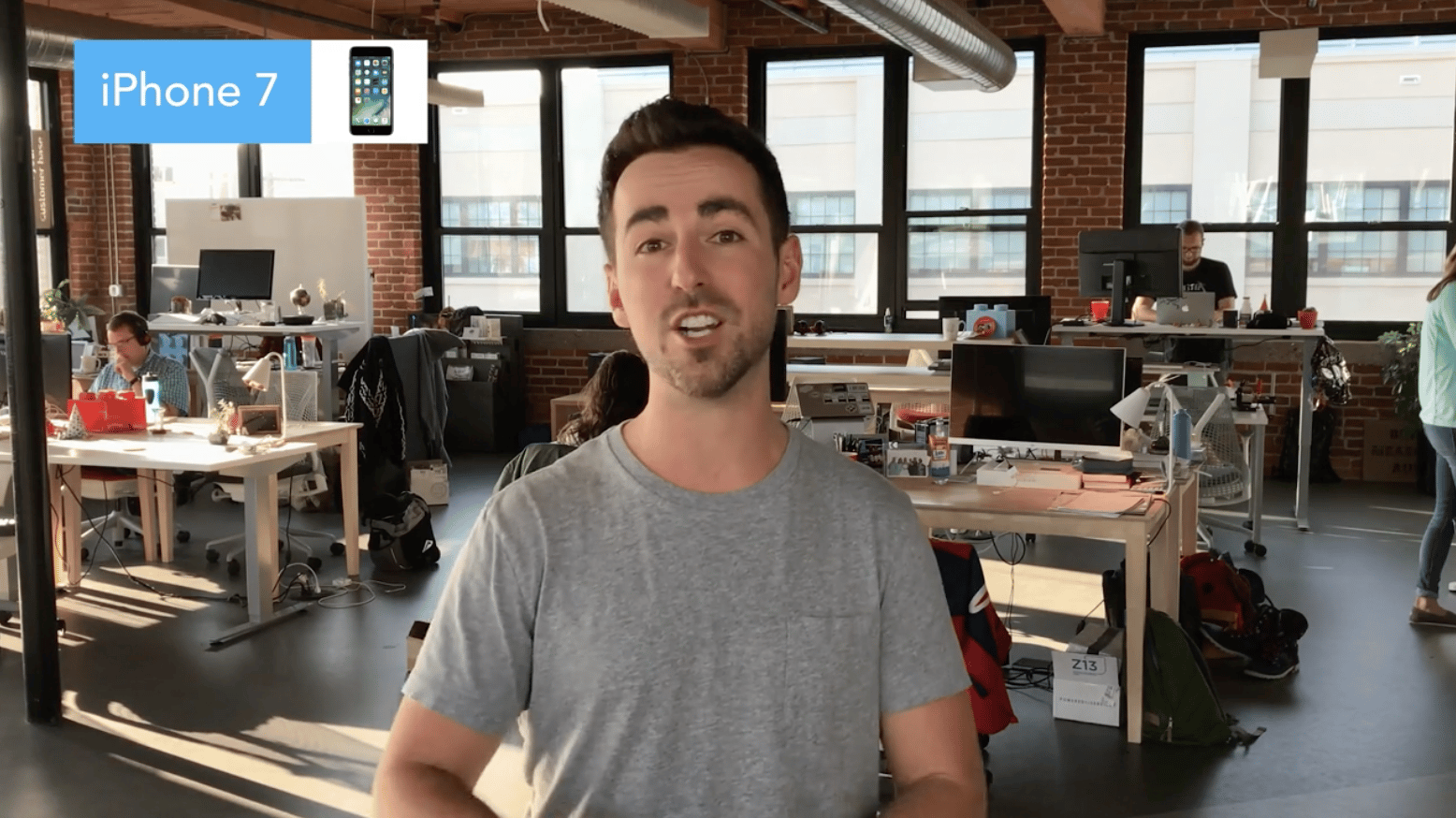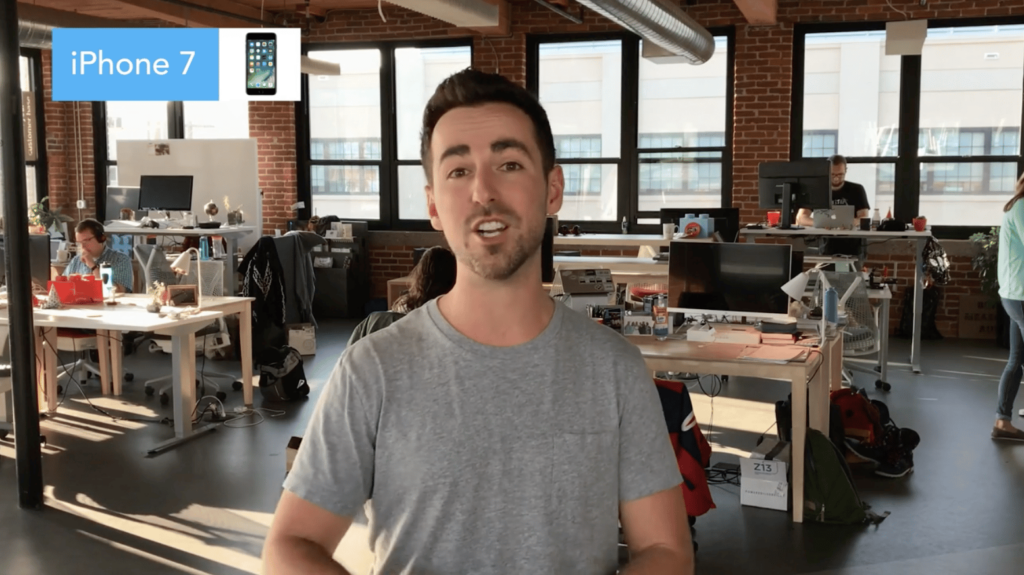 *Also: check out their guide on useful smartphone apps for video production and editing: 6 Helpful Apps for Shooting and Editing Video on Your Phone.
They even have some tips for higher-end budgets that are worth checking out as well.
Also, keep in mind that you'll need to consider other gear such as a lavalier (those tiny mics that clip to your shirt), which you can get wireless or wired that plugs into your computer so you can record audio separately.
They're not required if you have the right mic on your camera, but it's generally advised for better audio quality.
Other options include a shotgun mic, which can hang over the subject as they speak.
Which you go with is mostly preference. Just make sure to invest time in figuring out which set up you'd prefer then go with whatever seems best.
Don't let the gear keep you from getting started with video.
Camera gear can be a black hole that can become intimidating if you focus on it for too long.
Remember: just get a good camera, have ample lighting (if you can't afford a studio, shooting outside during the day is perfect), and make sure you know how you're recording your audio.
Production: Shoot and record your video
Next, it's finally time to shoot your video.
You'll be pleasantly surprised to hear that you've already done a huge portion of the work.
Recording video is much more about pre- and post-production than the actual shoot.
If you can prepare well and do a good job in the edit, you'll come out with high-quality videos that accomplish your marketing goals.
With that said, there are some important things to keep in mind when you go to shoot your video.
Here are some tips to help you elevate the quality of your videos, besides what we've already mentioned earlier:
1. Use multiple angles
Using multiple angles is something that may or may not be possible for you, as it requires a second camera (unless you want to get tricky).
However, it's a super simple way to instantly elevate the quality of your videos.
Here's an example: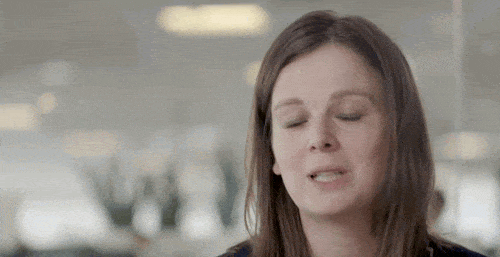 With two cameras pointed at the speaker simultaneously, you can choose which view to use in the edit.
But you need to have this in mind when you're shooting, or you won't have the footage to do that.
2. Use "jump cuts"
A jump cut is something you've likely seen thousands of times.
Here's an example: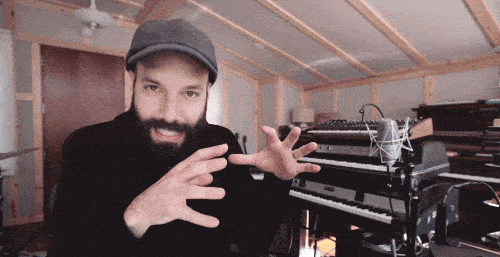 It's a simple trick where you edit out a small (or large) section in your video while maintaining a seamless narrative.
It's especially useful if you utilize it to edit mistakes out.
So, why are we mentioning it now?
Some of these tricks and tips are useful for keeping in mind while you're shooting, not just in the edit.
Shooting your video with the jump cut technique in mind gives you a tool to take a mistake and make it seem like a sharp, intentional jump between clips that looks well put together.
3. Shoot everything with post-production (the edit) in mind
To lead off of the last point, everything you shoot now should take into consideration the edit or post-production phase.
It's sometimes said that you can make a bad video good in the edit.
That's because you can do all kinds of things such as:
(Somewhat) fix bad lighting
Cut out mistakes (see 'Jump cuts' above)
Add awesome graphics and animations
Even add interactive elements
To give your edit even more tools to play with, shoot our video with the edit in mind.
What kinds of angles, breaks, and cuts to b-roll do you plan to make?
If you take these into consideration now when you're shooting, you'll have more options when you go to edit your video.
Post-production: Edit your video
Now, it's time for post-production.
Keep one very important point in mind as we cover this section: editing is its own profession.
Shooting video takes work to learn. Editing takes just as much time to get good at.
However, it makes an equal impact on the quality of your videos.
For the above reason, this would be the first place we suggest hiring help if you're on a tight budget.
Shooting your own video is completely manageable (though a professional will help amplify the quality of your videos).
However, editing is known for being pretty time-consuming, so you might have a better ROI if you hire an editor to handle post-production on your videos.
With that said, you can learn to do the editing yourself and basic editing doesn't take much time to learn if you're on a tight budget.
First, let's talk about your options for an editing program. Then, we'll cover a few more tips for making your video even better in the post-production process.
1. Choose an editing program
There are a lot of options out there for editing video, but one option generally stands above the rest: Adobe Premiere Pro: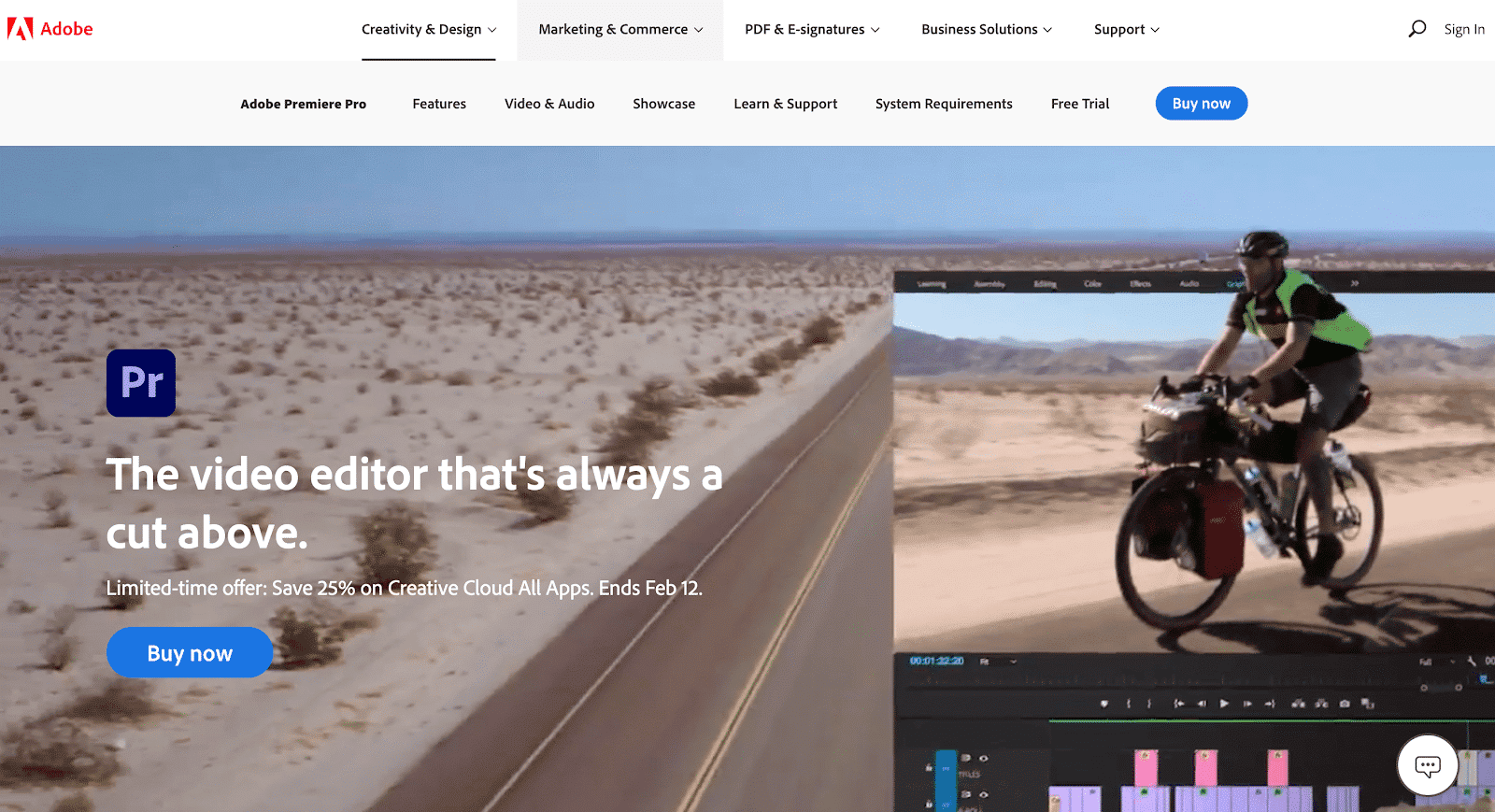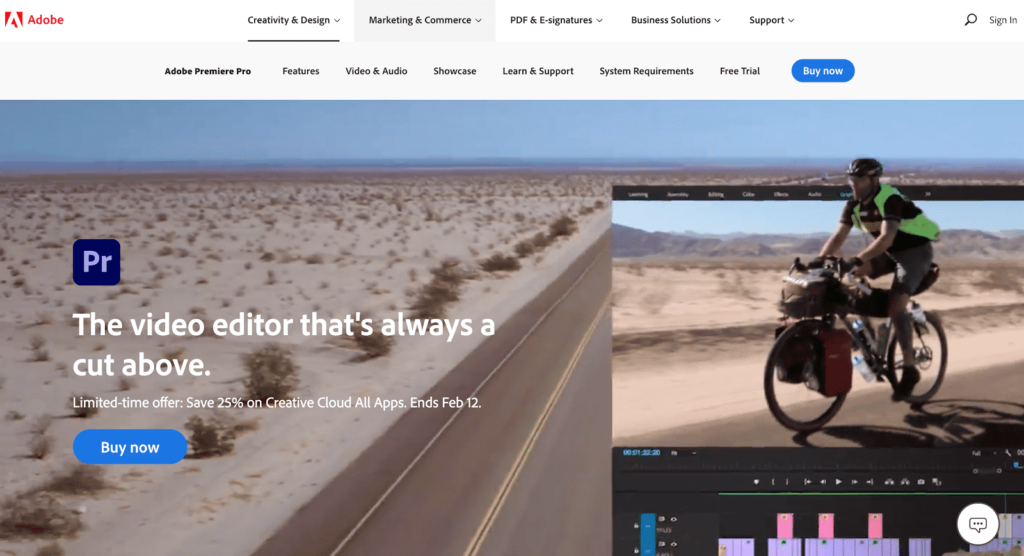 It's even been used to edit Hollywood blockbusters, so you know it has the capability you need.
It's relatively affordable at $20.99 per month (or $39.99 per month for the full suite of Adobe features).
However, if having to pay monthly bothers you, a good Mac-exclusive option for you is Screenflow: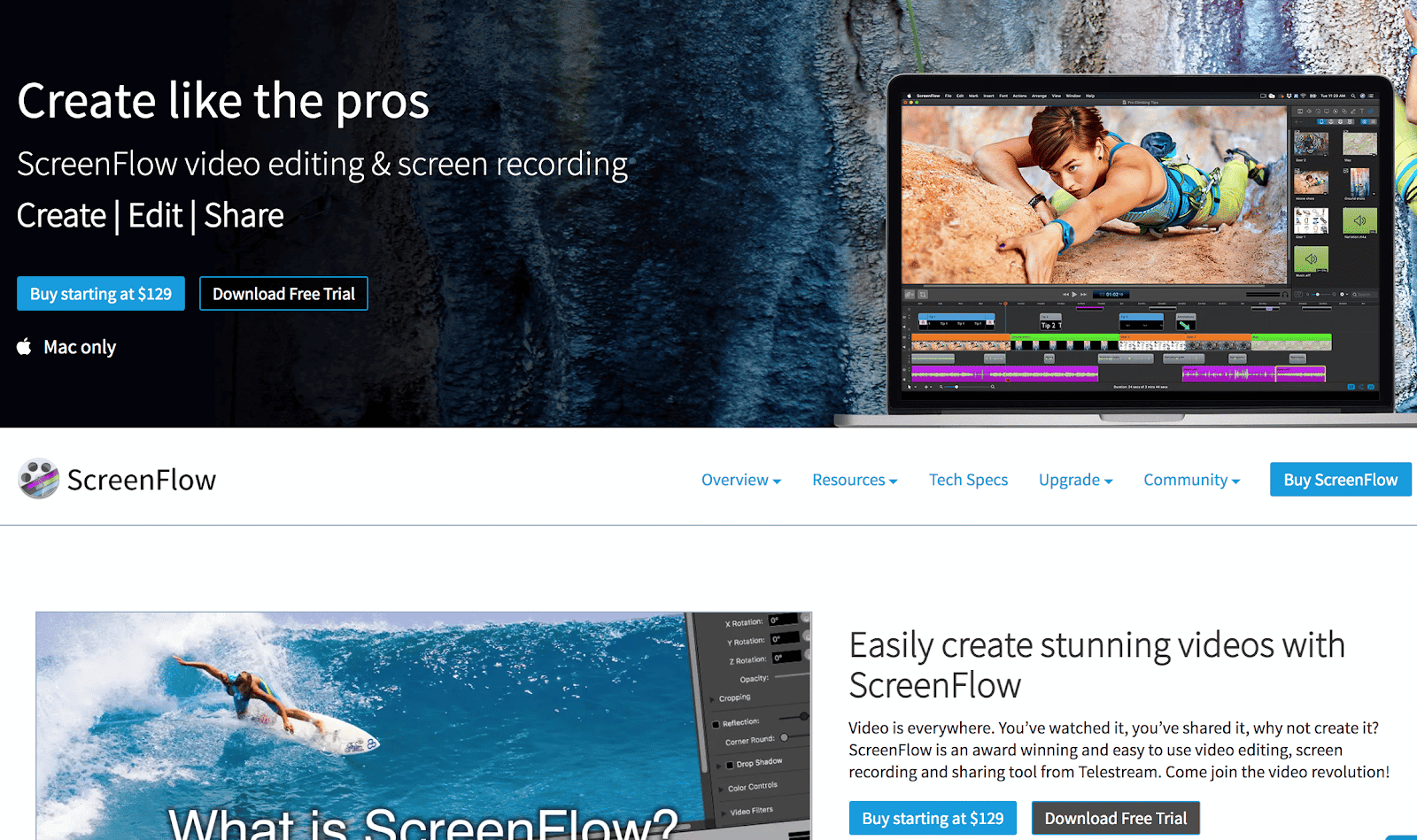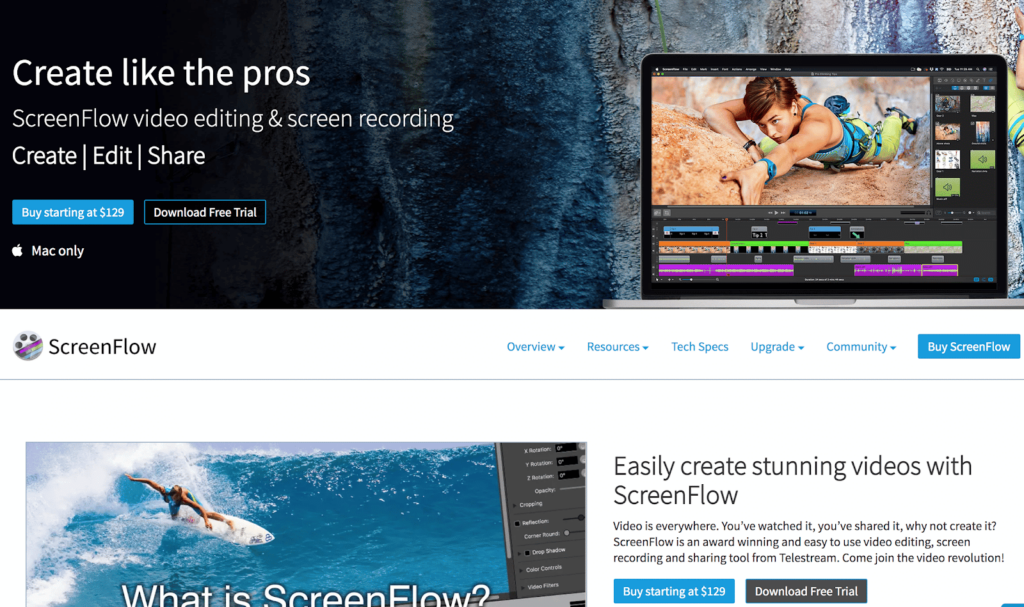 Screenflow has a one-time cost of $129, which makes it much more affordable in the long-run.
Both Premier Pro and Screenflow offer a free trial, so you can try them out and see which you prefer.
Which you go with ultimately doesn't matter as they're both more than capable of producing super high-quality marketing videos for any budget.
Pick animation and graphics
If you need a simple tool to create thumbnails for YouTube, something like Canva is free and easy to use: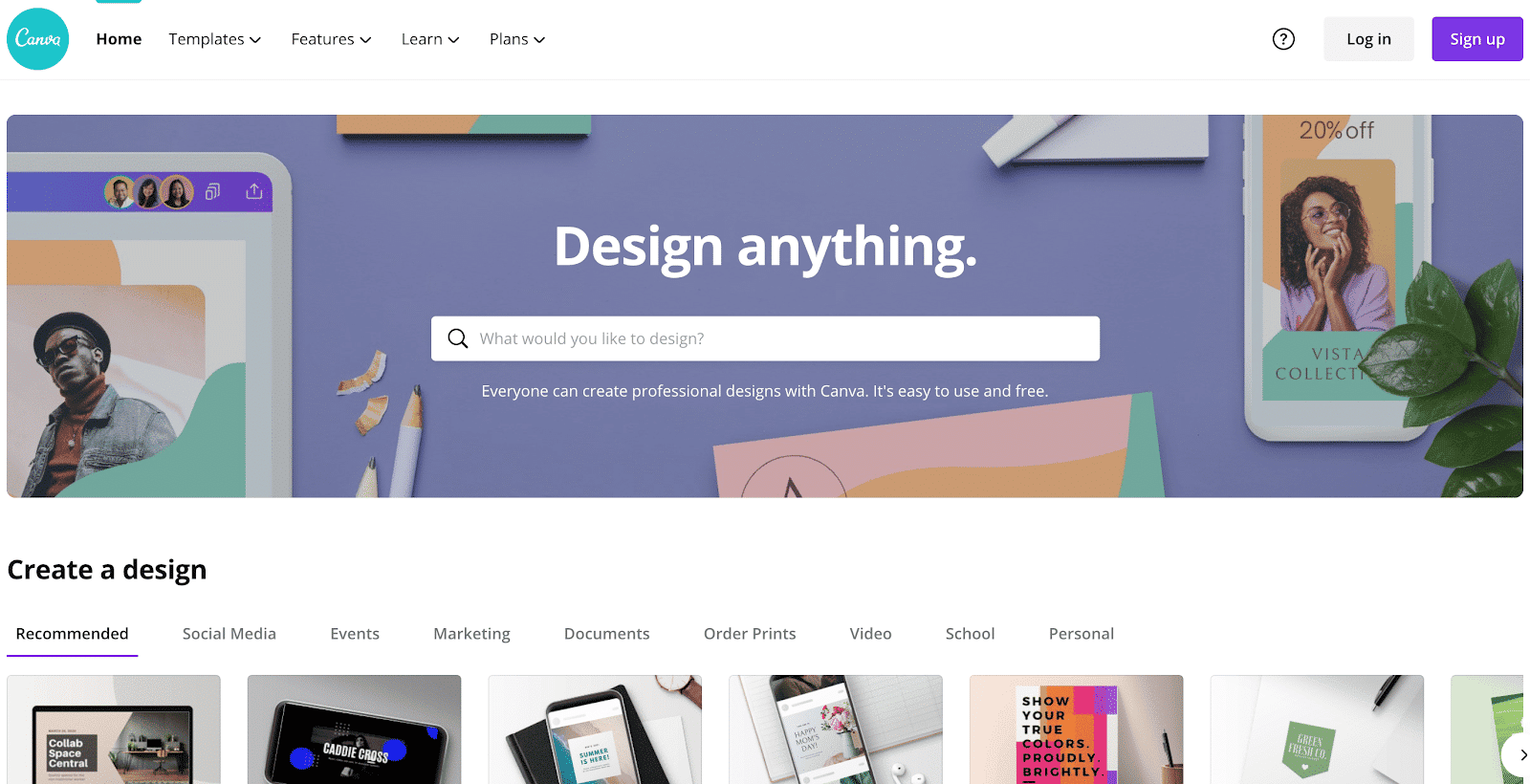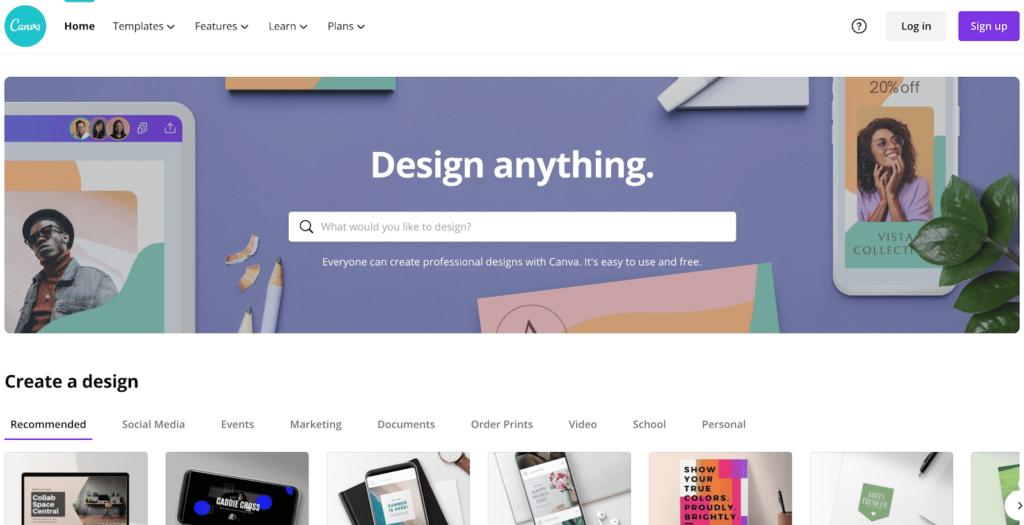 Plus, they offer well-designed templates you can grab and use. Just do a few modifications and you're good to go.
Beyond that, if you're looking to add some sort of more expansive graphics, Adobe Premiere Pro has great add-ons you can use to add all kinds of great visuals relatively easily.
Animations aren't all that much different.
You can use a service like Pond5 to add one of countless premade animations in most editing programs easily:
Just try not to go too overboard with the graphics.
Less is more in this case, so be intentional about when and why you add elements to your video to make sure it's actually elevating the content in some way.
Add visual effects
There are lots of different types of visual effects you can add to your videos (besides animations and graphics).
For the purpose of creating high-quality marketing videos, though, we're going to focus on two things:
The term b-roll refers simply to all that footage you include in your video that isn't of the main subject.
Like this: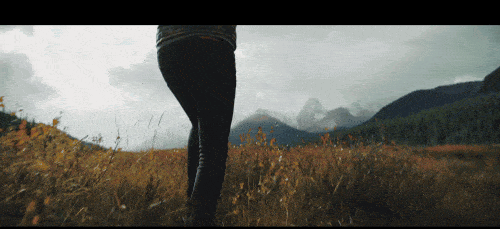 B-roll really helps break up the flow of your videos and make them more visually pleasing.
If you're talking about your culture, you can use b-roll from around the office spliced between employee interviews.
If you're making something more infotainment-centered, you can use relevant footage or images about the subject instead of showing your talking head throughout the entire video (sorry, it gets boring).
In terms of lighting, while good lighting is essential during production, you can fix some minor lighting issues in post-production using a good editing software.
Don't depend on this, but using something like this tutorial from YouTube can help add lighting effects that make your somewhat too dark or too light video a bit clearer:
Choose your music
Besides your voiceover or narration, you'll also want to add music to help elevate your videos.
Videos are great for amplifying the emotional content of your videos. The right track at the right moment– one that matches– the emotion– can create a powerful response in the viewer that increases the video's impact.
Generally, the conventional wisdom is to do exactly that: match the music with the emotional goal of that section of video.
If it's a heartfelt moment where someone is opening up about a challenge, something slower is likely better (but not necessarily somber).
If it's a moment of breakthrough, use something more inspirational and energizing.
You can get music anywhere, but be careful. When you use music in video you can run into copyright issues.
Only use music you know for a fact is free-use or allowed for your purposes under its particular copyright.
To ensure you're safe, only get tracks from sites like Envato market or Epidemic Sound, which have thousands of high-quality, royalty-free tracks: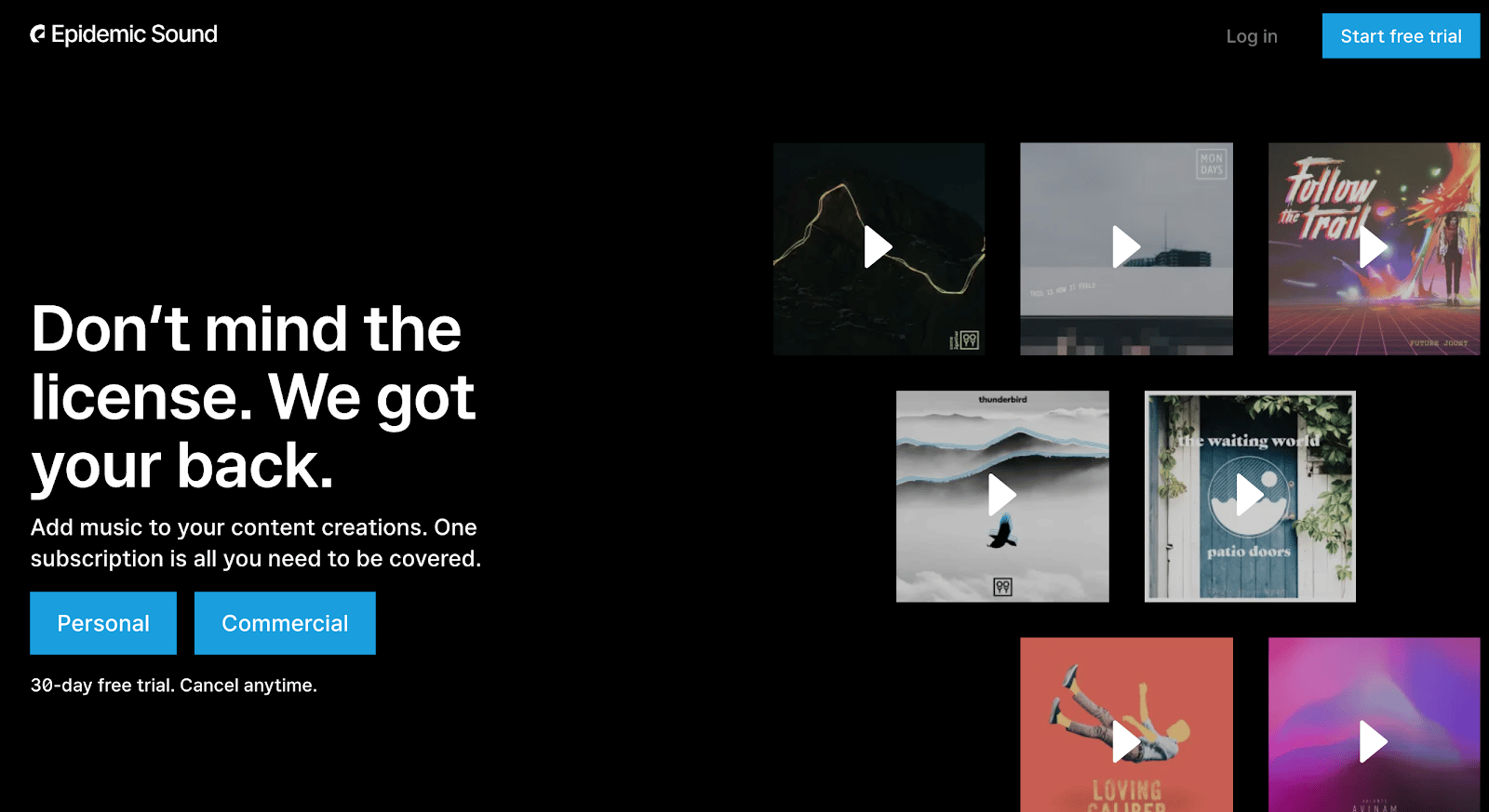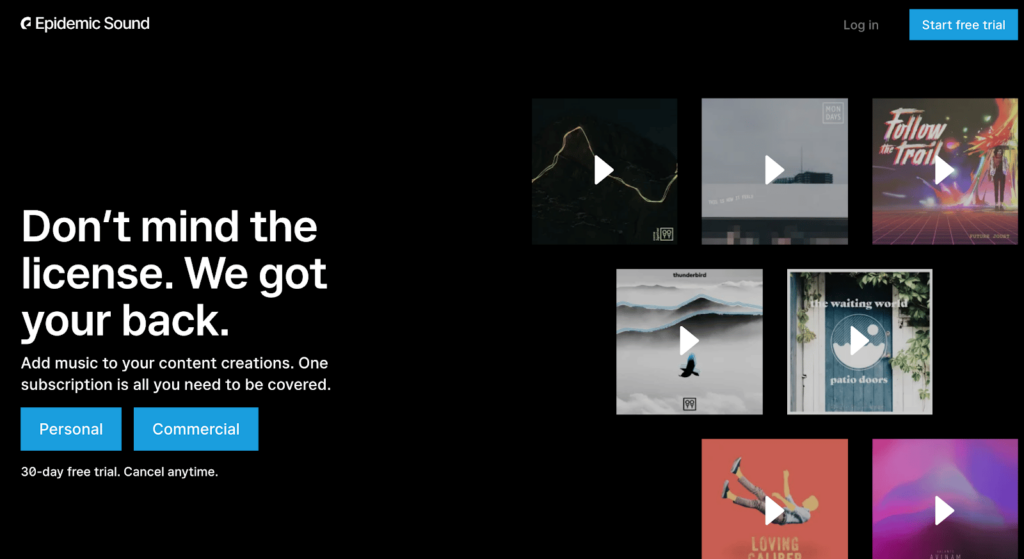 Types of marketing videos
Now that you know how to produce your first, let's talk about what types of videos you can create to plug into your marketing campaigns.
There are dozens of different types of videos, but when you break them down to their overarching categories, there are 5-6 main types of videos.
Here they are, with examples of each:
1. Demo/Product videos
An essential example for any SaaS, especially if you have a free trial, a demo or other product video helps showcase how your product works.
But more than that, a demo can showcase the quality and value of your product as well, which can make it a useful lead generation tool.
Have a tool that allows you to add coupon codes to your checkout page automatically?
Honey did a stellar job combining a product showcase video with an entertaining video direct at one of their target audience: games.
2. Brand videos
Brand videos, like the example below from eyeglass maker Warby Parker (and the Patagonia example earlier), are great for giving consumers a glimpse into your culture and what you stand for.
As Simon Sinek says, people don't buy what you do, they buy why you do it.
Brand videos like office tours and product tours from the perspective of company values are great at driving the "why" home.
3. Explainer/Infotainment videos
Depending on what space you're in, explainer videos are great for offering huge value while educating buyers about your product or service in the process.
Explainer videos tend to focus on how your product or service solves your target customer's problem. Typically, the person in the video uses your product or service to solve their unique problem, then ends with a quick summary of your product or service.
That makes explainer videos great introduction videos but also great at driving conversions.
Infotainment is similar in that they educate, but they don't have to center around the brand.
Instead, they can deliver information related to one of your prospects core problems or questions in an entertaining way.
Like this example from Peter Christian:
For late in the sales cycle, you can also use video case studies and testimonials as powerful tools for closing.
Once you've attracted them and shown them the power or usefulness of your product or service, a great case study video can be exactly what that lead needs to see to convince them to take the final step.
Like this example from Hubspot for the Rock n' Roll Hall of Fame:
5. Social content
Social content isn't so much a category as those types of content that are uniquely suited for social. That mostly means short-form and live video.
Like this Facebook Live example from Starbucks:
Your social content doesn't have to be live, but live video is one of the most powerful tools available to you in terms of social engagement.
Plus, live video is easy to get started with. Production level? The typical Facebook Live is done from a smartphone, so the average user doesn't expect much in terms of video quality.
Plus, the live format doesn't require any post-production and very little pre-production, making it a great starting place.
6. Interactive videos
Interactive video is quickly becoming more prominent.
Brands are looking for a way to get an edge and to maintain the already ephemeral attention span of the average user online.
Interactive content gives brands a way to greatly increase engagement while creating a simpler and more intuitive buying experience.
Like this example of 360-degree video of the Shinola Detroit Factory with Luke Wilson:
Interactive video doesn't have to be such a high-level production, though.
With Spott, you can layer on interactive elements to the content you've already created.
You can add clickable buttons that appear at just the right time or an add to cart button that appears on a particular product whenever it shows in your video.
Tips for starting your first video marketing campaign
So far, we've touched a lot on how to plan out your first video marketing campaign.
We talked about setting goals and knowing what you want to accomplish with video, crafting your videos with your audience or ideal customer in mind, and keeping in mind what platform it will live on.
But before you run off and become the next video mogul, take these tips with you to further amplify your video efforts:
1. Repurpose
Repurposing content is a staple among great marketing teams.
It's a tool that can maximize your ROI tenfold by making full use of every single piece of long-form content you make.
For example, let's say you shot a 15-minute video with 5 looks perfect for a night on the town, along with a few extra tips for elevating your look.
That video could then be broken up into bite-sized chunks that are perfect for Instagram or Snapchat.
Similarly, you could get a transcript for that video and create it into a blog post. And, if the topic makes sense, you could take the audio from your video and put it up as a podcast, like Eric Siu of digital marketing agency Single Grain does.
Instead of having to create entirely different content for social or your other platforms, make full use of that video you produced by repurposing it for different platforms.
Before you know it, one piece of content becomes 10.
2. Measure more than just views and clicks
Measuring the impact of video is a bit harder than a page on your website or an ad.
That's because of their impact on engagement and retention.
The latter is difficult to gauge, but you can use analytics to study how your viewers are engaging with your videos: how long they watch, where they pause, where they drop off, when they click on any clickable elements you have.
Most video platforms have ways of tracking all of this, so take full advantage of it, and make sure you're measuring the full impact of your videos.
Include CTAs in every one of your videos
If you've followed this guide so far, your videos should be crafted with your campaign, audience, and platform in mind already.
However, without a good CTA, all that work is worth little to nothing.
Your viewers need to be directed somewhere or to something after each point of contact. At the very least, where they can explore more about you, your brand, or the topic if you've created more content on it.
There are tons of options for adding CTAs to your videos.
Generally, that comes down to 3 places:
Pre-roll: In the beginning of your video, typically right after a short intro but before the real meat.
Mid-roll: A nice break in between can work, though this is often better for sponsorships and not for your own internal CTAs for your product or service.
Post-roll: These are super effective because the viewer has stuck around for the whole video and is likely interested in learning more.
However you do your CTAs, make sure every video works just the same as your written content and ads: they all need a clear and actionable CTA.
The future of video marketing: Interactivity
If it seems like you're all set now to start producing your first video marketing assets and campaign, you'd be right.
But just as quickly as video broke onto the scene and single-handedly took over the Internet within a few short years, the same will happen again.
With what exactly? Interactive content.
Like this example from Maybelline, where fans can explore night and day eye looks based on which option they click on: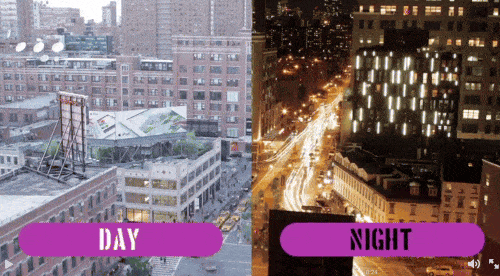 Interactivity will be the next big development in digital communication and, therefore, digital marketing.
So, sure, you're ready to get off to a running start with video marketing. But the future will be here faster than you can blink– are you ready for that?
Creating interactive content is easy
I know what you're thinking: "I'm just wrapping my head around this, now you're saying I've got something else to learn?"
It's a reasonable thought, and it's smart to take things one step at a time. However, interactive content isn't like the move from all written content and imagery to producing video.
In fact, producing interactive content is as easy as finding a tool that has the feature you want, taking the content you've already created, and layering interactivity on top of it with a few clicks.
For example, at Spott, we help you make your stellar videos and images more interactive.
Let's say you have a video showcasing your new sock line.
You could take that video, upload it + your product feed, select an element in your video (i.e. a specific sock design), then connect the relevant product to it.
When you're done, the video will look something like this:
Pretty cool, huh? Simple to do, but powerful to implement.
That same piece of content now offers your prospects and leads a direct line to purchase, instead of having to look for a product link elsewhere on the page.
That's huge, because by that time, their attention may have wavered or they could have been pulled away from their device.
That's (part of) why interactive content is such a big deal: it creates a seamless experience for your potential customers, no matter what stage they're at.
Soon, this will be the norm.
It won't be enough to just throw up a video anymore and expect high engagement and conversion.
You need to be ready for the next big movement so you can capitalize and make the most of your video marketing efforts.
Start your first video marketing campaign
Now you've got everything you need to get started with video marketing.
Whether you're:
A team of one just getting off the ground, or
An enterprise looking to be as strategic as possible about how you implement a new medium into your marketing campaigns.
… we hope this guide helped you.
And once you've created your first video marketing campaign, come check in on us.
Spott can help you take your video and image content and layer interactive elements simply and easily in a matter of minutes, boosting engagement and supercharging your lead generation and sales.