Is interactive content, like clickable video, the future of ecommerce?
From viewer fatigue to banner blindness, ad click-through rates are at an all-time low as consumers become more accustomed to digital advertisements.
Many ecommerce brands are struggling to maintain positive ROI on ad spend, having to consistently innovate to maintain click-through rates.
But it's not all doom-and-gloom.
Whether you're running Google Ads campaigns, social, or trying to generate and convert more quality inbound traffic, interactive content like clickable video might just be the solution.
But to understand that, we need to step back and consider what world we're living in…
A buyer's market (Or: why interactivity is the key)
For years now, brands have been adapting to the paradigm shift caused by the move to digital purchasing that is the new buyer's market.
It's easy to forget that and to focus entirely on how you're reaching out to your prospects through direct marketing campaigns like search and social ads.
Consumers have more power over the buying process than ever before, with that power only growing greater by the day, and the only way ecommerce brands are going to continue to win at scale will be to lean in to this fact.
That's where interactive content like clickable video comes in.
With interactive video content, you can engage consumers in a way you never could, by giving them the ability to take the next step in their journey seamlessly.
Clickable video tech also gives customers a way of exploring the things that are most interesting and relevant to them– and skip the rest.
It makes them feel more like they're a part of the process rather than being sold to, which makes them feel empowered.
Before we dive any deeper, though, let's look at some concrete examples.
3 Ways to boost your ecommerce lead gen with clickable video
It can be difficult to visualize how clickable video content can help your ecommerce lead generation if you haven't seen many examples of it yet.
So, let's look at some of the things you can do to give you an idea.
The truth is that while most marketing teams are looking to use more interactive content, as much as 88% of respondents according to one DemandGen Report, how to best implement it is another story.
The same report found that of those 88% of marketers who were planning to use more interactive content, only 18% were confident in the effectiveness of their campaigns.
So, let's remedy that.
Here are 3 effective ways you can use clickable video tech to increase your ecommerce lead gen and boost sales:
1. In-content email conversion
One simple but effective way you can add clickable interactivity to your videos is by adding an email sign up button.
For example, at precisely the right moment you can have an email icon pop up on a corner of the screen that prompts clicks to sign up to your newsletter for discounts, latest announcements, and more: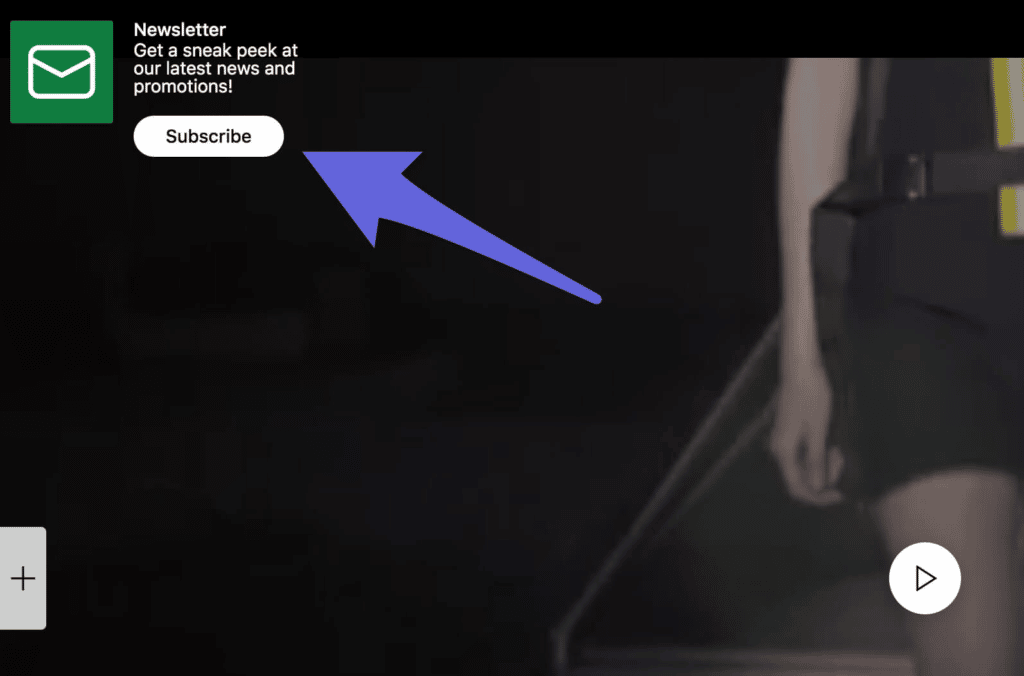 This is a simple but effective way to better engage visitors and prospects because they're reaching out right as they're engaging with your content.
The timing is key.
2. Shop the look
Taking things a step further, you can use Spott's interactive video features to add "shop the look" style functionality to your videos.
Whether you sell clothing, bikes, hardware, or cooking products, you can add convenient add to cart buttons within your video content as clickable elements.
Like this: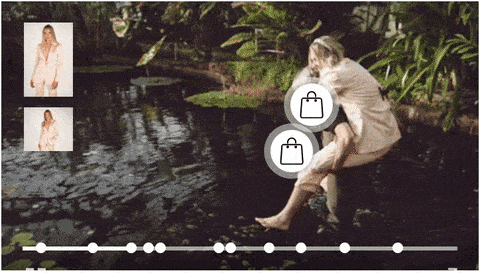 In just two clicks the prospect can go from watching to checking out.
But what's even better is that with this feature, they can add the product to their cart and continue watching the video.
They can then add additional items to their cart as they watch without ever leaving the video.
3. Click to download
Similarly, if your video centers around an entire fashion or other product line (especially B2B), you can go a different route and use a clickable CTA that prompts the viewer to download or go to an online catalog.
Like this: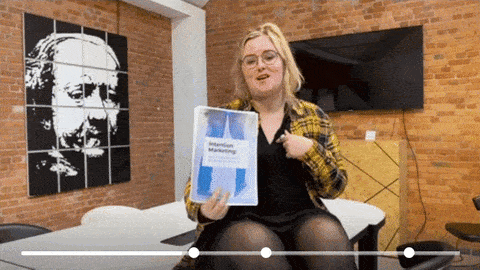 Instead of making them search for the product line on your website after the video, they can immediately jump to that new collection, significantly reducing friction to buy in the process.
Example: How to use clickable video to improve your ecommerce lead generation
The ways above might have inspired you already, but let's look at a real example so you can better visualize what's possible with clickable video tech.
While preparing to launch a new brand, online fashion store ZEB was looking for a fresh way to interact with their fans, introducing the line and creating a more seamless path to purchasing.
They reached out to Spott and we worked with them to choose an interactive feature that best fit the content they were creating.
The result was a simpler card system that made it easy to see the styles in the video as a whole outfit as they're being shown:
How to set up your first clickable video for ecommerce with Spott
If you've never used Spott before, setting up interactive features like this in a video can look complicated.
Fortunately, it pretty much couldn't be simpler (just a few clicks, we promise).
Setting up your first clickable video content for an ecommerce brand only takes a few steps:
Decide what interactive feature you're using: Add to cart? An email sign up? Whatever it is, you decide.
Upload your video to Spott: Drag and drop. Simple.
Create your assets: If you're selling sneakers, you'd add each shoe that appears in the video as a separate asset. Or, just upload your whole product feed in one go and make it even easier.
Add the asset(s) to your video: Drag a box over the item in your video, then drag and drop the corresponding asset (show, shirt, keyboard, etc.) into the box: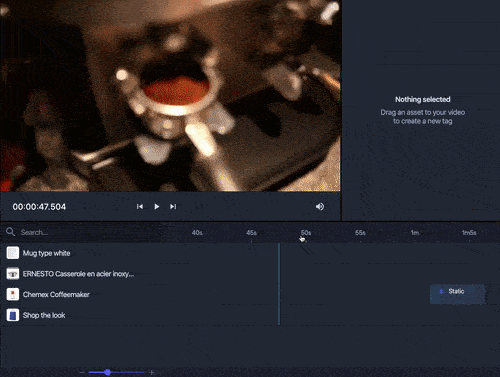 Nothing more to it.
With that, you've created your first interactive content asset (hurray!).
Improve your ecommerce lead gen with clickable video
Interactive video tech, such as clickable videos, is the future because they empower the consumer in a way that's never been possible and lean in to the direction of the market.
By using the features we covered above, you can boost your digital and social ad campaigns, and even your native marketing, in multiple ways.
As a result, you'll get customers to engage with your brand more while improving your lead generation and sales in the process.
To start creating your own interactive, clickable videos in a few easy steps, click the link below to try out Spott 100% free for 14 days: