"It's the content, stupid" is a saying that's been used for a while in the context of new media. When we look at market dynamics in general and at ourselves as a consumer, this is what's happening now. The Flemish media is faced with the ongoing challenge of adapting to the pace of the consumer. To remain relevant is all that matters, especially in regards to Netflix, Youtube and other OTT players. Focusing on our strengths, like producing Flemish fiction and finding new solutions for effective advertising opportunities, is the message. The one thing we should avoid, is fighting back with new regulations.
Now that De Persgroep has integrated Medialaan and Telenet took over De Vijver Media, the Flemish media is preparing for future shocks. After all, consumer behavior changes continuously and new and larger competitors are on the scene to compete for the consumer's eyeballs. For those big players, however, other rules (and other budgets) apply, while everybody is fighting for the same spot. The consumer is king, now more than ever.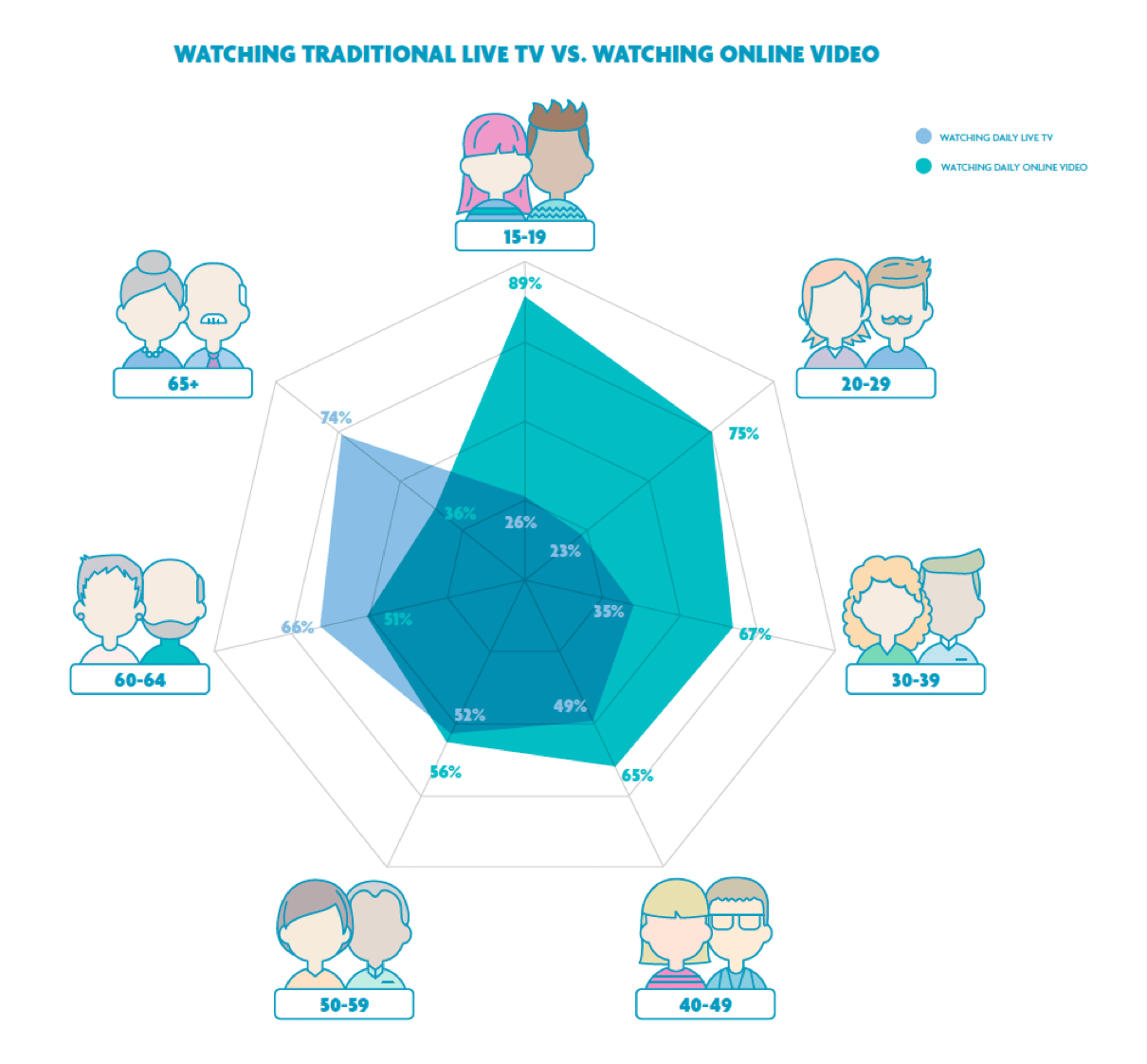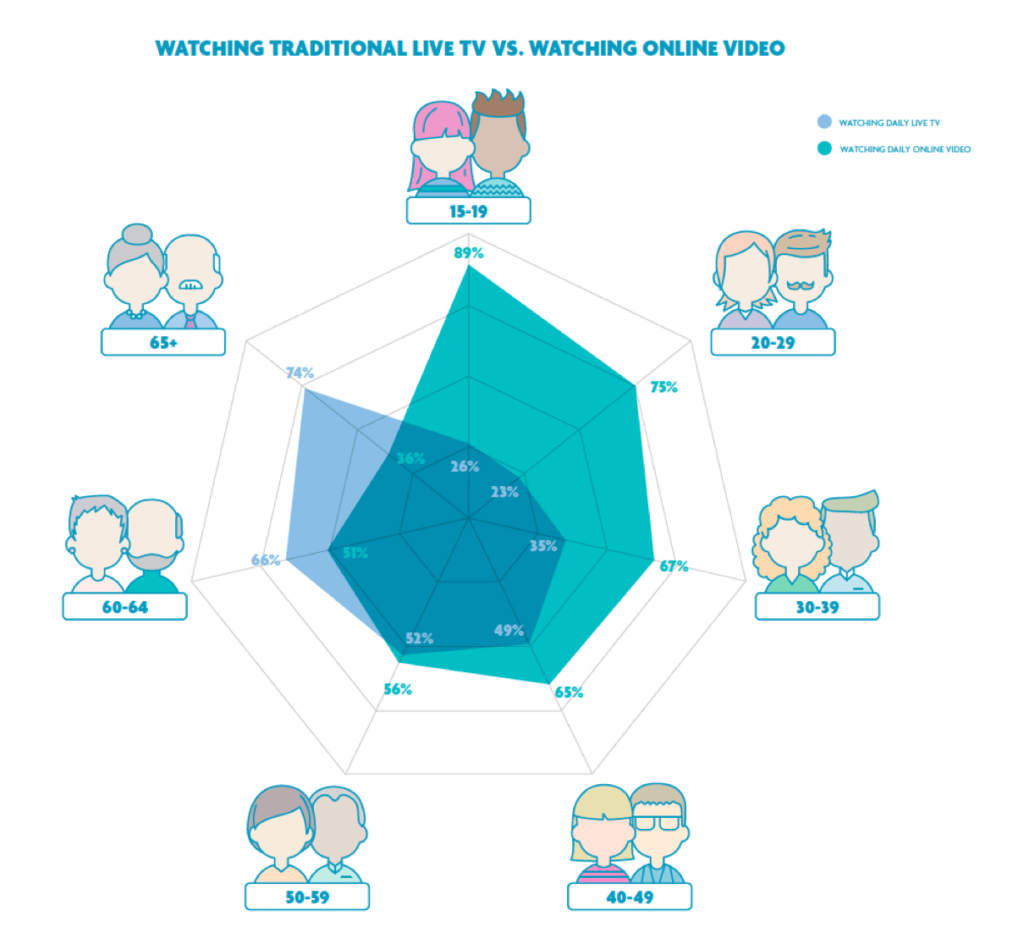 As a consumer, we choose what content we watch, when and on which screen (TV, smartphone, tablet). For example, in Flanders, online video is watched more often on a daily basis than live television and suddenly the smartphone became the dominant screen (IMEC Digimeter 2018, p79, 15y-59y). Advertisers have more screens and technical possibilities than ever to reach us as consumers. A good reader therefore understands that channels also have to generate income in a different way than traditional TV advertising does.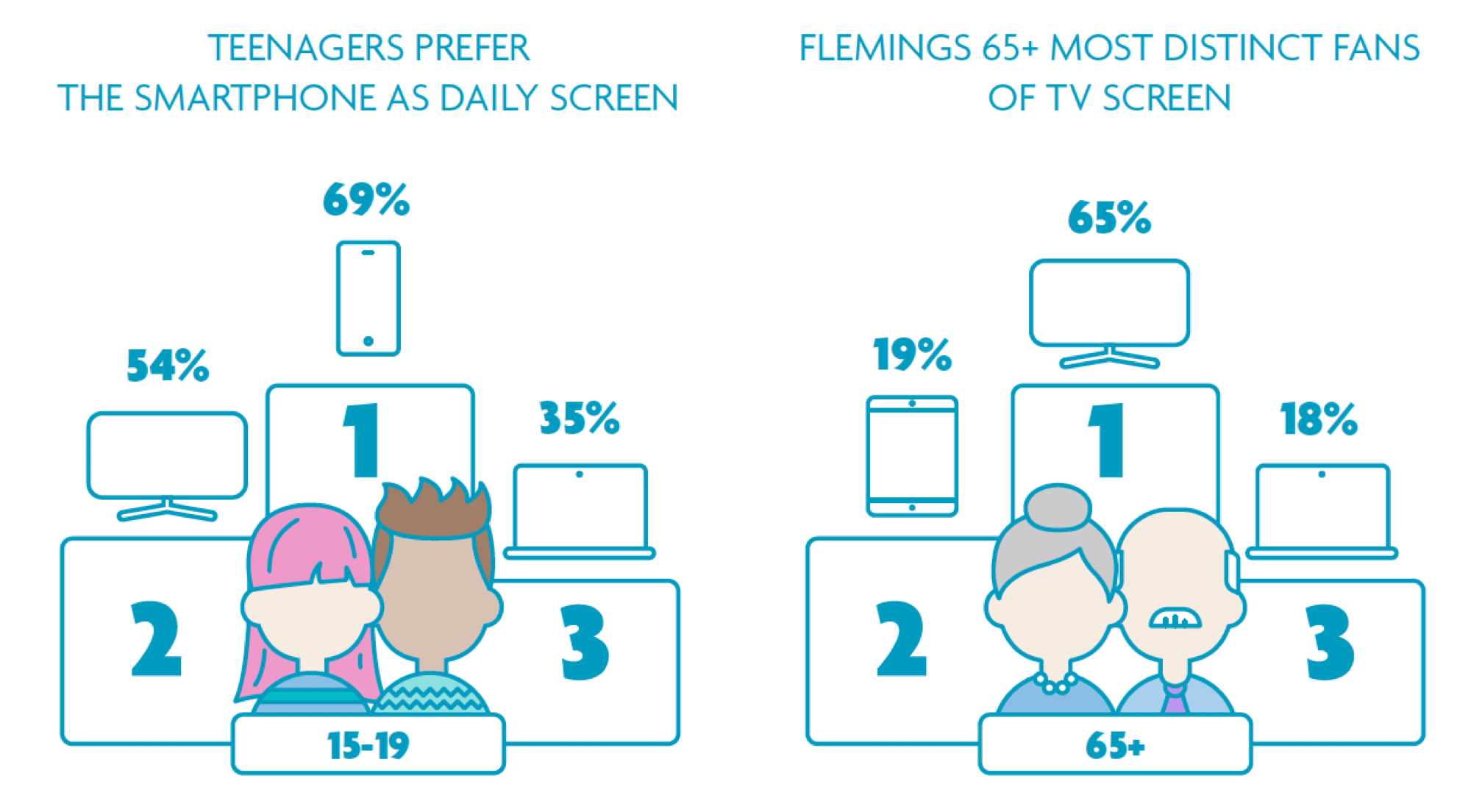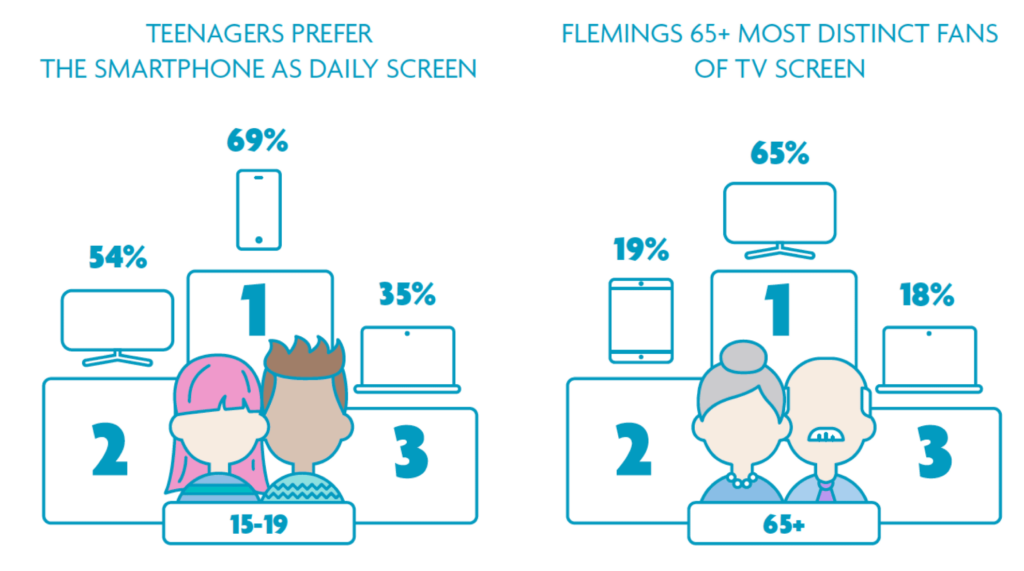 It's not a good idea to implement new regulations (read prohibitions) in the 'Flemish market' to stop the fast-forwarding of TV advertising in case of delayed watching, or to stop new advertising solutions. This would show an entirely wrong idea of how media actually evolves today. For the consumer there is no such thing as a Belgian, let alone Flemish, market. The more rigid the traditional television landscape would remain, with respect to new media such as Netflix and Amazon Prime, the faster the consumer will forget these television channels. As a result, they would have to be financed even more heavily by public money or through their holding. And some may be doomed to disappear.
As an advertiser, this is also a challenge: if you know that TV advertising is regularly fast-forwarded and online banners are blocked, how do you reach your consumer as an advertiser and measure his behavior in a multi-screen environment? And above all, who will pay for this? As a source of income for that Flemish content, however, product placement does not receive the attention it deserves while product placement. Flemish fiction has never been this popular internationally (for example, Tabula Rasa is now available on Netflix). However, product placement as a source of income for that Flemish content, does not receive the attention it deserves. This said, we have taken the first steps to use new technology in the multi-screen environment to uplift the value of product placement by adding measurement and conversion into the mix.
In the meantime, product placement income in the U.S. will triple by 2019 from 4.7 billion USD to USD 11.4 billion.
The fact that our choice of content largely determines the choice to watch a certain broadcaster or channel makes the owner of that content king. The industry does gradually realise this; hence the consolidations in the landscape where the battle for the largest and most qualitative content portfolio is raging. Just think of Disney: in a short amount of time, they took over Marvel (Spiderman, Iron Man, The Avengers) and LucasFilm (Star Wars, Indiana Jones), but also Fox. They are looking into their own OTT (streaming) service as well.
To keep it simple: the party that can offer the most relevant and clean content – without traditional advertising – generate income and measure the results for multiple screens (smartphone, tablet, television), wins.
The party that offers the most relevant and clean content – without traditional advertising – wins.
The current internet giants are expanding their definition of content and are entering the classical content segment: companies like Amazon, Google and Apple that have billions of cash ready to spend are bidding on sports rights and are now producing award winning shows (Netflix alone has 72 awards in total having multiple Oscars, Emmy's, Golden Globes,..). Knowing that you can't beat them on their own game, we can only applaud the anticipation and preparation of the Flemish media in the consumer fight, as they are investing heavily on innovation in a multi-screen market.
To all the politicians who are worried, we can only give this message: there is only one worldwide media market. Today, the dynamics of the free and borderless market is determined more than ever by us: consumers. The most efficient way is to understand that dynamic as well as possible. This is done by investing in content and technology (VRT Sandbox, Stevie, SBS Smart Ad and of course Spott.tv).
On a global level, the Flemish market is small. We must hope that Telenet (De Vijver Media) and De Persgroep (Medialaan) hold and strengthen their place in the market by anticipating and innovating. We are ready for it!