Interactive images may just single-handedly transform ecommerce in the near future.
No one knows just how much of an impact interactive content like interactive images will have on digital marketing and ecommerce, but one thing is for sure:
Interactive images are an easy addition to your e-commerce marketing campaigns that can elevate your engagement levels and supercharge your conversion rates.
But don't take our word for it.
According to a report from Content Marketing Institute, 88% of marketers believe that using interactive content in their marketing campaigns separates their brand from industry rivals.
And in a space where standing out from many other brands– often offering a similar product from yours– is everything, well… you can see how a tool like interactive images can make a real difference.
In the guide below, we'll talk about 4 major reasons why you should use interactive images to elevate your ecommerce brand as well as look at some real-world examples.
But first, if you're new to interactive content, let's get clear on exactly what interactive images are.
Static images vs. interactive images: What is the difference?
When we say "static" we mean good old fashion images.
You can click on them or interact in any way, they simply convey a scene, illustration, or item (i.e. product) of some kind.
Consider this example. Regular image: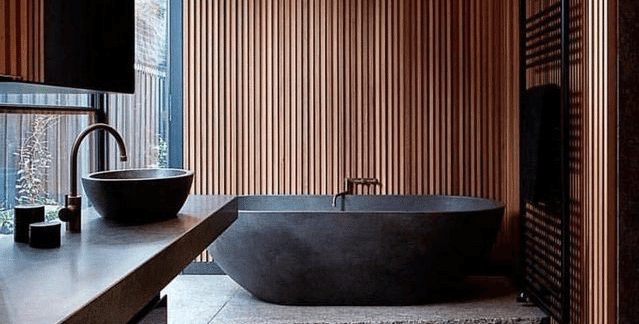 Now, let's add some interactive elements: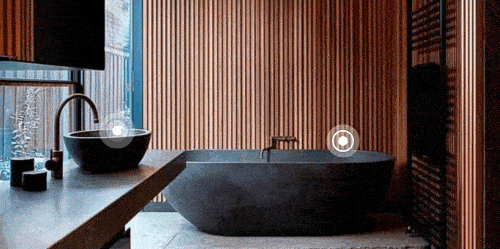 By clicking on each spot, you get a different function.
One shows how you can provide more information about a project or object that appears in your image. The other offers a direct-to-purchase path, whether that's a button and link that sends them to the product page or to add that product to their cart directly.
There are different kinds of interactive images, but this is a common style that's incredibly versatile.
Later, we'll dive into some different examples of interactive images to give you a better idea of that versatility.
But first, let's dive more into why you should use interactive images in the first place.
4 Reasons why you should use interactive images for Ecommerce
Earlier on, some brands took interactive features to be gimmicky.
Now, brands are racing to add interactivity to their marketing campaigns, thanks in part to the statistics that now back up its value.
Here are 4 of the major reasons why you should use interactive images for your ecommerce marketing campaigns:
1. Higher engagement
Visual mediums have all but taken over the digital world.
What if you could turn that visual content into direct opportunities for conversion and increased engagement?
That's what interactive images allow you to do.
With interactive images, you can change the entire way you interact with your target market, not just on your own platform, but all across social.
According to a report by Content Marketing Institute, 81% of marketers say that interactive content is more effective at grabbing user's attention than static content.
In addition, 66% of marketers report improved audience engagement after implementing interactive content.
The reason why is simple: interactive content like interactive images, by its very definition, is designed to engage the user.
Interactive content shifts the viewer into a user by giving them an array of actions they can take mid-content.
2. Increased conversions
Across the board, brands and segments as a whole have found interactive content like interactive images to drive increased conversion rates.
According to one Demand Metric report, interactive shoppable content has a roughly 2x conversion rate compared to typical static content.
Needless to say, that's huge.
When you dig into why, it's not surprising.
Interactive images, as well as interactive videos, can often cut whole steps out of the buying journey.
Instead of linking a promotional image to the collection page, you can embed each individual piece's product information within that image while also giving users the ability to add that item to their cart.
In that way, you skip the collection page and individual product pages entirely and go straight to checkout.
Interactive images also allow you to tell more of a story, which lets you pull from the power of emotions to compel action as well.
3. Improved brand message retention
According to the same Demand Metric study mentioned earlier, 79% of marketers say that interactive content helps improve brand message retention.
Interactive images, video, and other interactive content are incredibly memorable, especially now in the early days of interactive tech.
With interactive images and other types of interactive content, you're actively engaging with the content, stimulating the brain in a way that static content just can't do.
If one of your goals is to improve message retention, interactive content should be an essential element in your strategy.
4. Better data
With interactive content, the user has fewer hoops to pass through before making a purchase.
Fewer pages, fewer clicks, and even fewer separate platforms.
That means improved conversions, but it means more than just that.
It also means tracking is way easier.
Instead of having to track information across 4, 5, or even 6+ touchpoints, you can track as few as 2-3 for a single conversion.
This not only makes tracking conversions easier, but the data you collect will then also be more reliable.
The more touchpoints, the harder it is to tell exactly how each part in the process is influencing conversions and user behavior.
With fewer steps, it's easier to identify problem areas and maximize the value of the time you invest in optimizing your campaigns.
3 Types of interactive images examples
Now that you know the reasons why you should use interactive images in your ecommerce marketing, let's dive into some examples.
As mentioned earlier, these are all real-world examples, to give you a better idea of how brands are or can utilize interactive images for their ecommerce.
1. Interactive lookbook – Monsoon
This first example from fashion line Monsoon's Swoon collection combines interactive images and video together.
You can view various outfits, triggering a video over the image when you hover, and get information on individual pieces by hovering.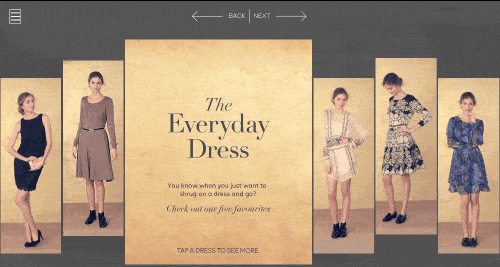 Not every interactive image has to be so complex (see our example earlier).
In fact, more often than not a basic image with interactive, clickable elements is what you'll use. Especially when you consider compatibility with social platforms.
However, this example really helps show the potential of interactive images other content to create a fresh new experience for consumers that elevates engagement and conversions in the process.
2. Interactive UGC gallery – Eureka Street Furniture
Another unique example, this one is from Australian furniture brand Eureka Street Furniture.
Eureka set up a user-generated content feed in the form of a gallery directly on their website, filled with Instagram posts by customers who posted images of their own rooms decked adorned with Eureka furniture.
Using a custom hashtag, the UGC gallery pulls posts using that tag and displays them in a gallery format.
Where things get interactive is when you hover over any of the user-generated Instagram posts.
By hovering over any image, you can see the Eureka styles featured in said image and add them directly to your cart.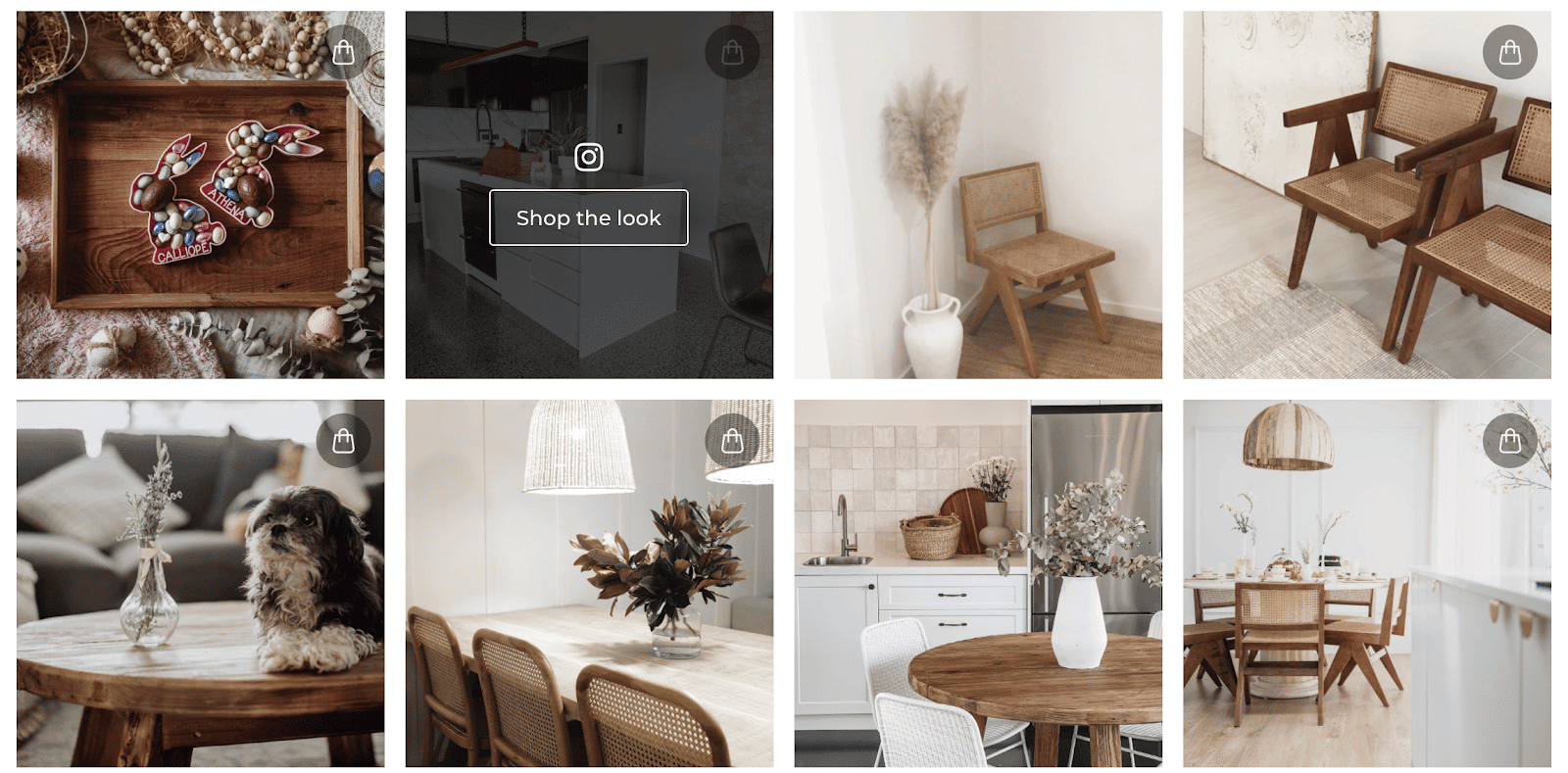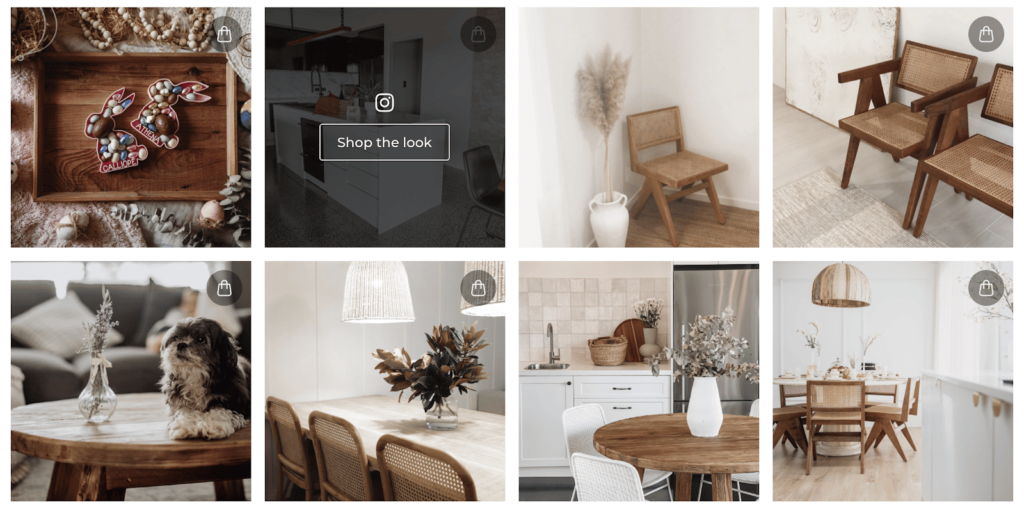 3. Interactive infotainment
Another unique example, this one is an interactive image about the cells in our bodies.
By hovering over a section of the image, you can learn more about how cells work.
Interactive images such as this aren't just great for linking to products, they're also perfect for hiding additional information that users can "unlock" by exploring (i.e. hovering over) various sections of the image.
But these types of images are also great for selling.
If you sell a complex product that can use some explanation or a showcase, interactive images just like this can be the perfect introduction.
Then, include a CTA such as, "Learn more about how [product] can help you [compelling reason]" that sends the user to the product page.
Ecommerce goes interactive
It won't be long before every digital visual medium has interactive elements baked in.
So, are you ahead of the game or about to fall behind?
Hopefully, this guide didn't just convince you of the value of interactive images (and other interactive content) but also gave you clear examples to inspire your own interactive image campaigns.
The best part is, with a tool like Spott, you can create interactive images and video in minutes using images and videos you already have in your marketing files.
No matter how you go about creating your first interactive images, we look forward to seeing what you come up with.