The way we communicate with our customers is changing radically
In today's day and age, consumers are being targeted and influenced from all angles. Current estimates reckon that we are exposed to more than 2.000 brands every single day. As a result, attracting attention to your brand amid the noise can be quite a challenge.
Whether you blame your phone or your smart TV: people today lose concentration after 8 seconds. That's a tiny window of opportunity to engage as a marketer! Unfortunately, static content is limited if you are looking to hook your audience.
Source: Time Magazine
If you do manage to grab people's prized attention, your next challenge as an advertiser is to ensure that the audience finds your message somewhat captivating or relevant, to avoid being perceived as just another ad. Plenty of brands have understood this shift in expectations and are investing heavily in inspirational content. They are trying to cut through the noise in a bid to engage with their audience through relevant content, as opposed to mere targeted advertising.
86% of B2B marketers today are using content marketing, and 70% are creating more content today than they were a year ago.
Source: Snapapp
There are only a few platforms (like Facebook and Google) that offer true personalized advertising and they mostly work through a bidding system. As a result, the required investment for companies to reach a decent-sized audience through these popular platforms has skyrocketed in recent years. Organizations can no longer be sure that their ad budget will enable them to reach their target group.
First things first: cover the basics
On average, mobile accounts for more than 60% of all website traffic. There is no question about it: your website must be fully responsive, using a mobile UX as a starting point for development. Too many brands still fall short with their mobile browsing experience, which undermines the rest of their efforts. You simply cannot create sufficient value using a sub-par platform: a smooth user experience is paramount.
Next to this, you have to find a way to generate new traffic to your website without having to keep coughing up money from your advertising budget. Also, you have to make sure you can motivate your audience to revisit your website as frequently as possible. Using inspirational, SEO-optimized content, you can publish valuable insight to the web and transform your traditional push marketing to a pull marketing model. Providing people with the opportunity to find your content organically or through genuine referrals is the most durable strategy to acquire new customers. If you can deliver your content on a mobile-friendly platform, you can increase your content's impact even more.
What value should you expect from interactive content?
Crafting inspirational content creates a momentum with your audience. If you aren't able to allow your audience to act on this momentum, you miss out twice. First, you miss out on the opportunity to capitalise and generate value out of your content – for example, a click-through to a subscription or purchase – and secondly, you leave your visitors with a feeling of frustration as they cannot continue their desired browsing path. Don't fall for that deadly combo of missed turnover and suboptimal user experience.
Crafting inspirational content creates a momentum with your audience. If you aren't able to allow your audience to act on this momentum, you miss out twice.
To a user, interactive content brings extra value as it allows a two-way dialogue during that magical moment of inspiration. It enables a personalized, customer-centric user experience from start to finish. It is part of our human nature to act upon stimuli. The more efficiently you allow your visitors to act on that inspirational content stimulus, the more value you can generate. Translating this improved user experience for your audience into direct value for you: allowing your audience to interact with content, will directly result in more time spent on your website plus an increased retention rate, booth leading into a boost of your non-paid traffic.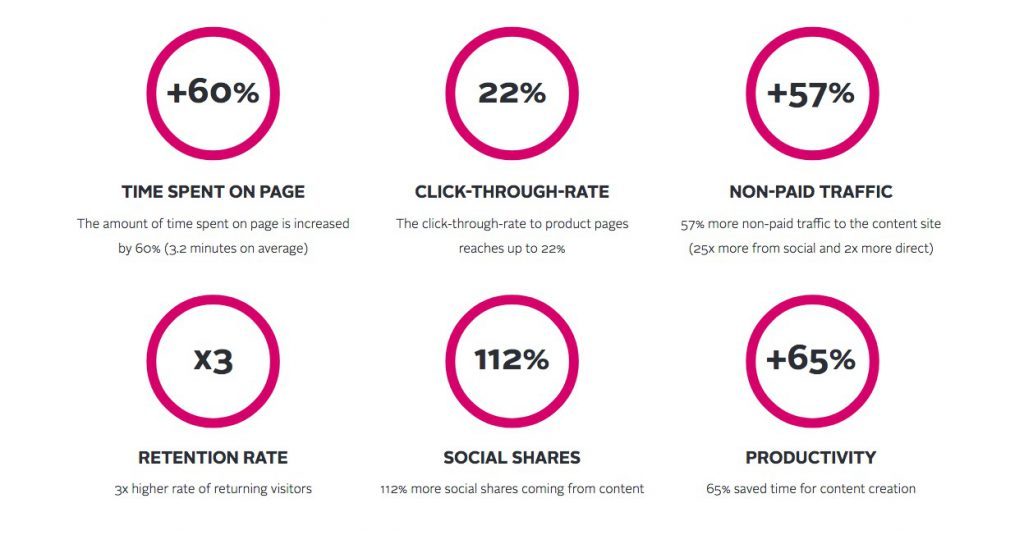 Source: Constant-content
The value that is generated through interactive content is not only expressed through increased transaction numbers or longer visits to your website. Your audience also uses your content to become inspired, get informed about a future purchase, and to discover new things. A Demand Metric study compared interactive content to passive content concluding that the former is very effective at educating the buyer (93% versus 70%), differentiating from competitors (88% versus 55%) and being shared (38% versus 17%).
54% of people want to see more video content from marketers.
Source: Hubspot
Focus on authentic, inspirational content
A single budget for both advertising (more expensive, less return) and content (which frees up production budget) might seem like a challenge, but some out-of-the-box thinking and simplification can get you a long way. The basic thinking process consists of three steps:
How to reach your audience as efficiently as possible?
How to inspire your audience?
How to enable your audience to interact and convert, based on that inspirational content?
Providing inspirational content to your audience on your website will improve the relevance of your web presence. It is not just about a functional purchase ("Let me visit your website when I have decided to buy something"), but about allowing inspiration ("let me check what's new") to convert a latent desire into an active conversion.
Looking to learn more about how interactivity can generate value from day 1? Read up on our blog!
Want to learn more?
Are you interested to learn more about these new features and our product roadmap? Feel free to schedule a demo with one of our colleagues. They can't wait to learn more about your challenges and discuss how Spott can make sure your content not only inspires, but also sparks sales.