Savvy brands and digital marketers are racing to implement interactive marketing content into their marketing strategies.
Why?
They know that interactive marketing is the next big evolution in digital marketing, even digital communication as a whole.
Interactive marketing not only improves engagement– sometimes doubling engagement levels single-handedly– it can even streamline the sales or purchase process by cutting out entire steps.
What often isn't talked about (yet) is how interactive marketing will impact SEO.
The old SEO
The SEO of today is entirely different from the SEO of 10 years ago.
The SEO of 10 years ago was:
Stuff keywords into articles
Exact phrases
Short articles (500 words average)
0 Consideration for how helpful the content is to the user (because that didn't help you rank)
Robotic Google algorithm
Pretty straightforward, though not exactly in line with Google's own goal of providing a great search experience for its users.
Google is known for changing its criteria for how it ranks content, and the algorithm (at this point, a full-blown AI) it uses, constantly.
However, it's made all of these changes based on one central idea. Let's see if you can uncover it.
The new SEO (and the future)
To do that, let's look at the SEO of today:
A sophisticated, complex algorithm that picks up on not only exact match keywords but dozens of relevant phrases, to the point where…
An exact match keyword isn't even necessary to rank for a given keyword, but more a natural mix of phrases closer to actual speech
Longer, more comprehensive content that delivers value to the user (typically 1000+ words if written, often 1500-2000+)
And 100% focus on the user's (the searcher's) experience, including everything from how fast the page loads for the user to how fast and easy it is to get to the answer or solution they're looking for
The SEO of today rewards content written naturally without keyword stuffing. But more than that, it rewards brands for investing heavily in thinking about:
How the user interacts with your platform, and
How much (relevant) value you're delivering specific to the query
In other words, it's 100% about improving the user experience.
How easy do you make it to get an answer to the user's question?
If they're looking for a product, do you make it easy to find what they're looking for, get the information they need to make a decision, and check out?
Believe it or not, how effectively you can convert search users has a direct correlation to your search rankings.
The better you do this, the lower bounce rate you have– whether a user lands on your site and leaves or clicks through to another page– and the more time on page.
These are actual ranking factors that make a big difference in how well your pages rank.
But possibly most important: the less likely a user will hit the back button and click on another one of the search listings.
The shift toward user experience
If you can "end the user's search" as Google often phrases it, you're golden.
In other words, Google rewards brands who invest in accomplishing their goal for them.
They want people to search on Google and find an answer to their question or a solution to their problem simply, easily, and quickly. The better you can do this, generally, the better you rank.
There's more technicality to SEO, but this is the overarching master principle behind everything that Google does and what you should focus on if you truly want to rank in 2021.
And this is only becoming more important, with Google's Page Experience Update launching in 2021.
Here's straight from the lion's (Google's) mouth:
"The page experience signal measures aspects of how users perceive the experience of interacting with a web page. Optimizing for these factors makes the web more delightful for users across all web browsers and surfaces, and helps sites evolve towards user expectations on mobile. We believe this will contribute to business success on the web as users grow more engaged and can transact with less friction."
In other words, they are looking for how usable your website is for users and how effectively you can solve their query.
That brings us to the next evolution in digital content and something that has the ability to transform the user experience as a whole: interactive marketing.
Why interactive marketing is key to your SEO strategy
So far, we've talked about the present and future of SEO and how you need to put the user experience front and center if you want to rank.
How, then, does interactive marketing come into this equation?
Interactive marketing content completely changes how consumers interact with your brand.
It doesn't just add a few pretty bells and whistles, interactive content can cut out entire steps from your sales process and engage users in a way that no medium has ever been able to do.
If you're still processing all this, let me put it clearly: interactive marketing content greatly enhances the user experience in multiple ways.
It helps you do exactly what Google wants you to do with your search content: make it more user-friendly.
With interactive marketing content, you can produce pages with:
Reduced bounce rate
Longer session duration
And more pages per session
These are some of the most critical factors affecting your page's search performance, all of which good interactive content can help you with.
It's easy to say all this, though, and hard to visualize it.
So, let's go over some examples.
How brands have used interactive video to improve their search rankings
It's easy to make bold claims like how interactive marketing can help you improve factors directly relevant to improving your search rankings (and how it will only become more prevalent), but it's another to provide examples.
And we've got a few.
Here are a pair of examples of how brands have used interactive video content to improve Google ranking factors, including:
Colruyt uses Spott to improve conversion rates by 25%
If you read about the benefits of interactive marketing, the first thing you typically hear is its ability to (often drastically) improve engagement.
What isn't talked about as often is its ability to reduce the customer purchase path and improve conversions, something it does just as well.
That's exactly what major Belgian retail brand Colruyt was looking to do when it partnered with Spott.
As a result of implementing interactive video (and other interactive content), they were able to increase conversions by an incredible 25%.
Not only that, their average order value increased by 18%.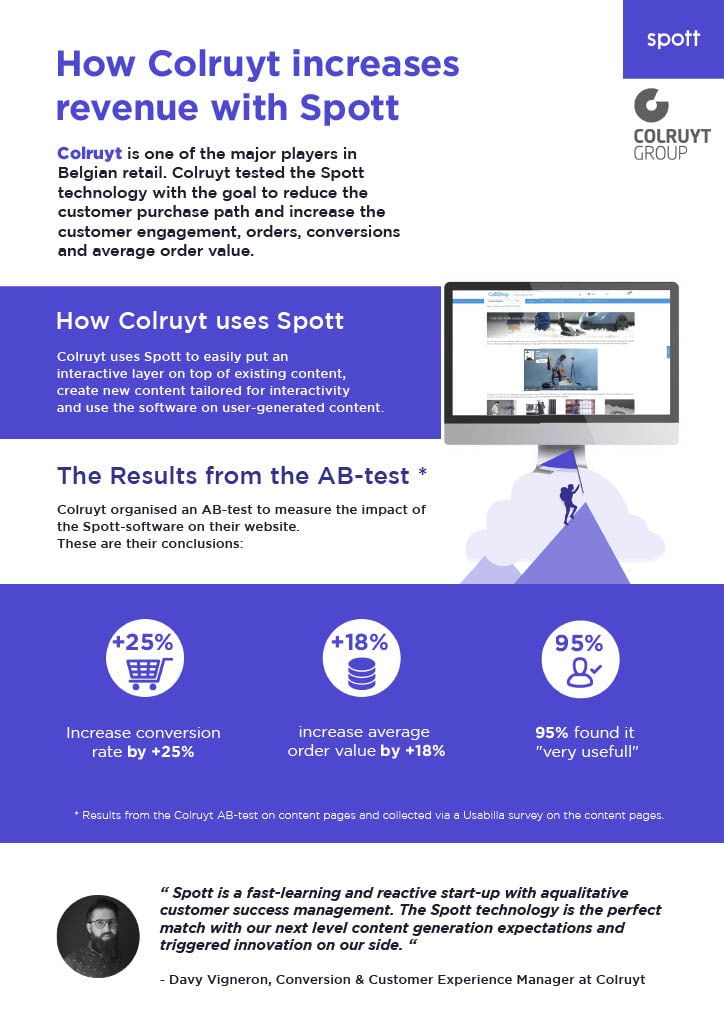 Interactive marketing content doesn't just drive conversions through increased engagement, it can also simplify the purchase path.
And, as we touched on earlier, the better you can convert on the page (i.e. solve the user's query and end their search: they search "black blazer" -> you sell them a black blazer), the better your SEO metrics will be in the eyes of Google.
Your bounce rate will go down, pages per session up, and time on page increases as well. The result is a boost to your SEO you couldn't have gotten otherwise.
Coffee brand Ana transforms how-to content
A common search intent, users are often looking for the "how" of a topic, quite literally.
Whether it's how to start their first marketing campaign or brew a killer espresso, oftentimes users are looking for guide-type content to help them accomplish a task.
With interactive content, you can give users a way to learn more effectively than basic words on a page or even an instructional video can do.
Like this interactive video example from Coffee brand Ana: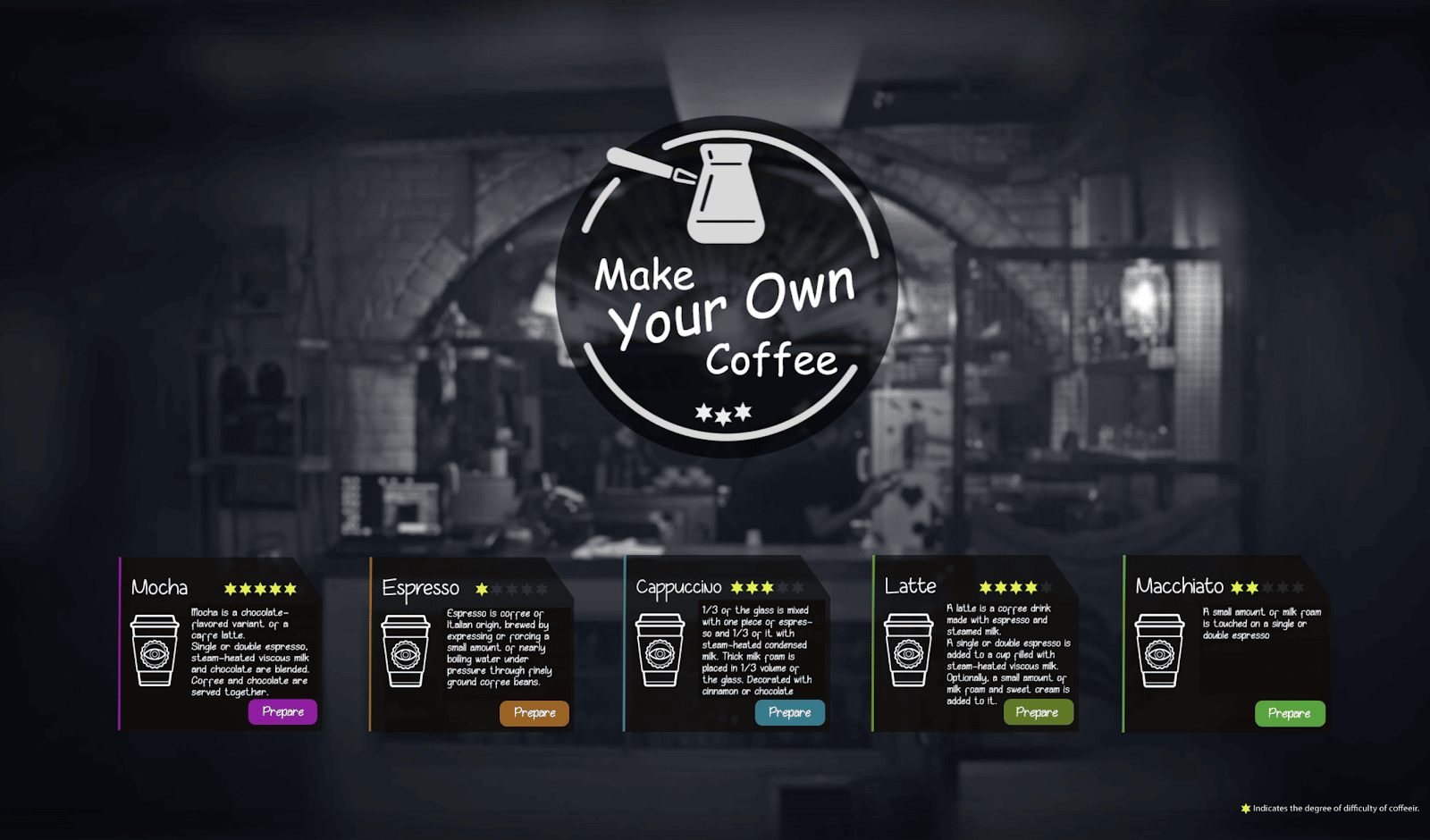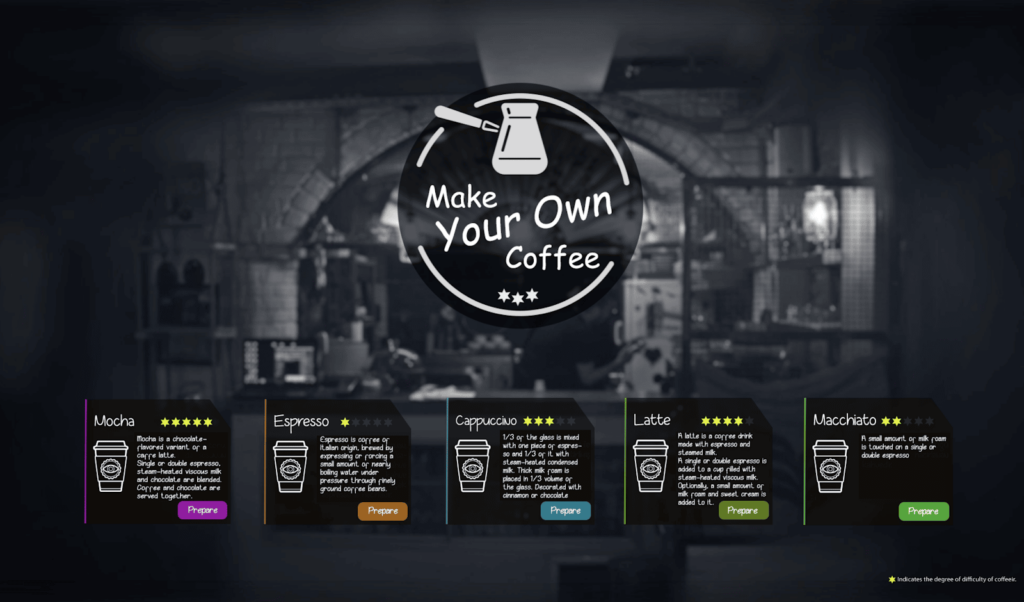 In the example above, you can click on whichever drink you're interested in making. The video will then take you through the steps with you clicking on each individual ingredient in the order you choose.
The best part is, this kind of helpful content translates into conversions for brands in a digital economy where consumers often put their wallets where they received the most value.
An interactive video like this goes beyond even what standard video can do by actively engaging the user in the learning process, elevating the value they receive and their perception (and memory) of your brand.
Video metadata for SEO: Spott's product schema embed
We covered two clear examples above of how interactive marketing content can become a key element in your SEO strategy.
However, as Google implements new video SERP features, it's important to also consider how your videos are appearing on the SERPs themselves.
In fact, with Google's latest updates, your videos can appear with a timeline, which Google refers to as 'Key moments' (see: 'In this video'):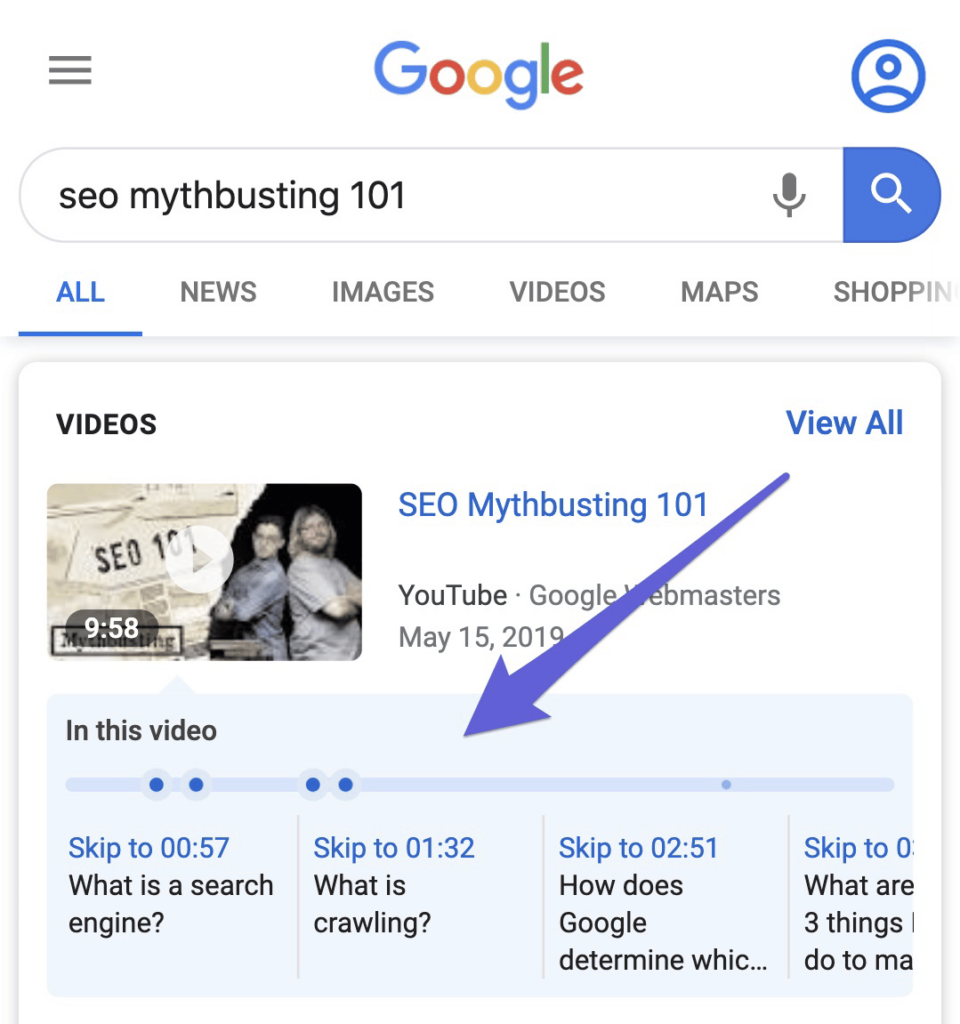 This is only possible, however, by making sure your videos are marked up with the right structured data. And for that, you need Product Schema.
For those unfamiliar, Product Schema is a type of structured data that makes it easier for Google to identify information in and about your video.
With this information, Google can use more information from your video to display it in new and interesting ways, like their key moments feature.
That means by marking up your video properly, you can open up new opportunities to snag SERP real estate that you couldn't before.
Fortunately, Spott has its very own Product Schema embed.
Our embed makes getting the right information from your interactive videos, using Spott's video player, simple and easy.
With the right Product Schema in place, you'll be ready to take advantage of any new and current SERP opportunities as Google releases new features.
Get an SEO edge with interactive marketing
Interactive marketing is the future.
While great examples have been seen by brands on social, big ad campaigns, and popular news outlets like Buzzfeed and New York Times, the impact that interactive marketing content will have on SEO and native platforms is just beginning.
By implementing interactive marketing into your SEO and inbound marketing strategy, you'll have an edge over the competition who is still too busy figuring out how to overcome the issue of gradually falling returns from paid ads.
So, take the time to consider how interactive marketing content can fit into your SEO strategy today.