Interactive marketing is the future. Are you ready?
That's a big statement to make, but how about these stats to back it up:
According to a Content Marketing Institute study, a whopping 81 percent of marketers believe interactive marketing content is more effective than typical "static" content for grabbing consumer's attention: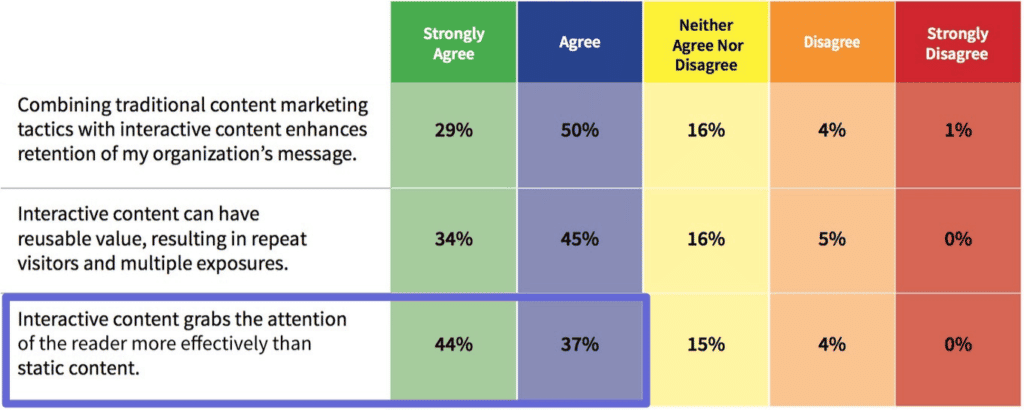 That sentiment isn't just an assumption, though.
According to a Demand Metric report, interactive marketing content isn't just more effective, it's 2x more effective for conversions.
But that says nothing of the overall trends, which is where the real story lies.
The trend towards consumer-controlled brand interactions (Or: why interactive marketing is the key)
Several years back, Gartner predicted that consumers will manage 85% of their relationship with an enterprise without ever interacting with a human by 2020.
Did we get there?
One could argue one way or another, but if you look back even 5 years, one thing is for certain:
AI and interactive content methods have become far more common in such a short period, to the point where this prediction is an inevitability.
In other words, it's gonna happen, and soon.
Now, it's common to never interact at all with an actual person when doing business with your average company online.
Interactive content such as quizzes, chatbots, and calculators are the new centerpiece driving consumers into sales funnels.
That's because they're now in control of the majority of the sales process.
Interactive marketing content simply helps them move through that process more seamlessly, giving them the tools they need to make a decision while navigating a maze of content.
Think creating interactive content is difficult?
Fortunately, it's easier than ever, and showing you examples of how to create it + suggested tools you can use is the purpose of this guide.
But first, for those just now venturing into the world of interactive content, let's start from the top.
What is interactive marketing?
Interactive marketing is a new type of marketing content that gives consumers the ability to interact by making choices, answering questions, clicking, and choosing their own path.
If you've ever encountered one of Buzzfeed's uber-popular quizzes, you know exactly how effective interactive content can be: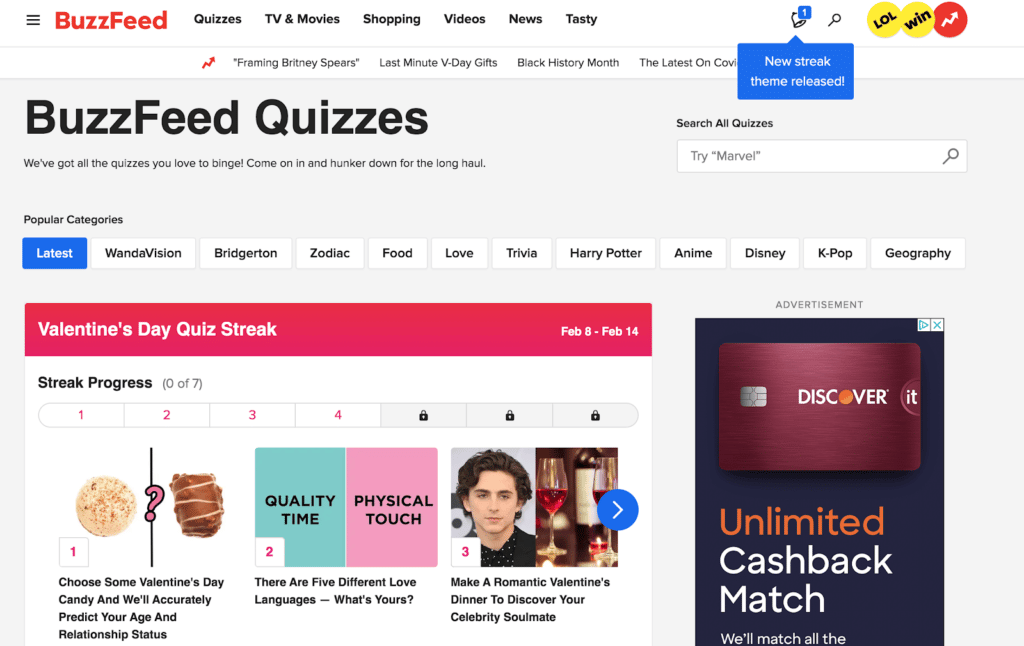 Interactive marketing gives consumers more than just choices, though.
It doesn't just put them in more control of the buying process, either.
Interactive content is often highly shareable, making it candy for social media.
Who doesn't love letting their friends and coworkers know which Hogwarts house you're in? Yet another classic form of interactive content, originally designed to market the Harry Potter / Warner Bros. website, Pottermore: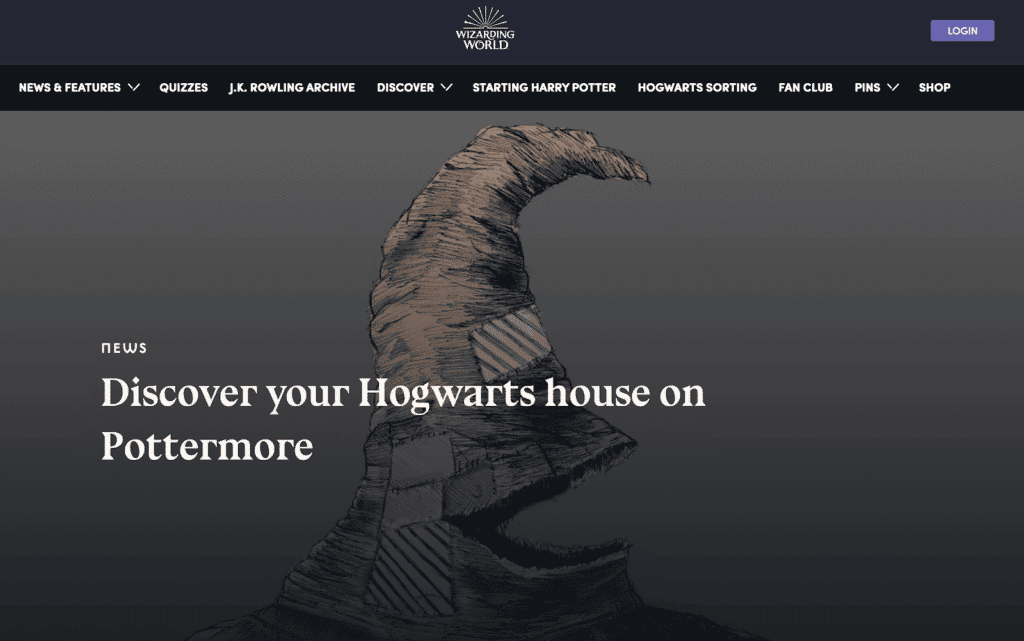 Interactive marketing has stretched into every medium and content channel, from blog to video, social, and even email.
It hasn't and won't stop evolving, though.
Now, interactive experiences like choose-your-own-adventure style videos and shoppable videos with add to cart buttons embedded within the very content are even possible.
That all sounds kind of complicated, though, doesn't it?
Fortunately, many tools have cropped up recently that make doing any and all of the above simple and easy.
The Ultimate list of interactive marketing solutions (8 Examples + suggested tools)
Chances are, you've seen the power of interactive marketing content in action before.
You might have gotten the impression that it's difficult to create though, requiring an in-house or pricey freelance designer or agency.
However, there are several tools now available you can use to create high-quality interactive marketing easily and which are marketing budget-friendly.
So, if you're wondering how to implement interactive content into your own marketing campaigns or you want to know what tools are available for creating it, read on.
Below is a comprehensive list of 8 different types of interactive marketing, with examples of each along with a SaaS tool or service you can use to create it.
1. Interactive images – ELLE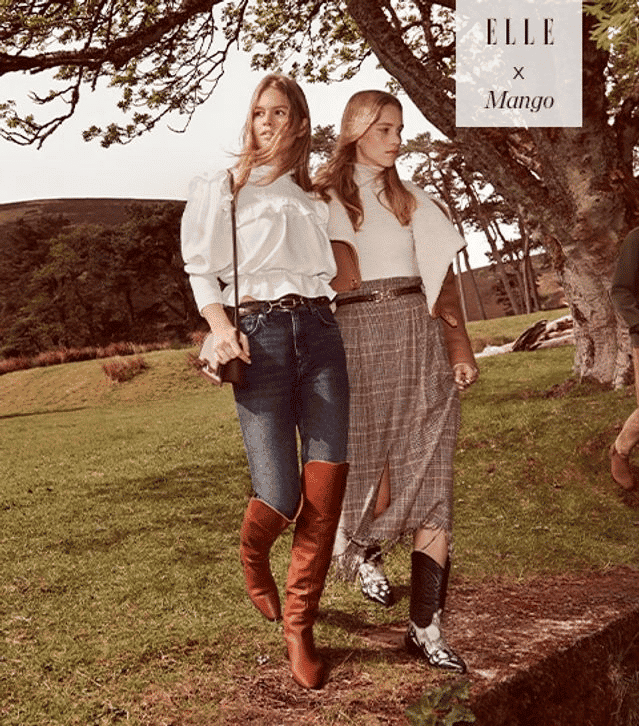 Interactive, clickable images are a great way to boost engagement and conversion rates by giving your visitors and prospects more ways to interact with the content you already have.
ELLE wanted to do just that, so together with Spott, they added interactivity to their native content, adding value for their customers while improving the effectiveness of their ad campaigns.
Interactive images like this give you a way to direct prospective customers to your product or key information about the content itself, streamlining your sales process at virtually every stage.
Tool: Spott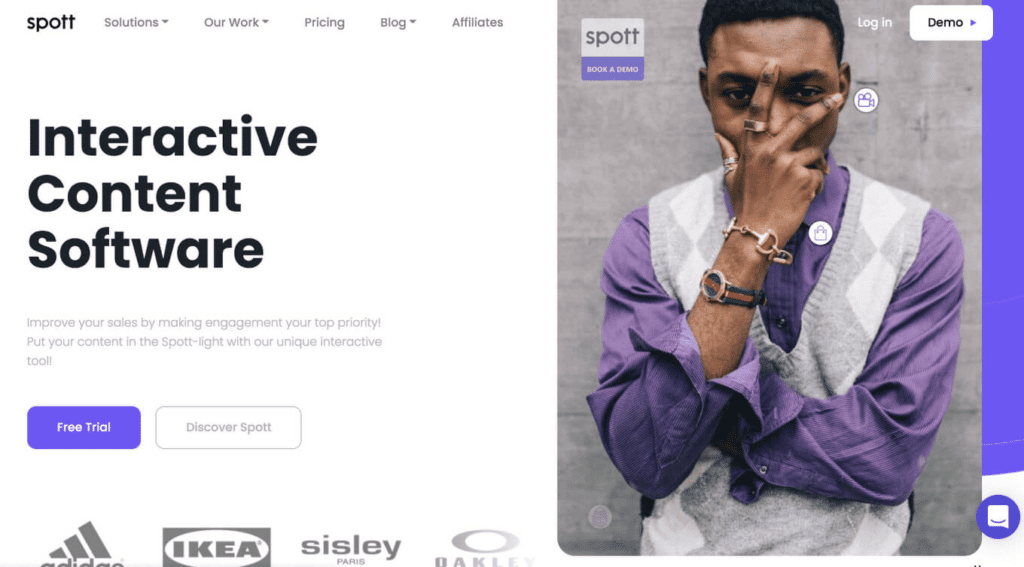 Spott gives you the ability to create interactive images exactly like the example above, adding clickable elements to your images that are especially powerful for ecommerce. You can even do the same with video content.
You can also have a button drop in at exactly the right time in your videos, with anything from a "Download Catalog" button if you want to direct viewers to a new line or "Subscribe" to generate email sign-ups.
Brands like Adidas and Ikea have used Spott to create interactive experiences that elevate both their engagement and lead generation.
Check out Spott free for 14 days.
2. Polls – Emmy's Organics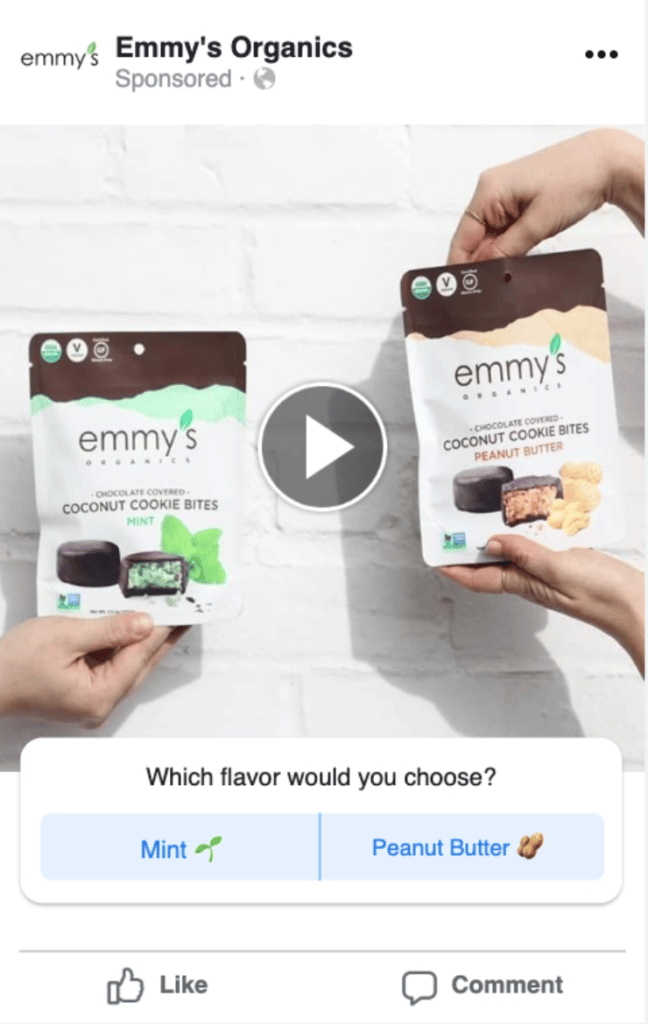 If there's one thing social media has proven, it's that everyone loves giving their opinion (and their pets).
That's why an interactive tool like a poll is so effective.
In the example above, Emmy's Organics ran an ad asking what kind of cookie person you are: mint or peanut butter?
It might sound unbelievable, but that simple ad was a hit, generating huge engagement and clicks.
With a good poll creator tool, you can create polls asking:
Ecommerce fashion: What is your favorite type of outfit for X occasion?
Cooking supplies or meal prep service: What is your greatest cooking difficulty?
SaaS solution: What is your greatest workplace challenge when it comes to productivity?
Streaming platform: What of these movies is the greatest ever?
Then, deliver them to a landing page or other follow-up marketing material to convert.
Tool: Pinpoll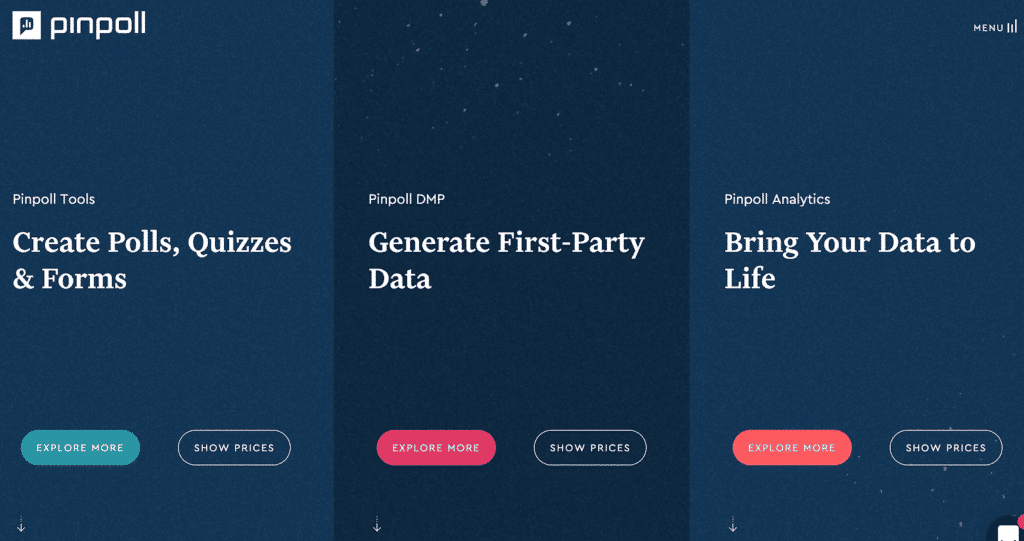 Pinpoll is a great option for creating polls whether in ad campaigns or on your own platform or social.
You can choose one of several samples to get started, make a few quick edits, and be ready to run your poll in minutes.
You can even share it directly to social in the Pinpoll dashboard after you're done creating it.
3. Interactive maps – The Solutions Project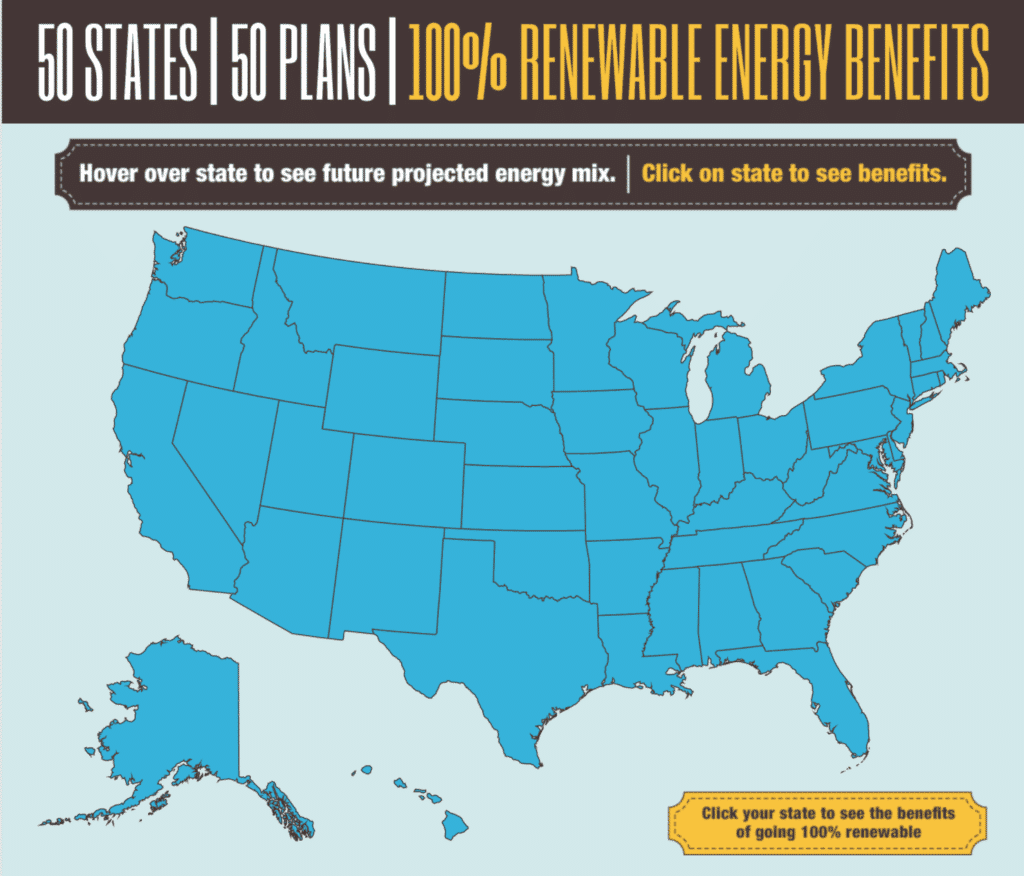 The Solutions Project worked with Killer Visual Strategies to create this amazing interactive map to promote the benefits of going 100% renewable.
As you hover over each state, you're presented with a visually pleasing graphic-coded key that shows specific categories of energy renewability for each state.
When you click on a particular state, it even gives you a whole page of information with sharp graphics that's easy to digest, allowing you to explore more of what you're interested in.
Interactive maps are one of the oldest forms of interactive marketing online, with everyone from Harvard to travel brands like Orbitz using it to generate interest and buzz.
Tool: Mapme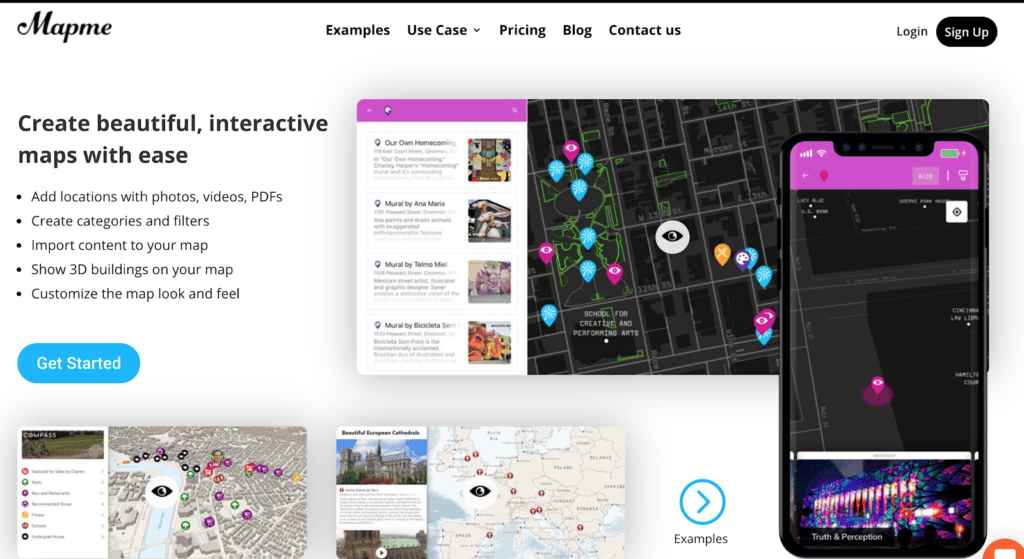 Mapme allows you to easily create interactive maps using a variety of templates.
You can then layer within each map additional content such as videos or text to give your prospects and customers ways to dig deeper.
Mapme requires zero coding skills and maps can be put together in minutes.
You can even use the 360-degree tour feature, similar to 360-degree videos which appear further down this list, a feature Harvard used to give prospective student applicants a peek into what it would be like to attend the university.
Mapme also seamlessly integrates with most website platforms such as WordPress, Wix, and Squarespace.
4. Calculators – Tesla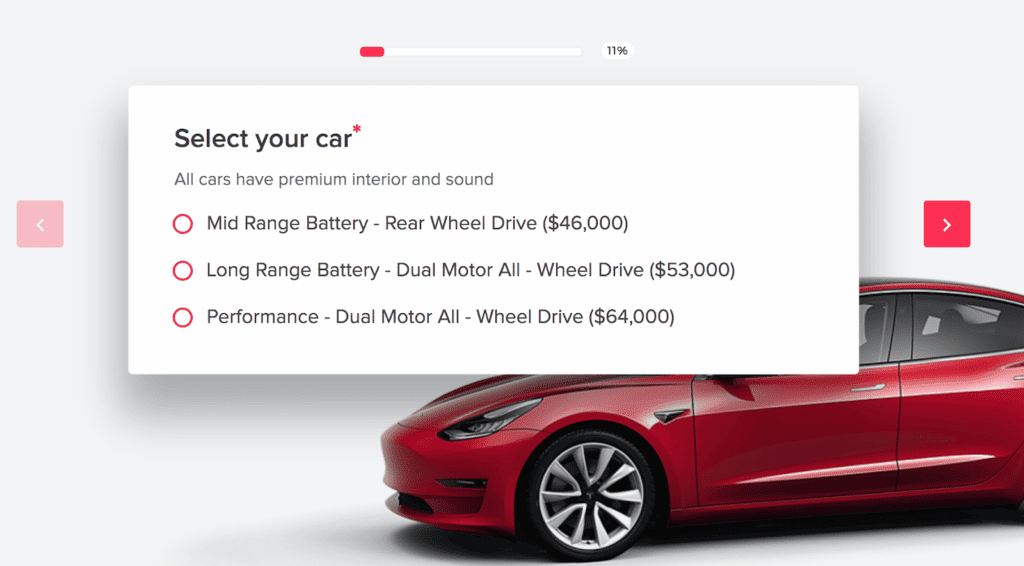 Calculators are a simple interactive tool similar to quizzes.
However, when used right, they can be powerful lead generation tools.
The example above, created by interactive content tool Outgrow (more on them below), is an interactive Tesla car savings calculator.
Through the calculator, the user can discover how much money they'll save over the life of their next vehicle by purchasing a Tesla.
However, in the process of inputting your information into the calculator, you're sneakily introduced to all the incredible vehicle options available in the latest Tesla, selling you on the car.
To cap it off, at the end, you're asked for your contact details to learn more about purchasing a Tesla.
At the same time, if those aren't features that excite you, then a Tesla might not be for you. Because of this, it's good for qualifying prospects as well.
Tool: Outgrow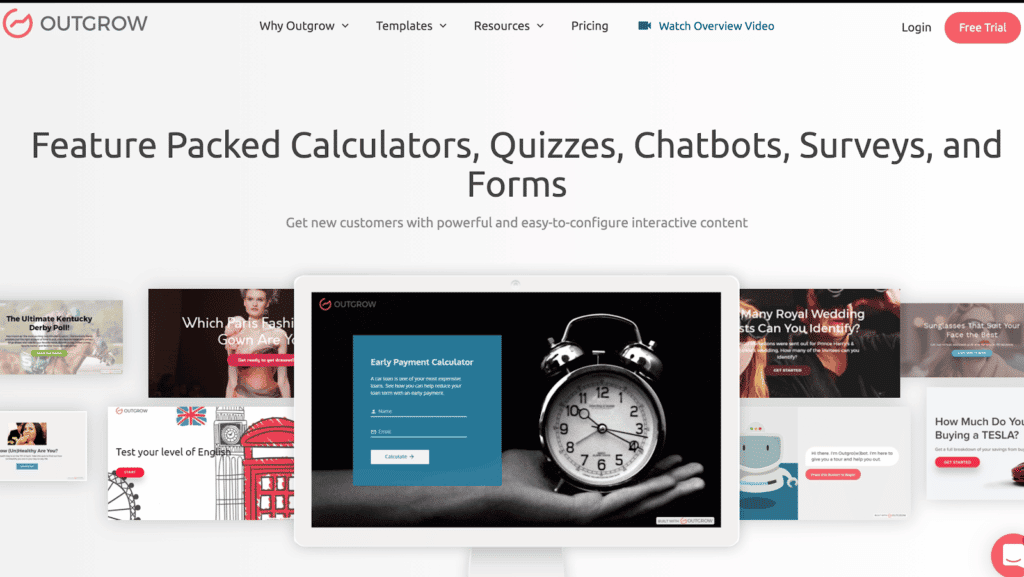 Outgrow is a robust interactive content platform that allows you to create everything from surveys to chatbots, quizzes and calculators.
The interface is intuitive and it only takes a matter of minutes to set up your first calculator just like the Tesla example above (actually created in Outgrow, by the way) or other interactive content.
You can then embed the calculator directly into your site or a landing page for any ad campaign.
5. Quizzes – Orbitz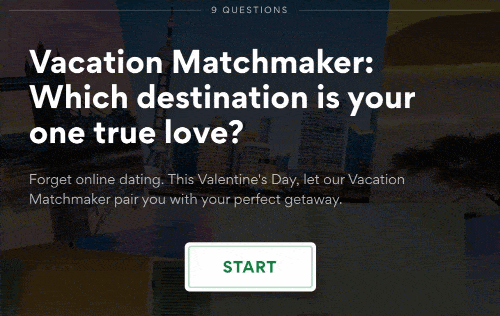 Quizzes have been around for ages, but have just recently found their value in marketing campaigns.
Chances are, you've taken a Buzzfeed quiz at one point or another, the platform many consider responsible for making the online quiz popular (though it was around for years before then).
According to a Digiday report, an incredible 96 percent of all sponsored Buzzfeed quizzes are completed by users.
Compared to any other content completion metric, that's downright incredible.
What is the marketing value of quizzes?
If there was a council of Internet virality, quizzes would be head of the council.
They're highly shareable to the point where people can't help but let everyone they know their results (we love talking about ourselves!).
Sister to the online calculator, quizzes are also great for qualifying and converting leads when done right.
The example above from Orbitz, the Vacation Matchmaker Quiz, pairs the classic quiz allure perfectly with conversion potential by telling the user what their "perfect match" vacation location is, then getting you excited about traveling there.
Tool: LeadQuizzes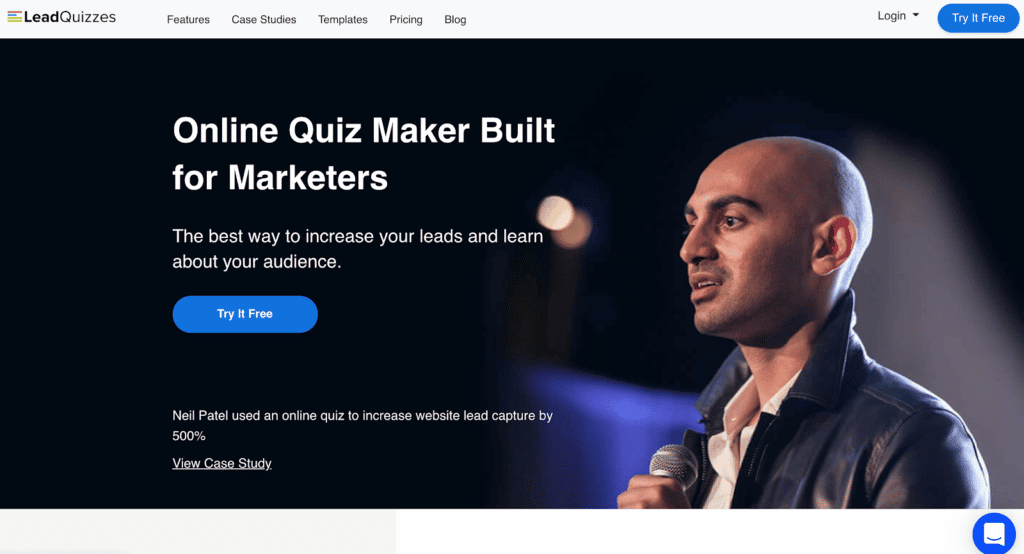 LeadQuizzes is a tool designed specifically for crafting quizzes
They offer countless customization features such as templates, custom forms, and logic rules to make the quiz truly interactive.
You can even automatically redirect users from your quiz to another webpage upon completion to facilitate lead generation or a purchase.
LeadQuizzes also makes it easy to embed your quiz directly to your website, in email, or share on social.
6. Chat – HubSpot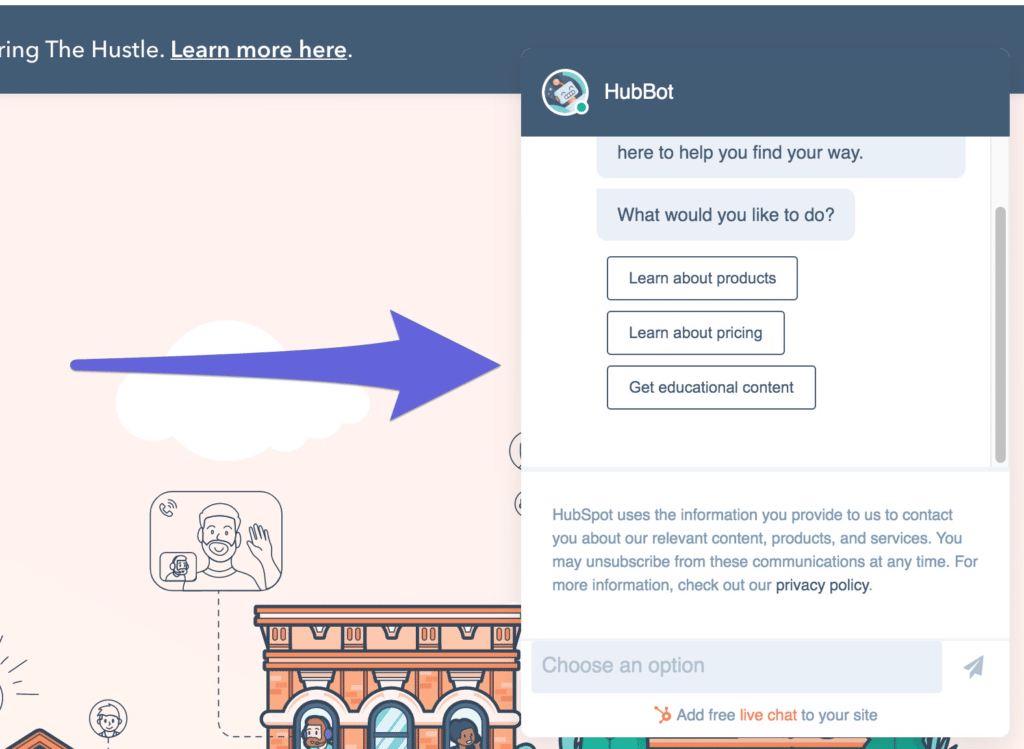 Chat has quickly taken over the sales process as one of the single most effective interactive tools available.
In fact, arguably nothing has been adopted quicker and changed the marketing process more than AI chatbots (yet).
Hubspot is known for its complete suite of marketing and sales tools. One of those tools is their chat feature, which allows you to add a direct line of communication with leads or use an AI chatbot for automation.
As you can see from the example above, chatbots are useful for more than just support.
Instead, you can use them to direct new visitors to the information that is most relevant to them. In that way, you immediately deliver visitors what they want from the moment they land on your website.
Tool: Hubspot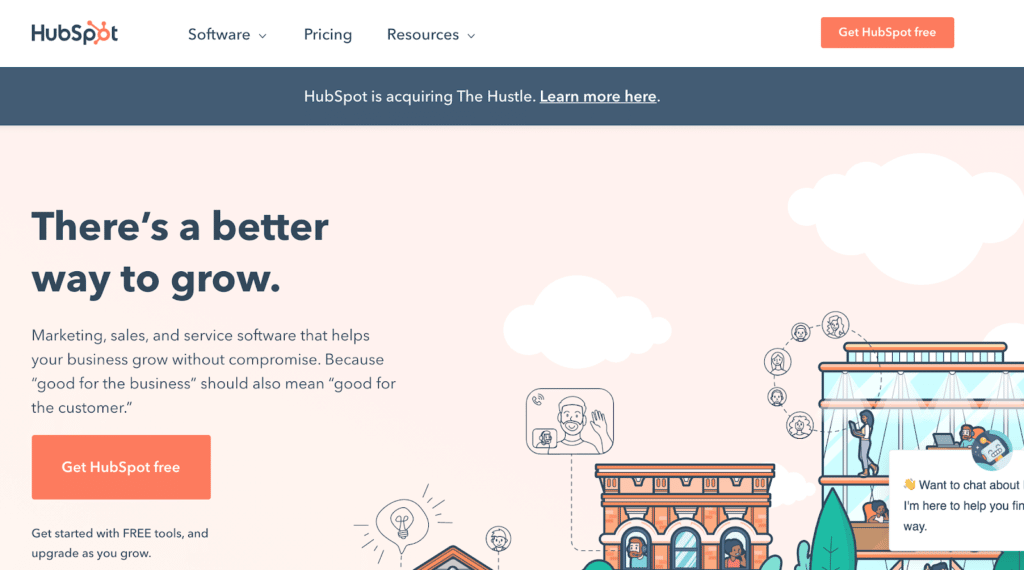 Hubspot's own chatbot tool is what we mentioned in the example above, so it only makes sense to offer it as our suggestion here.
With Hubspot's chat tool, you can utilize a variety of features that can be integrated throughout your marketing funnel, utilizing the power of AI.
Hubspot offers a complete suite of marketing and sales tools, so you can't just utilize their chat tool. However, being one of the most comprehensive CRM, marketing, and sales software on the planet means you may already be using them for other tools already.
7. 360-Degree video – Kit Kat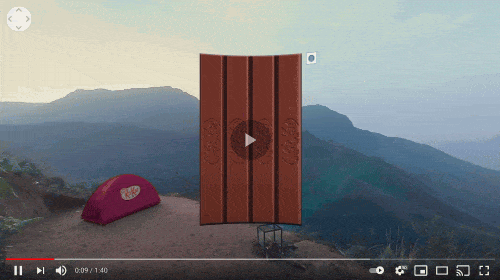 360-Degree video is one of the newer features on this list that has yet to be fully explored.
Similar to cutting-edge virtual reality experiences where the goal is full immersion, in a 360-degree video, like the Kit Kat #MyTravelBreak video above, you can hold and swipe to move the camera as if you're actually standing in said location.
The potential is pretty much limitless with this kind of interactivity. Countries and cities could use it to increase tourism, real estate could use it to give guided tours, and car manufacturers could use it to give vehicle tours.
Tool: Wirewax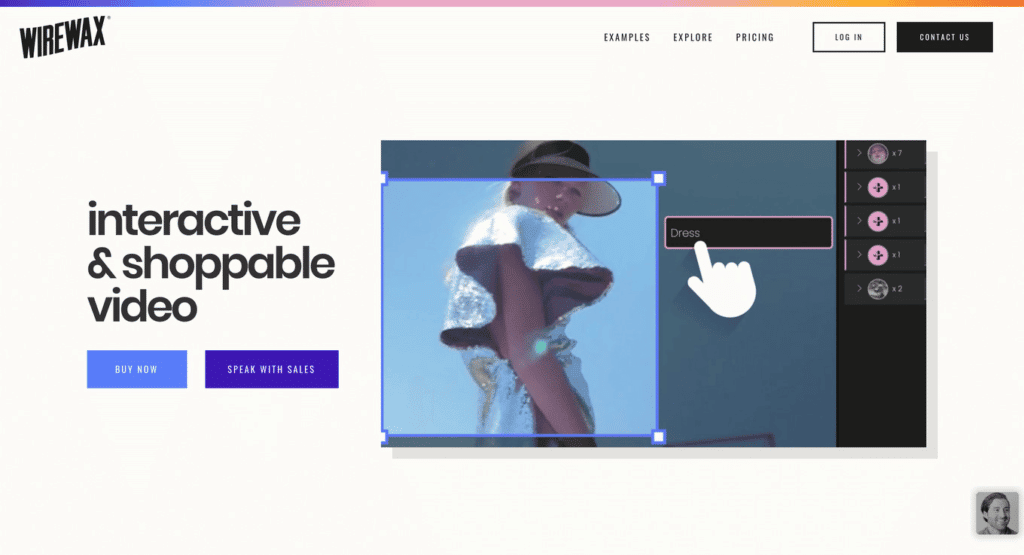 Wirewax is an interactive video software tool that offers features such as branching (think "choose-your-own-adventure" style clickable choices) and 360-degree experiences.
Their pricing is less transparent and 360-degree video is potentially a premium feature for enterprise customers only, but it's an option for those who rather not go through a creative agency.
8. Interactive infographics – Marriott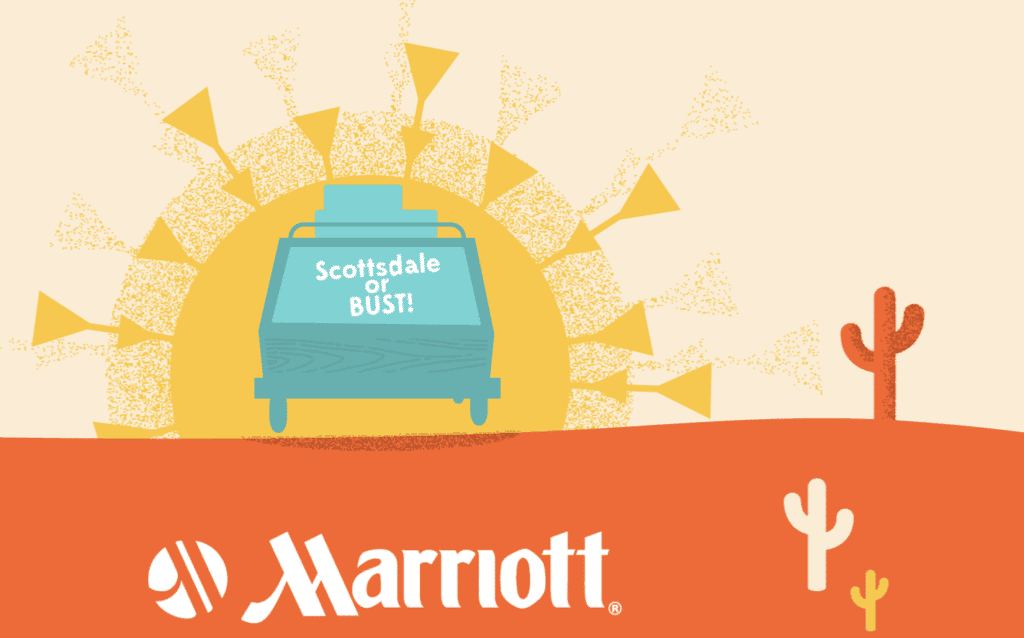 Infographics have been around for a while. Any longtime marketer knows how effective infographics are for generating shares.
Now, the infographic is growing up and entering the interactive age.
Interactive infographics, like the example above from Marriott Hotels (Family Fun in Scottsdale), transform the infographic from a piece of information content to a powerful engagement tool.
Traveling with family or with that special someone? Looking to get active or hit up all the famous eateries around town? Want something relaxing or rather stretch your limits?
Going through Marriott's interactive infographic about traveling to Scottsdale, Arizona, you're poised with questions that get you to start visualizing what your trip would be like.
Before you know it, you're planning a trip. And Marriott is betting you'll remember them when you go to look for a hotel.
Tool: Visually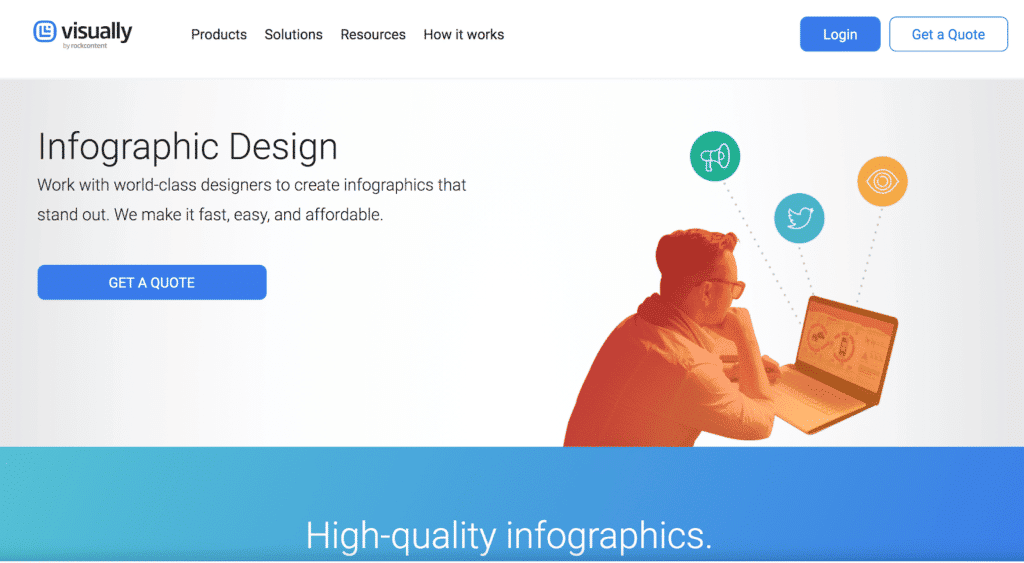 Interactive infographics are still pretty advanced and less accessible.
Fortunately, Visually offers a streamlined service that delivers some of the highest quality interactive infographics ever created.
Whether you need interactive features such as touch screen swiping, mouseover sensitivity, clicking, scrolling, or even tilting your smartphone, Visually has the capability to deliver.
Use interactive marketing to get an edge over the competition
Interactive content is the future. There's no doubt about it.
Whether a simple quiz, interactive image or video like the ones Spott helps you create, or 360-degree video experience, interactive marketing can increase engagement and improve your lead generation and sales.
The question is: have you begun testing and implementing it into your marketing campaigns?