"What we found in Spott was a way to let people buy smoothly at the moment they are most ready. Spott is the missing link between inspiration and action."

Nico, Online Content Manager at ZEB
About ZEB
ZEB started years ago as a jeans store but has grown to a multi-brand fashion store with more than 100 shops and a highly visited webstore. With over 70 brands in their array, ZEB aims to inspire and compose the favorite look for everyone, as they are serving a very diverse audience.
As one of the biggest fashion retailers in Belgium, a strong focus lies on making the shopping experience as easy and enjoyable as possible, both in physical stores as well as online. As such, good service is extremely important for ZEB.
Nico, Online Content Manager at ZEB, tells us how they shifted from an offline to a hybrid model and how they use Spott to build their online experience and results.
The solution to the challenge of e-commerce
"Originally, the website of ZEB was created as an extension of the physical stores and served mainly to show certain products and inspire customers, as an online flyer."
As the world became more and more online, ZEB realized that they needed to go more online too, and started considering the website as a true online sales channel.
However, by then their brick-and-mortar stores had evolved a lot already and were designed to make shopping a seamless and smooth experience. By using smart technology, such as interactive screens and mirrors, customers were able to order any product directly from their fitting room in case they couldn't find their size or desired color. The physical store was a journey of well-timed inspiration, service, and conversion.
Customers had come to expect this kind of experience from ZEB, and a website that allowed online shopping would have to reflect this. How could they recreate the real-life shopping experience online? How do you inspire your customers and at the same moment call out for action in an online environment?
This is when ZEB discovered Spott. As Nico says: "Interactivity, seamlessly bringing the inspiration online in a very logical and intuitive way without costing too much effort, that fits well with what we were trying to do."
"We were already working with a lot of inspirational content, but up until then, it had always been static imagery and videos. What we were missing was how to make it shoppable, how to make it convert, and how to keep customers inspired when going through the check-out process."
"What we found in Spott was a way to let people buy smoothly at the moment they are most ready. It gives us the best transition from inspiration to action without much hassle to execute on a large scale."
What does ZEB like about Spott?
Right now, ZEB mainly uses Spott for interactive images and interactive videos on their website. They are testing out the usage of Spotts interactive catalogs, which they want to start using soon.
"This is what we enjoy most about working with Spott: the team is always there listening to what we want to do, thinking with us, and discussing new features that could help us. They're not just showing us what they have built but involving us in their product development."
As an example, ZEB and Spott have recently worked together on developing a special e-commerce widget that allows customers to select the size of a product before adding it to their cart, all while staying within a video or image.
"We also like that the platform itself is fairly easy to use. One of our interns got access to the tool and was creating interactive content all on her own after having received just a short explanation."
"Although it could still do a better job at allowing bulk actions and recycling content, I know those points are being worked on and that the platform has many features that make it intuitive and easy to use. For example, thanks to the embed code we can easily change content on our website by just changing the ID of the image or video."
As Nico concludes: "I like that Spott is the missing link between inspiration and action online."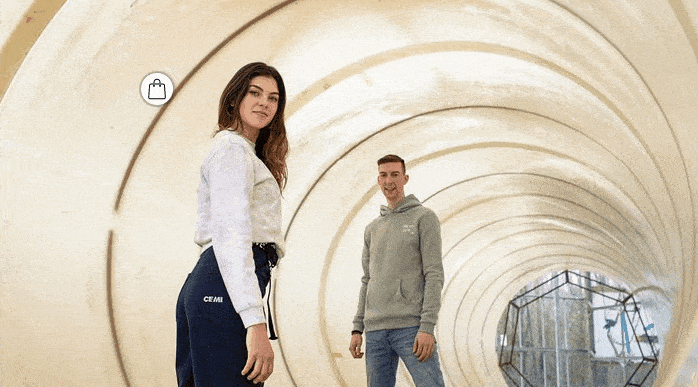 What's next for ZEB?
The next step for ZEB is to create interactive catalogs which they can then distribute on their website and other online channels. Next to that, they are looking to start using interactive content on social channels such as Facebook Ads and Instagram Stories.
In a later phase, they are looking to leverage the Spott tool to create interactive content not only for their creations but also for the content of brands they work with.
ZEB's results
Interactive content is a great way to provide a better user experience to your customers, but it doesn't stop there. Inspiration and action are both important parts of ZEB's online content.
With campaigns such as the one above, ZEB manages to make a stunning 88,65% of all viewers interact with their content!
Of these engaged customers, 7,82% clicked on at least one of the products to add to their cart. Compared to average CTRs of 2% or 3% on static content, it's clear how integration action into inspirational content really drives results.
Final words
ZEB was born as a traditional offline fashion brand. Due to the evolution of online traffic, they needed to reinvent themselves and take their way of inspiring their customers online. The challenge was to make their online customers take action at the right moment, namely when they are most inspired or most eager to buy.
By using interactive images and videos, they managed to bridge the gap between inspiration and action. Customers can easily order their products directly from the many inspirational images and videos shown on the ZEB website.
Now, ZEB's e-commerce experience is second to none, and they are continuing to work on making it even easier to delight their customers with interactive content such as shoppable images and videos, and interactive catalogs.

Are you looking to make it easier and more natural for your customers to take action, just like ZEB does? Start with Spott for free or book a demo if you have questions!