Whether on Instagram or native platforms, shoppable images have become a powerful tool for brands throughout the ecommerce space.
As content evolves and becomes increasingly more interactive, those who still haven't implemented interactive marketing tools like shoppable images will fall behind.
The only problem?
It can be hard to find quality advice on how to actually implement shoppable images into your content strategy.
What kind of images make good shoppable, interactive content?
How can you know what your audience resonates with?
And how can you best utilize shoppable content in terms of one platform vs. another?
Below, we'll answer these questions and more.
First, let's dive into some overarching tips that will help you get started with shoppable images.
Then, we'll use some real-world examples of shoppable images to further illustrate additional tips for creating awesome, effective shoppable images that boost engagement and elevate conversions.
3 Tips for Creating Awesome Shoppable Images
Below are 3 master tips for creating highly effective shoppable images.
The kind that don't just look neat, but actually skyrocket your engagement levels to points you've never seen before, and convert in a way you never imagined.
That might sound like an exaggeration, but for those who have implemented interactive content of any kind into their content strategy, you know that's not.
So, how do you craft awesome shoppable images?
Here are 3 tips:
1. Use a compelling, dynamic image
When creating your first shoppable images it's easy to be blinded by the desire to sell your product.
As a result, the images you create and choose end up being uninteresting and forgettable.
In other words, they're just not something anyone is compelled to actually click on…
And as a result of that, engagement is low and conversions are nonexistent.
The solution? Well, it's a two-parter.
First, you need to make sure the images you use that clickable, interactive functionality with are beautiful, interesting, compelling, or all of the above.
Users don't click on interactive images because of the products being featured.
It's like any other type of content: you design it to either entertain or provide value.
Your images, therefore, should be less like this: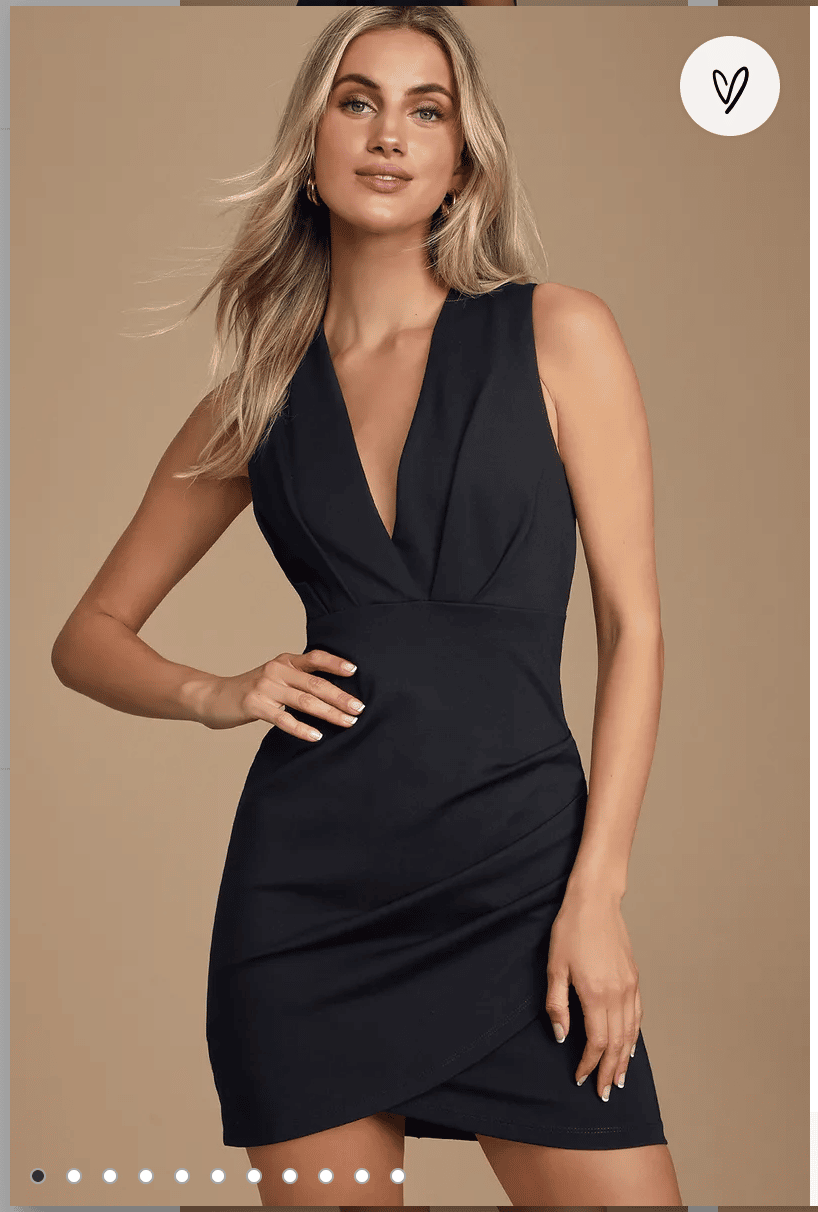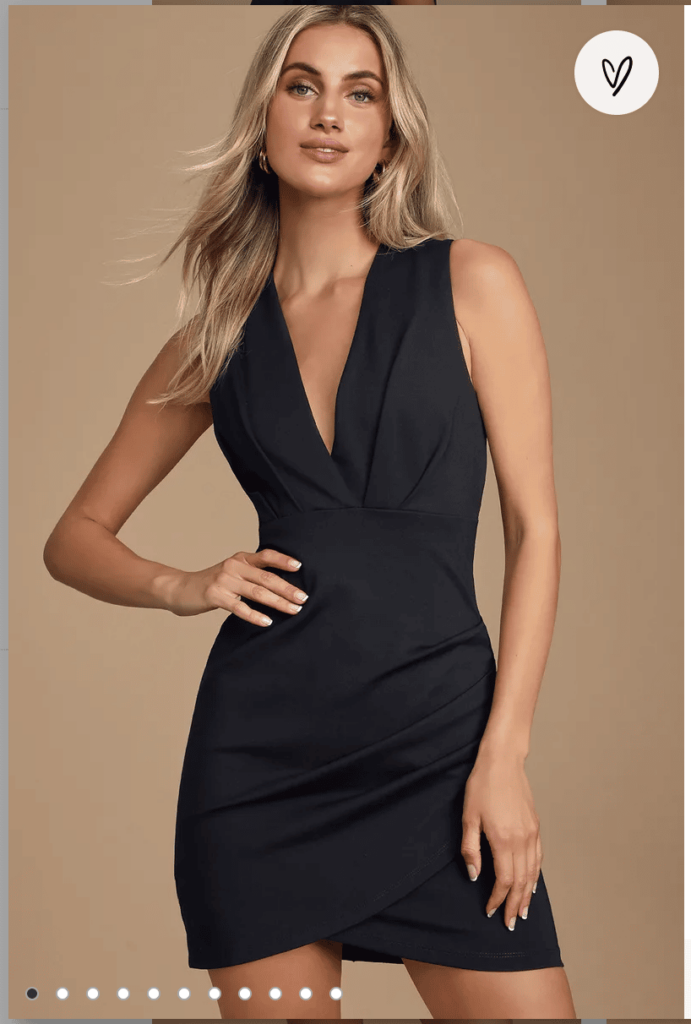 And more like this: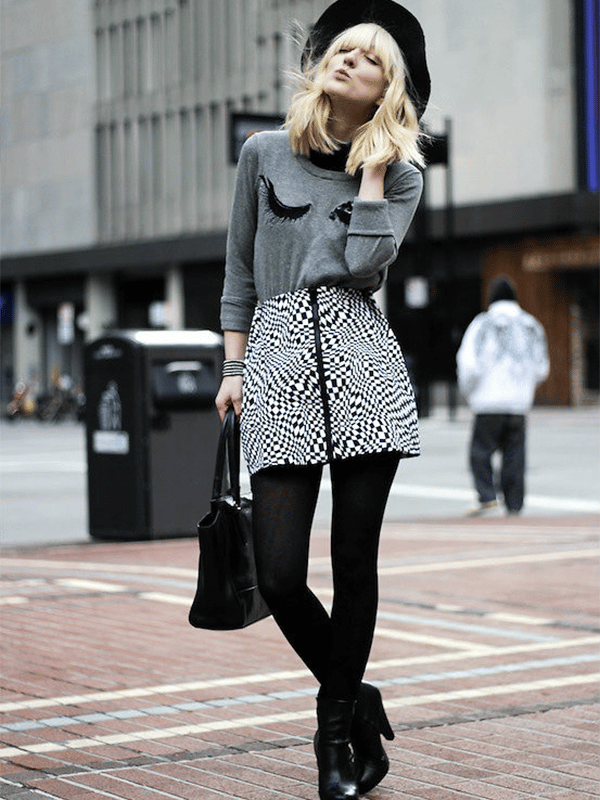 The first image is clearly a product image. Bland, uninteresting. Expected, but that's part of the problem.
You're not trying to trick the user, but you aren't trying to make it obvious that the purpose is to generate sales.
Instead, you might be talking about a hot style trend for the season and referencing it in an Instagram post with this image.
The image provides them ideas for what they can wear, providing them value and entertainment as their mind runs wild about the outfit they're going to pick up for that next big engagement.
However, behind the scenes, this compelling shoppable image also makes it oh-so-easy to just add the outfit to their cart.
Why shop around when they could just buy it right then and there?
Now, let's talk about that second element I hinted at earlier, and it's really the core behind any good interactive content.
2. Tell a story
Interactive content tends to carry a narrative, meaning that it utilizes emotional and visual storytelling to communicate an idea.
If we go back to our product image example above, the former image communicates only one thing: buy our product.
However, the latter image communicates a story: this is the style of this season.
You can see the woman going about her day, walking down the street enjoying herself in her outfit.
The image communicates a trend, a style, and most importantly: a feeling.
A feeling that compels them to act.
In this case, to click on the individual styles, add them to cart, and checkout.
In the next tip, we'll talk about a creative example that really helps elevate shoppable images using this very idea.
3. Use user-generated content
A powerful play on the shoppable content explosion is user-generated content (or UGC) galleries.
A UGC gallery is an automatically populating gallery– which typically lives on the commerce platform's website– by pulling from social posts with a particular hashtag.
Like this example from jewelry retailer Cluse: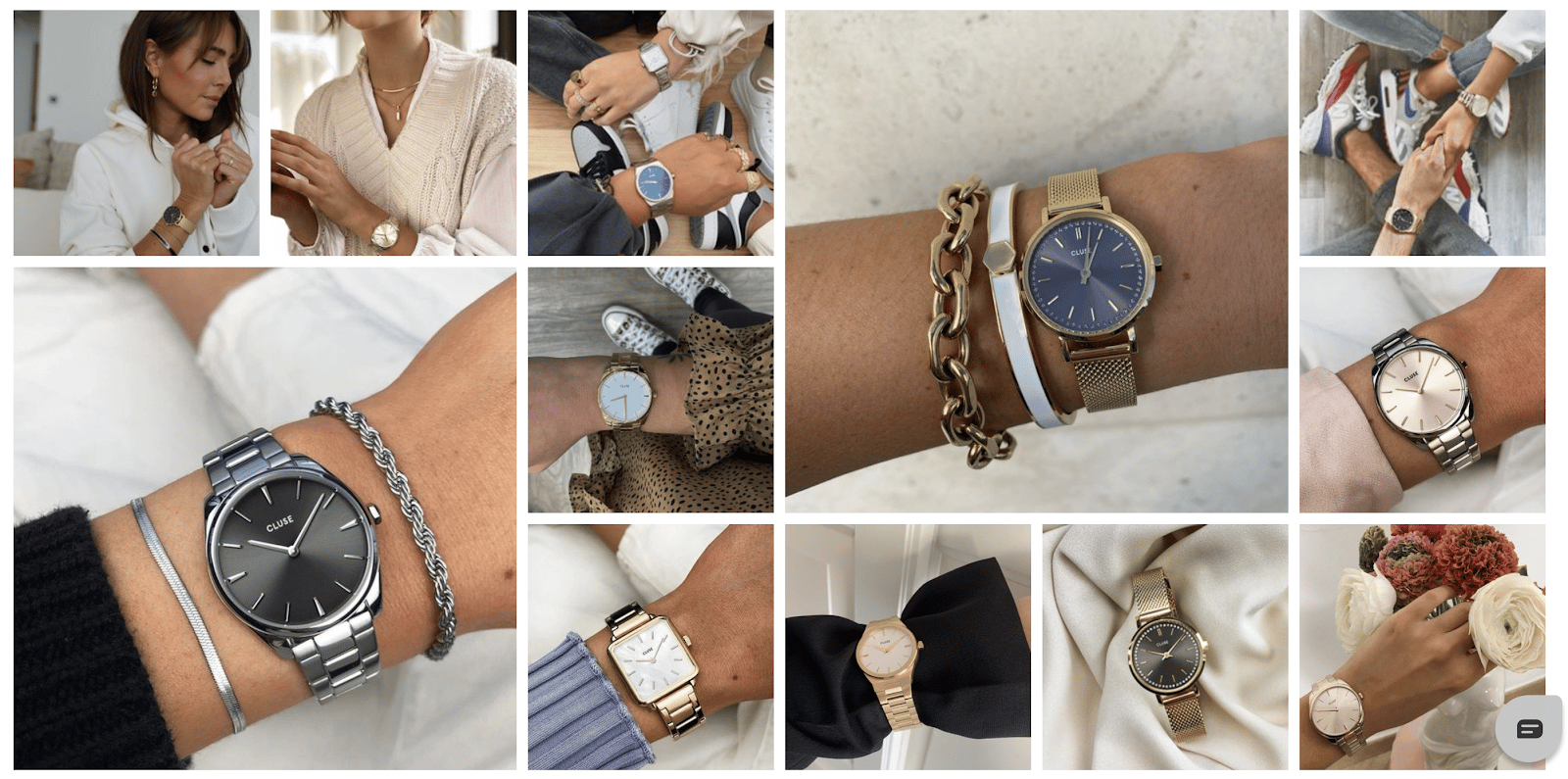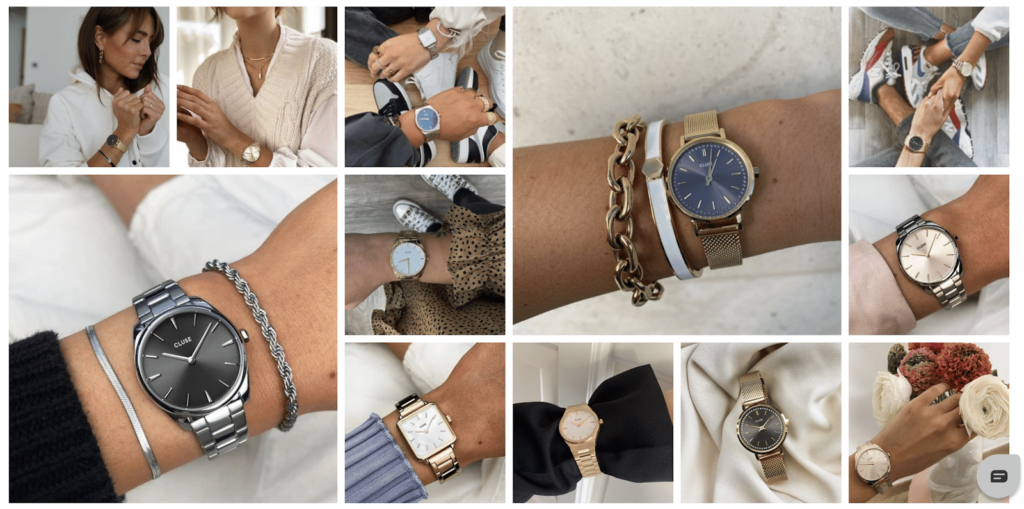 The gallery automatically pulls Instagram posts using the custom hashtag #CLUSE.
The result is a fully populated gallery with 100% of images being from real customers wearing their products.
When you click on an individual image, you get a clickable "Shop the Look" widget that allows you to purchase the styles shown in the image.
Now that we've got that explanation out of the way, let's go back to our last point for a second.
More than just a format for displaying shoppable images, this strategy utilizes only images directly from customers.
That makes them not only more powerful in terms of social proof but, taken together, they tell a powerful story of your brand and the feelings attached to it.
For that reason, if you can make good use of this strategy, it's worth experimenting with.
4 Real-world examples of shoppable images
Now that we've gone over a few tips for creating high-converting shoppable images, let's get into some examples.
It's hard to visualize how to set up your interactive images without seeing examples, so think of this section as an extension
1. ELLE – ELLE x Mango
This example from ELLE, in conjunction with Spott, is the perfect example of a simple and effective shoppable image: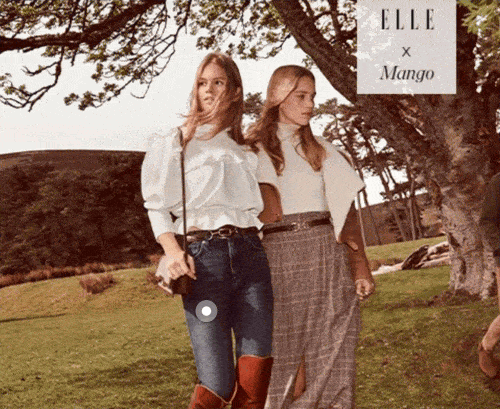 The pulsing spot makes it easy to tell where the clickable elements are and even draws the user to them.
On hover, you get a super convenient add to cart button that allows you to keep viewing the content if you're not ready to check out.
The image itself is compelling, suggesting motion and set in a real-life location. Which, if you'll remember our example from earlier, matches that example as well.
And the proof is telling: by implementing Spott's interactive tools, ELLE saw a more than 25% interaction increase on a product level, with conversion rates far above the industry average at 6.5%.
The story it tells is simple, but that's all that's necessary. You can let the user fill in the rest with their imagination.
Don't complicate things. When crafting shoppable content, think about how you can express your brand visually.
Think about the feelings attached to your brand identity and communicate that through imagery with your products.
If your brand sells bath products, use an image of your atypical customer relaxing in the bath with a glass of wine at the end of a long day.
That image communicates relaxation, peace, and rejuvenation.
Then, sneakily place 2-3 of your products around the bath and add your clickable elements.
That's a whole lot better than an image of a collection of bath products just sitting on a counter.
Both images have your products. One is bland and uninteresting. The other tells a compelling story that speaks directly to your target audience.
The difference between those two is engagement and conversions.
2. Pottery Barn – #MYPBTEEN
This next example from Pottery Barn sees us turn away from fashion and into the home furnishing industry.
As part of their #MYPBTEEN kids line launch, they used shoppable images like the ones below on their blog: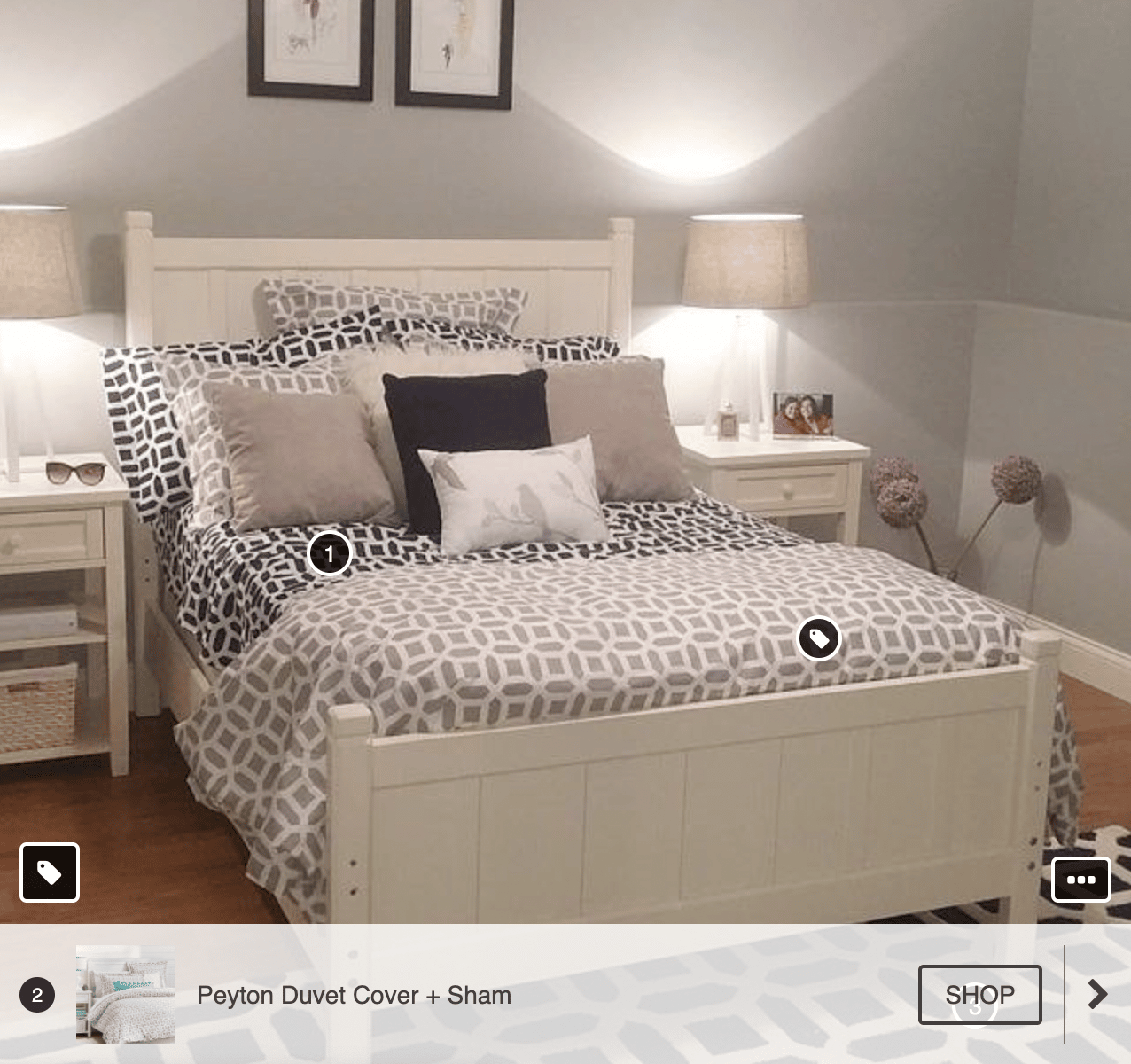 The result?
According to Retail Touchpoints, they received a 110% higher clickthrough rate than the industry average.
This example is straightforward but shows how you can mix different interactive elements together at once, from radio buttons to bottom or side menus with a list of the products that appear on the image.
3. Tapestry Girls – Shoppable Pinterest pins
Pinterest is known for investing heavily in making it as easy as possible for their users to shop right from their platform itself.
In fact, they were one of the first to invest in shoppable content on a large scale.
Here's an example from Tapestry Girls: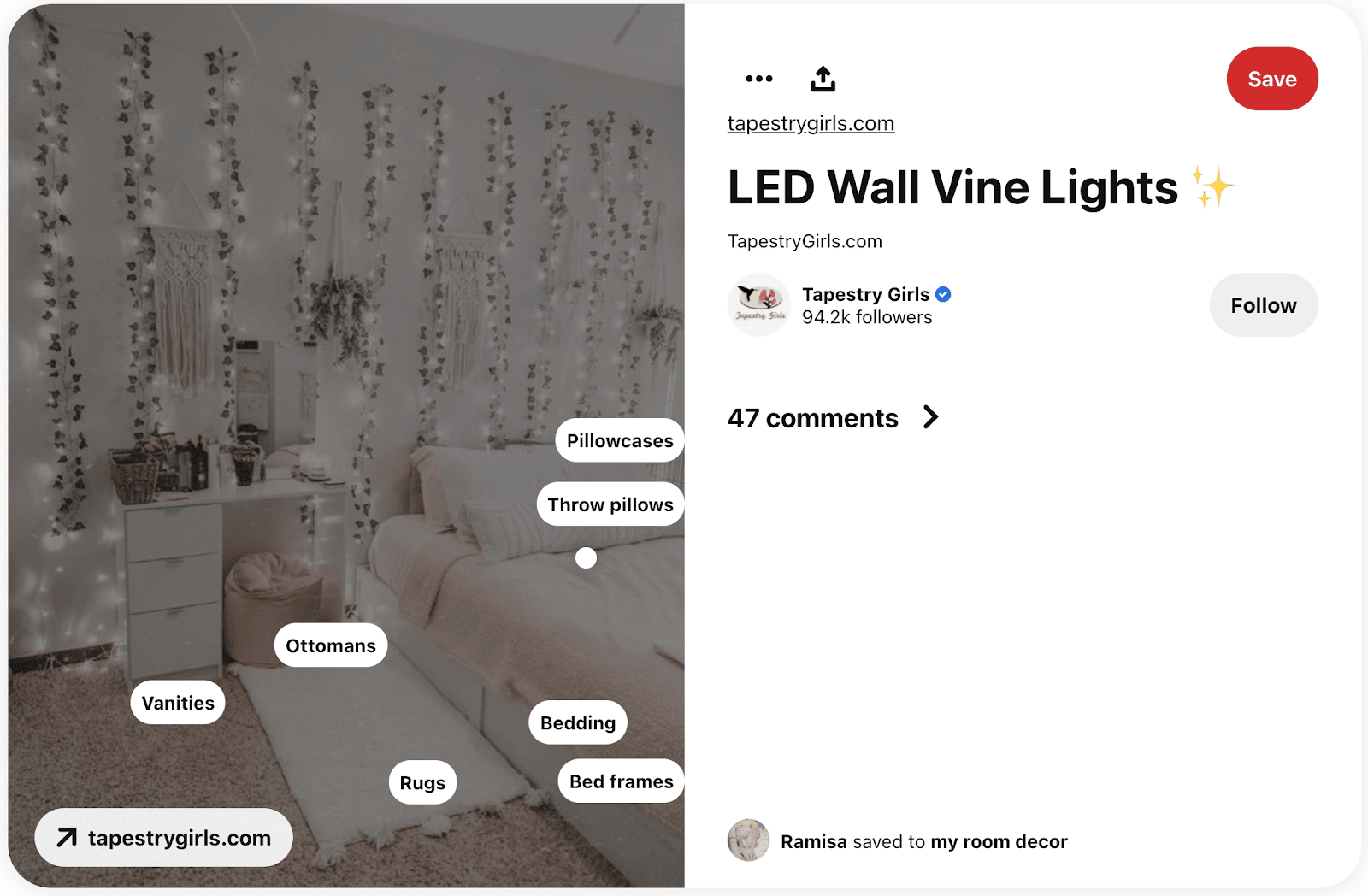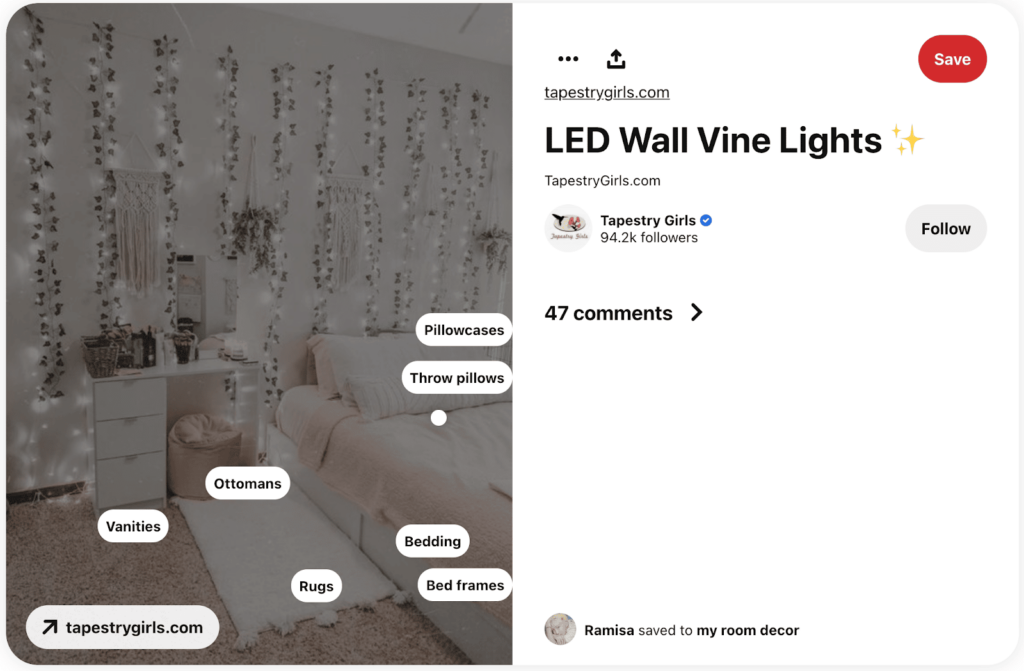 In this example, the radio buttons are clearly labeled, though they take up noticeably more space.
You might feel that these obstruct the viewing experience and prefer the spot style, but that's up to you.
The point is that they're another useful style you can implement, particularly if you're posting to Pinterest and want a way to make your content more shoppable.
4. Almay – Shoppable Instagram posts
Our last example is where you're most likely to see shoppable content these days.
This example is from makeup brand Almay via Instagram: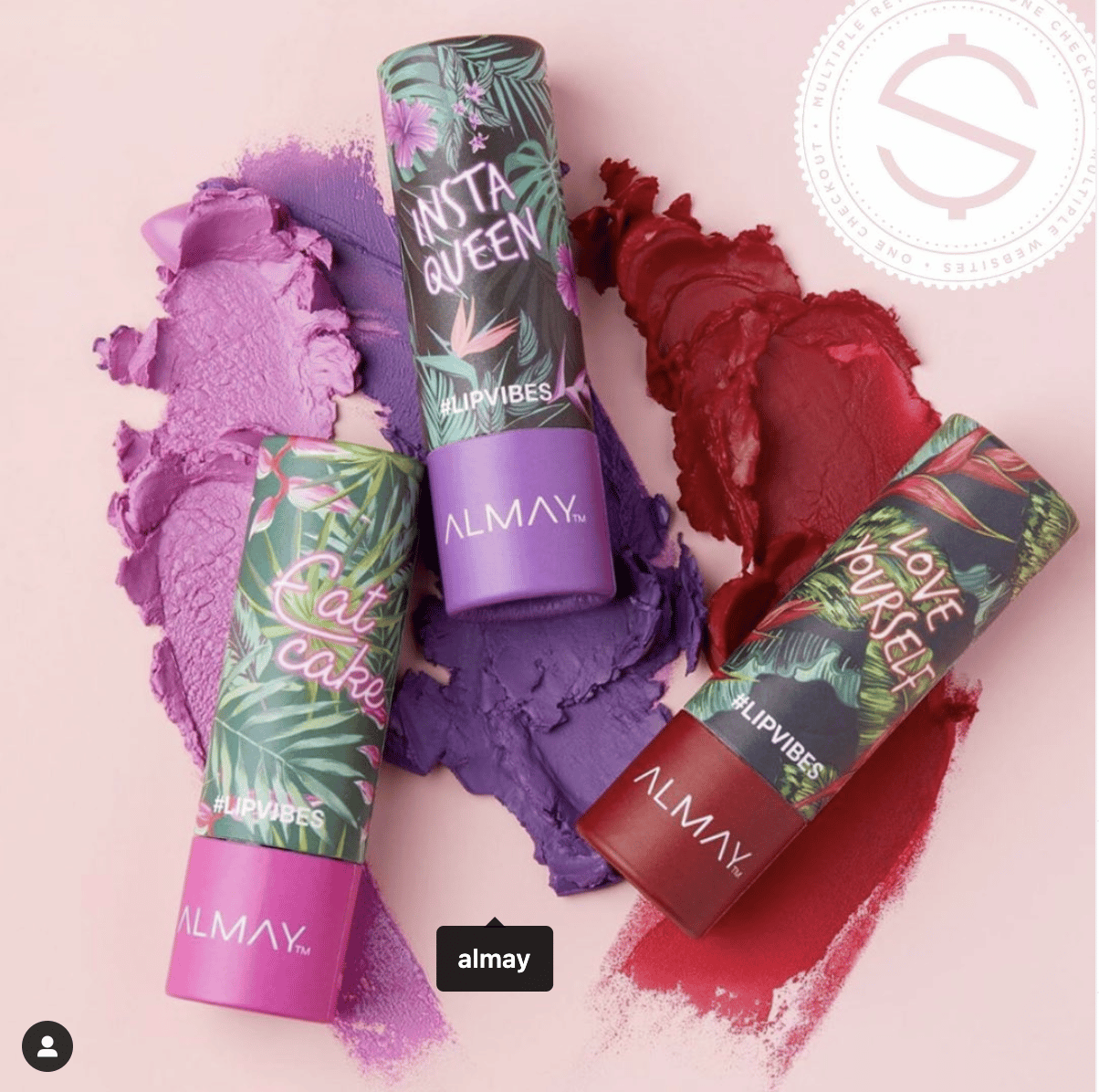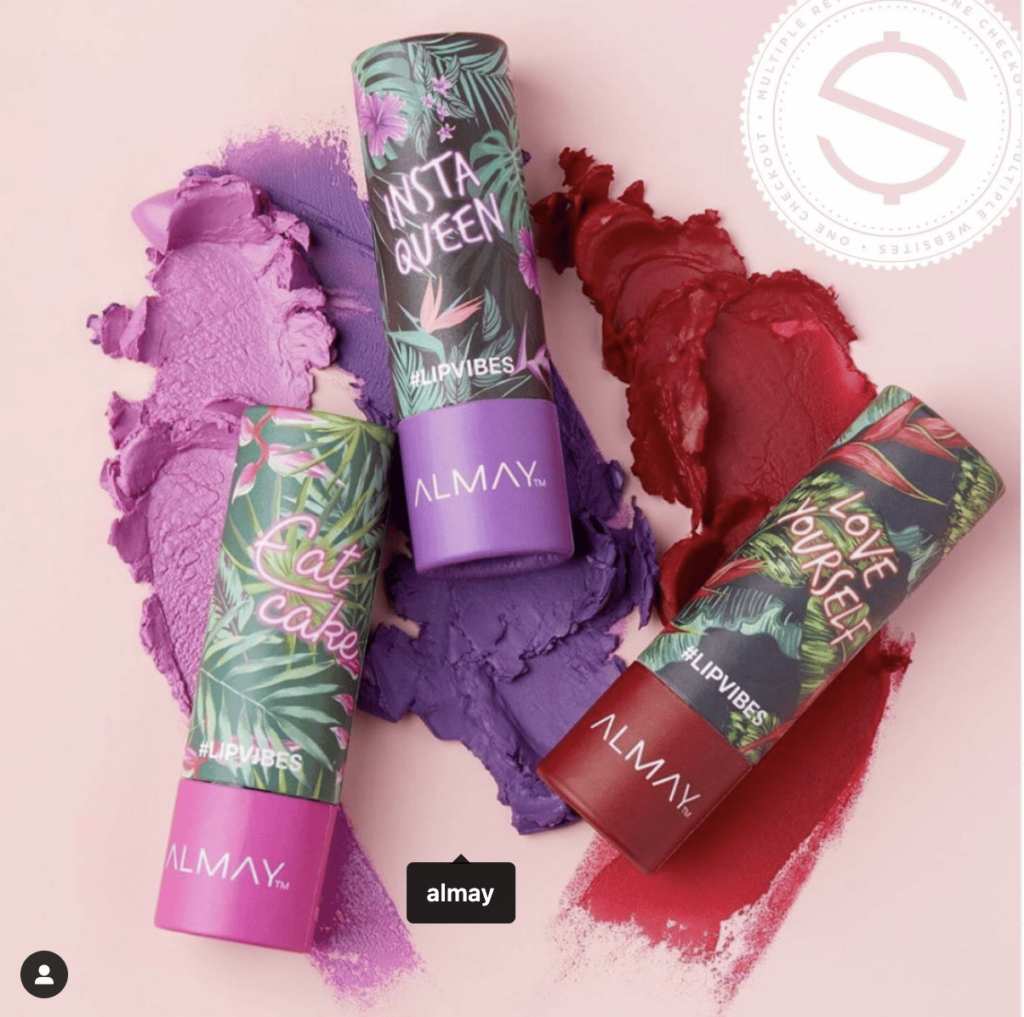 This example is pretty similar to Pinterest, but it's a great example for one reason: visuals.
Remember how we talked earlier about not just dropping your products on a counter and taking a picture?
This example isn't quite as compelling as the earlier ones, but it does something really well: it shows how you can make a simple product image compelling.
By getting creative, Almay took a basic product image and made it eye-catching and incredibly pleasing to look at.
The brand message is clear without even saying a word: we're bold, exciting, and unique.
That combined with the great product design allows this shoppable image to stand on its own in a unique way.
Create your own awesome shoppable images
By now, you've learned several tips for creating and elevating your shoppable content.
Plus, we covered 4 diverse examples that further illustrated how you can craft great shoppable images.
If you're wondering now how to execute on the technical side, we have you covered.
With Spott's interactive content tools, you can create shoppable images and videos in a matter of minutes.
You can even upload your existing product database to pull from with the click of a button, bringing your media and catalog together simply and easily.
And the best part is, you can get started for free.
Try Spott out for free and create your first shoppable content in minutes.