Below, we've organized the best interactive video software for 2021.
Under each platform, you'll see:
A summary of that software and its notable strengths
Feature list
And pricing model
So, let's dive in.
1. Spott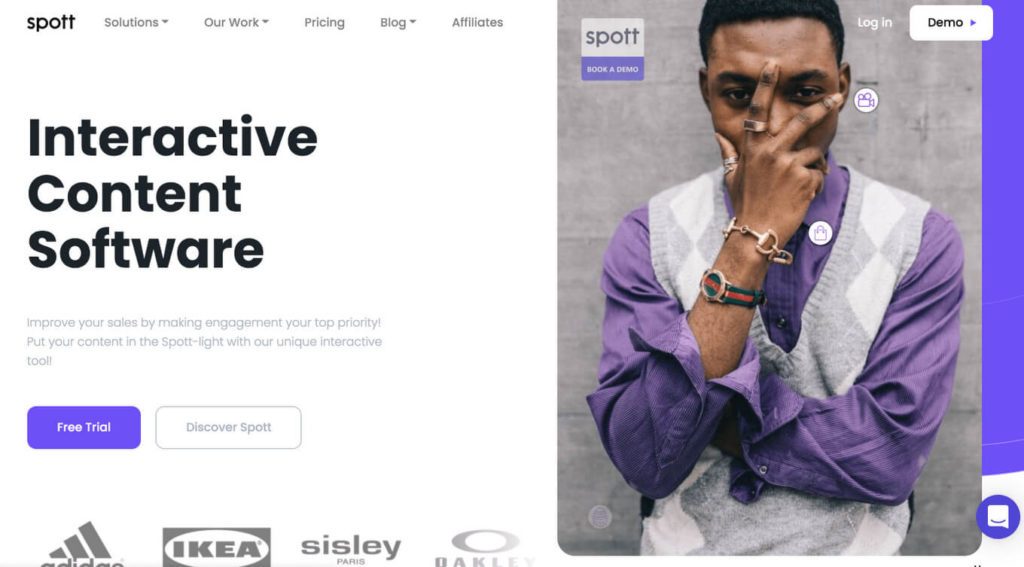 Spott is a comprehensive interactive content software that allows you to create both interactive images and video with ease.
With Spott's unique interactive software features, you have the ability to skyrocket engagement and double or even triple your conversion rates.
With Spott, you can:
Add tags to elements within your videos, such as an add to cart button for your products right as they appear
Drop in prompts such as a buy now or subscribe button at any point in your video for optimal response
Include clickable sections in your video's timeline so your prospects can get to what they want when they want, improving engagement and conversion
Add auto-optimization based on multiple languages and pricing fluctuations
Link your entire product feed for easy access
Publish on multiple platforms
Fully customize your viewer's experience from beginning to end with user-friendly tools
And more
Spott pricing
Spott has a 14-day free trial, so you can try the full suite of awesome features out for free.
After fourteen days, choose one of Spott's flexible and fair pricing plans based strictly on interactions, starting at €49.99 ($60.68 USD) for 500 interactions, not a flat monthly fee.
Don't use all of your interactions? Your unused interactions carry over to the next month; no waste, no harm.
Ready to boost your engagement and double to triple your conversion rates? Bring interactivity to your ad campaigns and creative with Spott's easy to use interactive video platform.
Check out Spott free for 14 days.
2. TouchCast Studio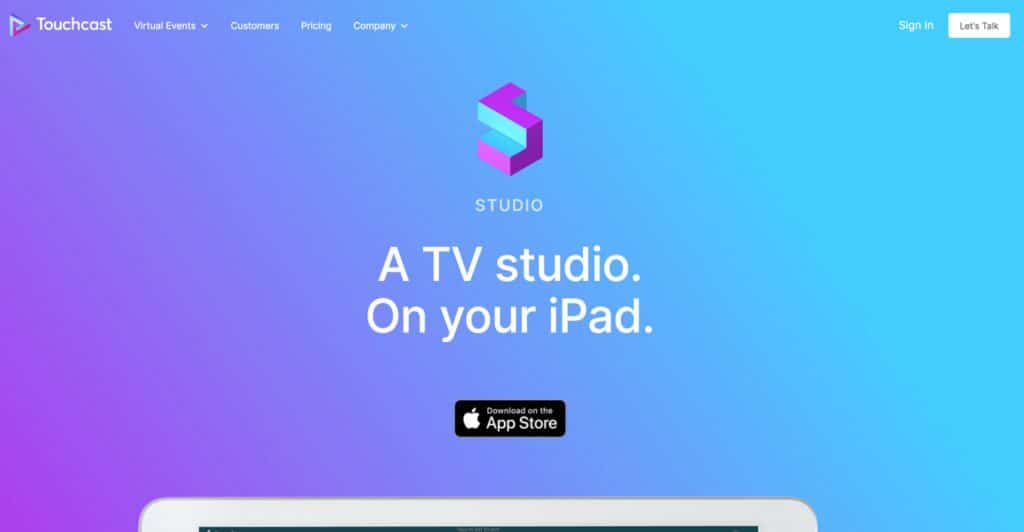 TouchCast Studio is a comprehensive video platform with some interactive features such as embedding. It even offers live video functionality, something almost no video platform offers. 
It has one of the most comprehensive sets of features of any video software period, though it's geared more towards live event and studio production than interactive video, and it comes at a very hefty price.
In addition, it doesn't have some of the more advanced interactive video features of other platforms on this list such as hotspots/tagging.
Features include:
PDF/link embedding
Live video
Captions
Analytics
Performance insights
TouchCast Studio pricing
TouchCast Studio doesn't list its exact pricing tiers online, though it does mention that all pricing plans start at $50,000 annually, making it the priciest option on this list.
3. HapYak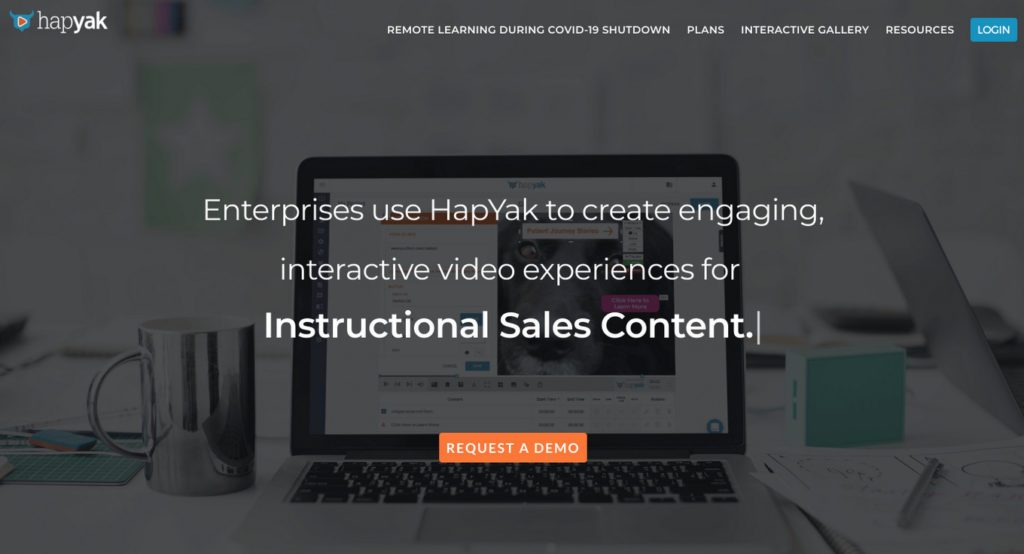 HapYak is an interactive video platform geared towards enterprises who want a tool to level up their instructional sales content.
They offer the ability to add links, add to cart functionality, quizzes, and more. Their analytics features are particularly strong, though they lack some of the more robust interactive features outside of those used in instructional content.
Features include:
Clickable links
Add to cart buttons
Quizzes
Robust analytics
HapYak pricing
HapYak doesn't list its pricing online, so you'll need to use their contact form to get in touch with sales to find out your price.
4. Rapt Composer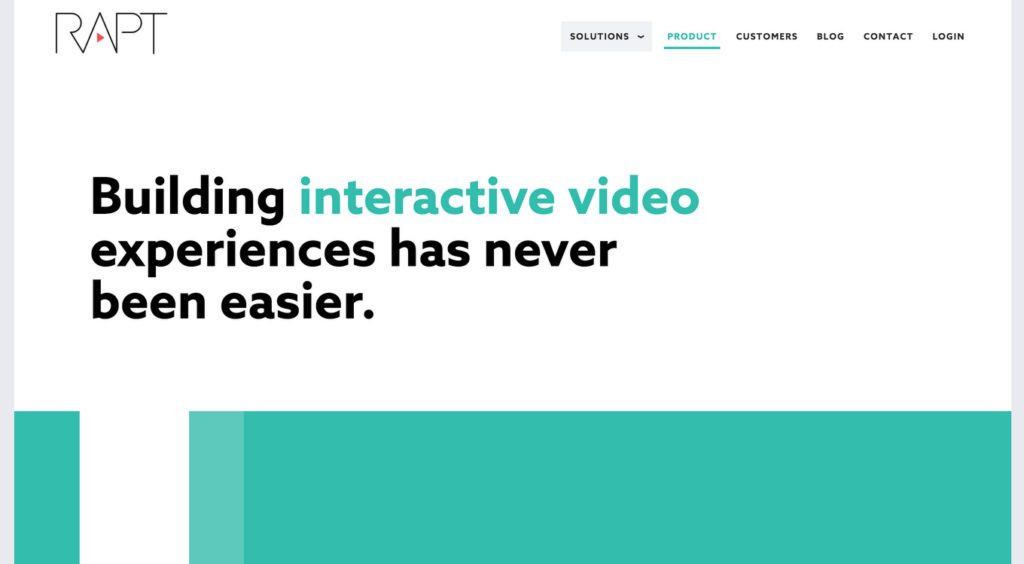 Rapt is a cloud-based interactive video platform that offers features such as clickable elements and branching.
They have a large number of integrations and interactive features, though their platform isn't the most intuitive.
Features include:
Embedding
Clickable CTAs and linking
Captions
Large number of integrations
Analytics
Rapt pricing
Rapt doesn't list its pricing online, so you'll need to contact their sales team to find out more.
5. Adventr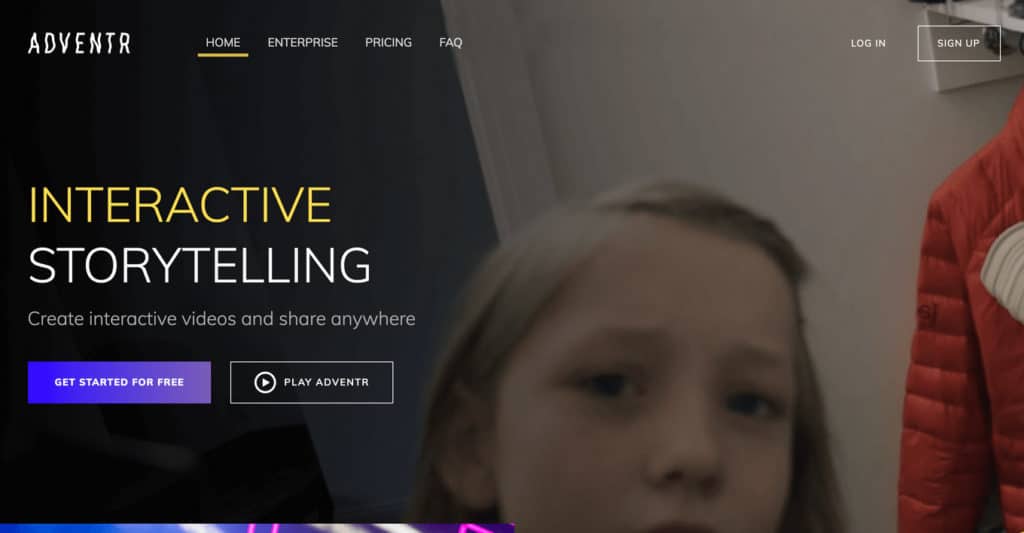 Adventr is an interactive video software that specializes in storytelling features such as branching, that allows for "choose your own adventure" style experiences.
Their feature set is limited to its focus, though it balances this by being one of the more affordable options on this list.
Features include:
Branching
Drag-and-drop functionality
Posting to social
Built-in analytics
Adventr pricing
Adventr offers several pricing tiers, with its basic free Creative tier being up to 10 minutes of video and 2 projects per month.
Their basic paid Pro tier is $39 per month for up to 60 minutes for 4 projects per month while their Business plan is $129 per month for up to 5 hours of video and 10 projects.
6. Vizia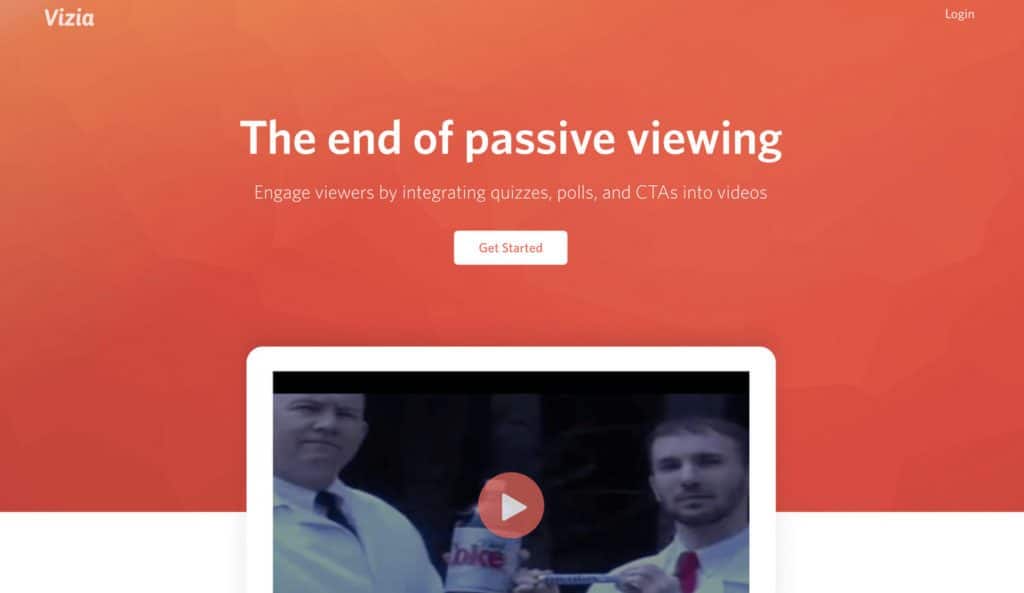 Vizia is arguably the most basic tool on this list, though it balances that by being completely free.
The software offers clickable CTA features as well as integrated quizzes and polls. It's geared more towards knowledge or education-based content, so if that's your niche, it's worth checking out.
Features include:
Simple, easy to use interface
Clickable CTAs
Interactive quizzes
Polls
Vizia pricing
Vizia only offers one version of its software, which is 100% free.
7. Verse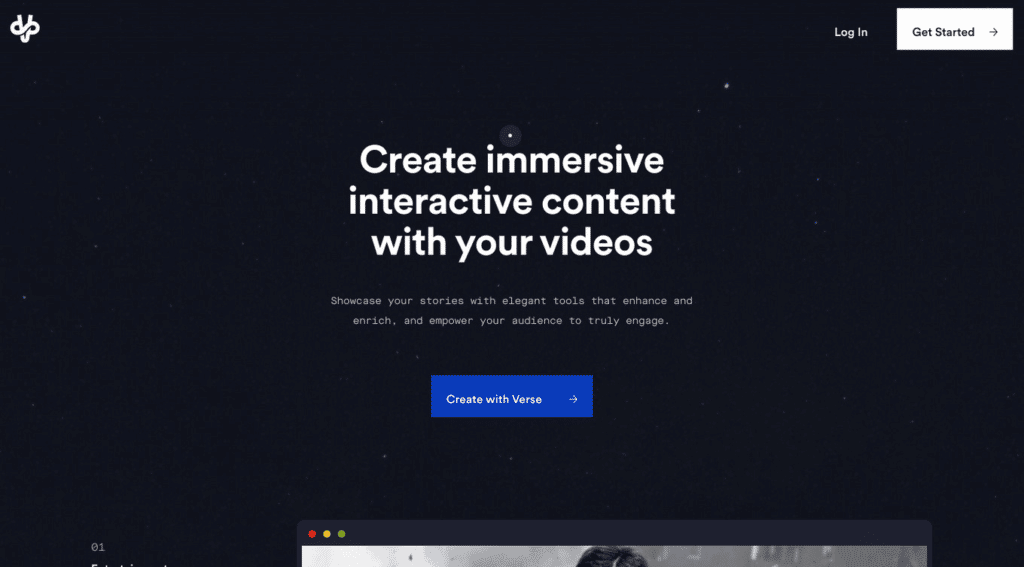 Verse is a complete interactive video software with a well-rounded set of features, including a unique Q&A feature.
One of the most well-rounded platforms on this list, Verse is a good choice for a variety of features but the pricing model might not be for some.
Features include:
Clickable tags
Branching
Slideshows
Chapter/clickable timelines
Interactive Q&A
Verse pricing
Verse's basic Personal tier is just $100 per month, but it comes with certain limits that will be a no-go for most brands such as no commercial content allowed, no analytics integrations, and just 60 minutes of video uploaded per month.
Their higher tier Professional plan is $1,000 per month and removes much of the limits put on the Personal plan for a steep increase in price.
8. Vidzor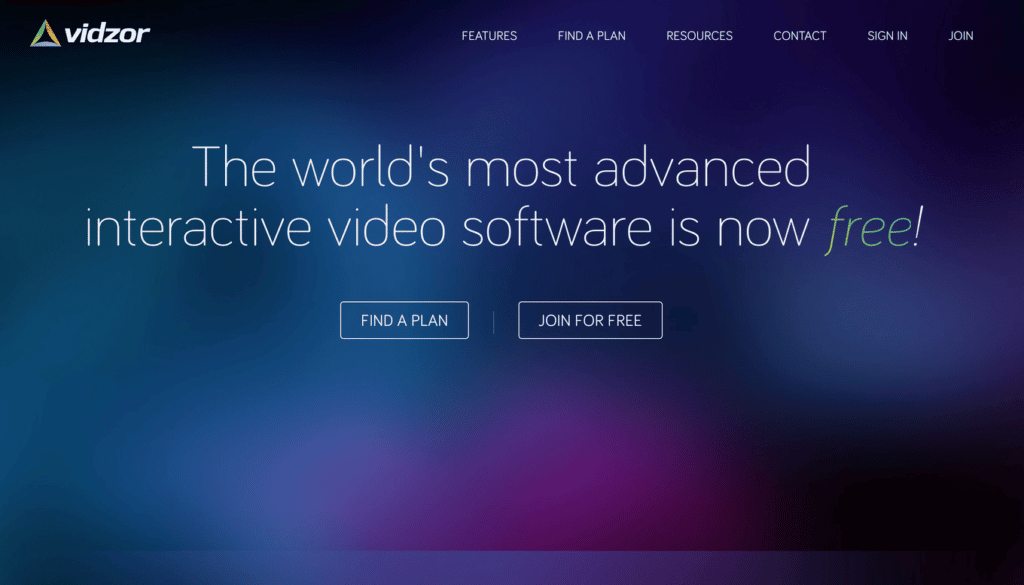 Vidzor is a robust interactive video platform with everything from hotspots to branching.
It's one of a few options that offer a free plan on this list, though it trades a larger feature list compared to the other free options with in-video ads and Vidzor logo watermarking which can be a big no-go for many.
Features include:
Clickable tags
Branching
Wide range of publishing options
Free option with ads
Vidzor pricing
Vidzor offers a limited free plan with pre-roll ads and Vidzor watermarking. If you upgrade to their $50 monthly Plus plan (billed annually), you get an ad-free experience while with their $99 Pro plan you can get ad-free and logo-free.
9. Eko Studio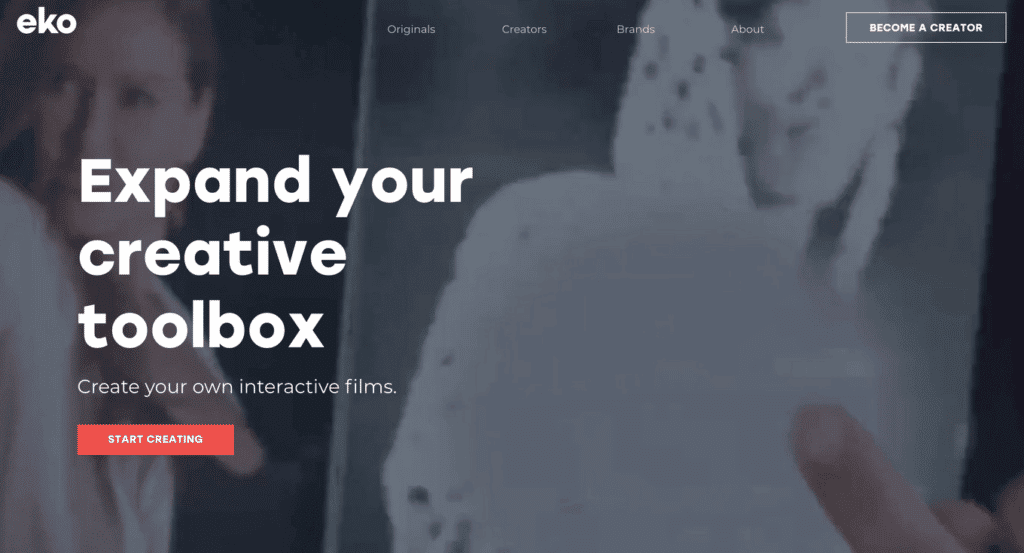 Eko is a video tech company that offers Eko Studio, an interactive video platform.
Eko Studio is most similar to Adventr in its offering of branching interactive video features. Their feature set is very limited, though their platform is free and a decent choice if you're looking for that specific feature.
Features include:
Branching
Intuitive interface
Good for music videos and other entertainment-based content
Eko pricing
Eko is 100% free to use.
10. HiHaHo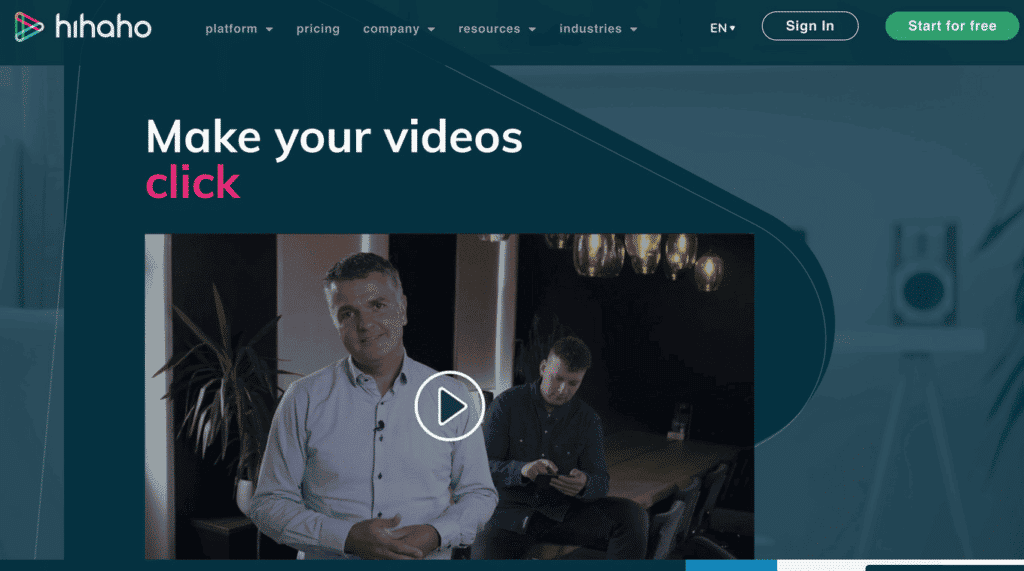 HiHaHo is an interactive video editor geared specifically towards e-learning and training content.
With it, you can add quizzes, clickable links, and integrations to many common education platforms.
Its feature set is limited to education-based content as mentioned so, it's a great fit if that's what you're looking for, but not if you're creating product or service-based marketing content.
Features include:
Quizzes
Clickable links
Integrations with most e-learning platforms
Multi-language support
HiHaHo pricing
HiHaHo uses a unique per-video pricing model which can be affordable if you only need a video or two per month, but expensive if you need a regular or high-volume solution.
Their basic plan is €97 ($116.88) per video, with the next bundle of 5 videos after that €435 ($524.13 USD), though it includes HiHaHo branding on each video and doesn't offer share statistics.
With their Professional plan, you get personal branding, share statistics, and more for €197 ($237.37 USD) per video.
11. Engajer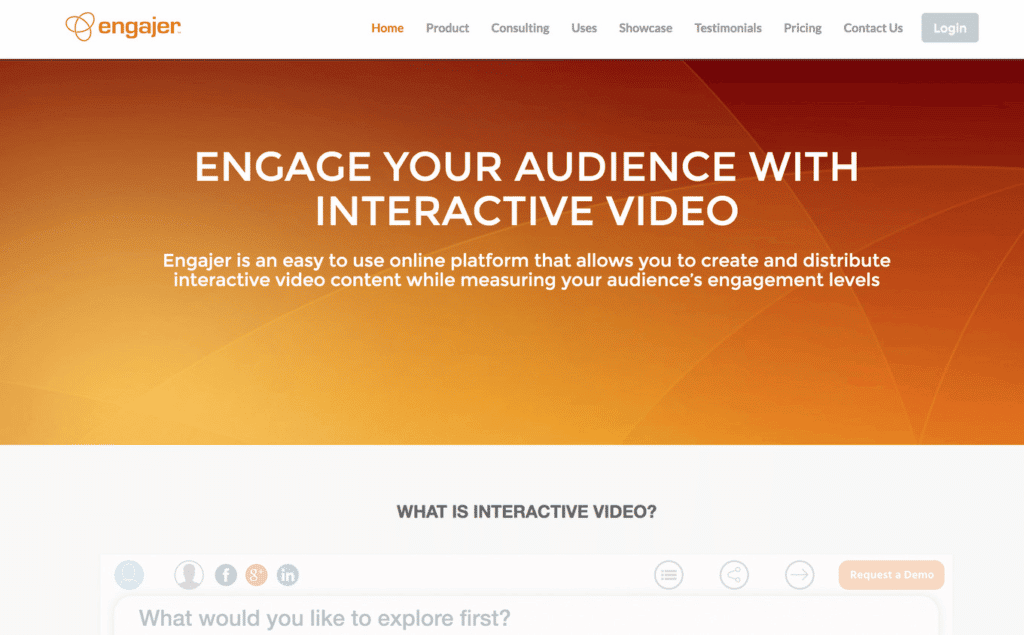 Like several tools on this list, Engajer is an interactive video platform that offers branching choose-your-own-adventure style video tech, though it doesn't offer any other interactive video features.
They have great sharing and integration tools, however, which makes it a decent option if you're looking for an interactive storytelling tool.
Features include:
Branching
Large number of integrations
Good sharing tools
Engajer pricing
Engajer works off of a per video, per month model with their basic Plus tier being $49 per month USD for 1 video. Their higher tier Premium is $150 per month USD for 3 videos.
12. Wootag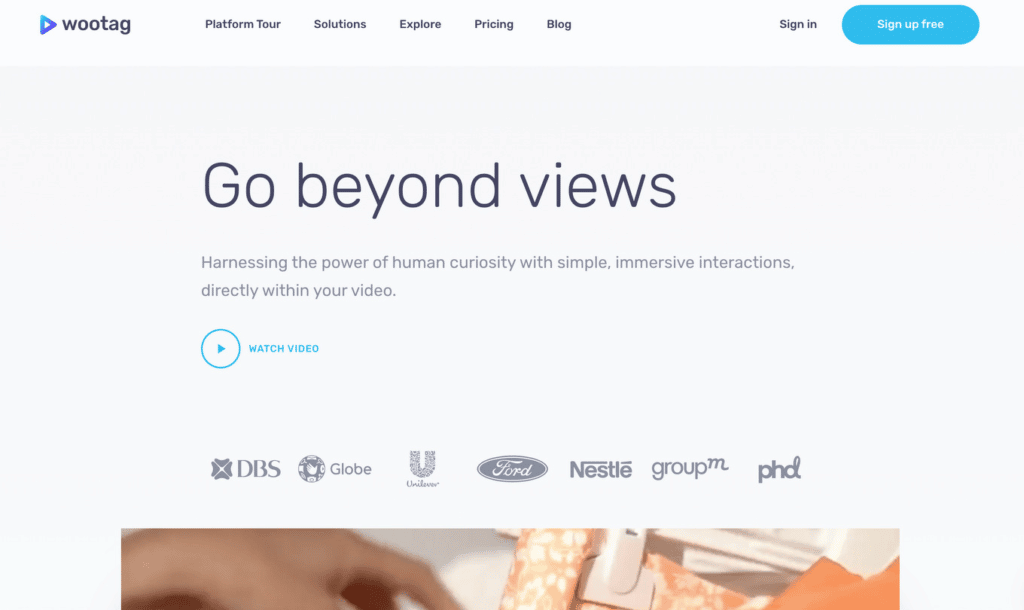 Wootag is an interactive video tool built for ecommerce. They offer features such as clickable tags and conversion tracking to make quantifying engagement easy.
They don't offer other interactive features such as branching, so depending on what you're looking for, they may or may not be a good fit.
Features include:
Clickable tags and other interactive elements
Tracking and analytics
Drag-and-drop functionality
Easy social publishing
Wootag pricing
Wootag has a free tier up to 5 videos, with their Business Plan being $99 per month for unlimited videos.
13. Wirewax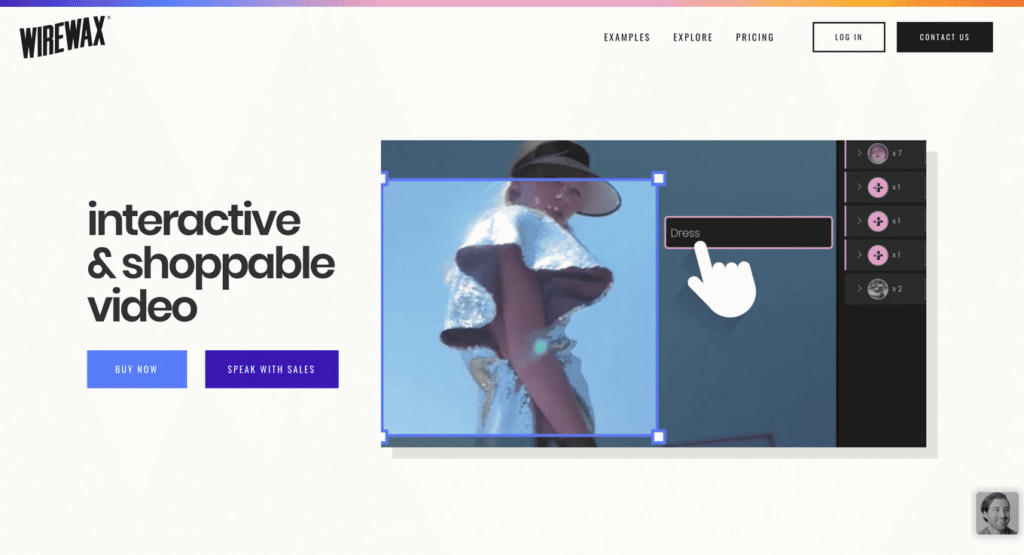 Wirewax is an interactive video software that offers a variety of interactive features such as branching and hotspots/clickable tags.
Their 360-degree experiences are unique, though their basic pricing tier is a bit limiting and their enterprise pricing is less transparent.
Features include:
Clickable tags
Branching
360-degree video
Embedding
Wirewax pricing
Wirewax offers a basic tier for $1099 annually that offers only their core features for a single user, though brands will likely need their Enterprise offering. They don't list pricing for this online, so you'll need to contact them directly to find out more.
14. Smartzer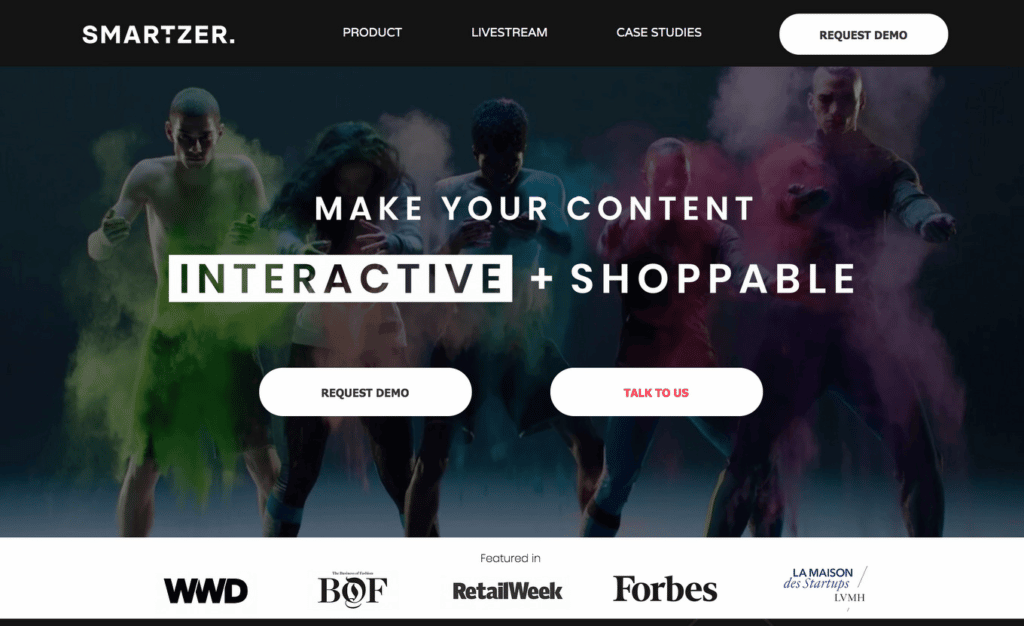 Smartzer is an interactive video platform that specializes in offering interactive tagging features through hotspots.
It has an intuitive interface that's easy to use and great geo-targeting features such as multi-language functionality, though they only offer enterprise pricing and have a somewhat limited list of features.
Features include:
Clickable hotspots
Clickable livestreaming
Multi-language and multi-currency
Analytics
Smartzer pricing
Smartzer doesn't list its pricing online, so you'll need to schedule a demo to learn more.
15. Wyzowl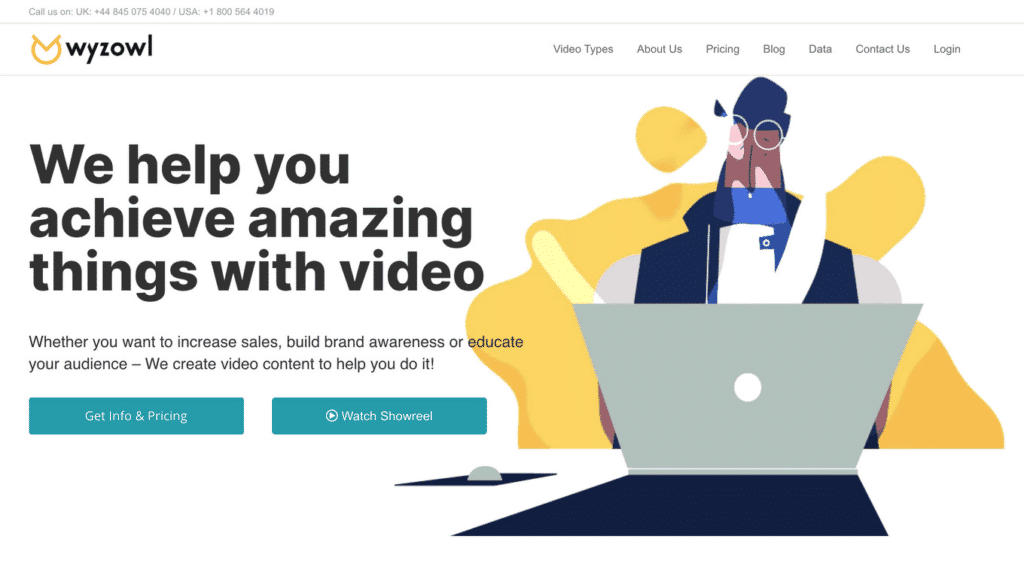 Wyzowl is different from the other options on this list as they take care of most of the heavy lifting, though their analytics platform makes this a sort of half-service and half-platform hybrid.
Because of its structure, you don't have internal control over creating the interactive content yourself, though you get the benefit of handing the creation aspect off to professionals.
Features include:
Video creation by professionals
Robust analytics platform
Wyzowl pricing
Wyzowl doesn't list its pricing publically, so you'll need to use their request form to find out how much your individual project will cost. When requesting pricing, you'll need to select "Interactive video".
Level up your marketing efforts with interactive video software
In an increasingly consumer-controlled market, it's vital that you give your prospects and customers the interactivity they desire.
With interactive video software, you can implement interactive elements to your ad and native content marketing campaigns that skyrocket your engagement and double, or even triple, your conversion rates.
If all this sounds good but you just don't think you or your team has the time to implement it, let Spott help.
With Spott, you get a comprehensive tool that allows you to make your video and images interactive and engaging in an easy to use package.
Simply upload your product feed, select the feature you'd like to add and where you'd like to add it, and attach an asset such as a product or page link, and you're done.
Don't believe us?
Try Spott's full suite of features free for 14 days and give it a go.
After 14 days, choose one of Spott's flexible pricing plans based only on the number of actual interactions you generate. That's just how confident we are that Spott will work for you.
Competition is tough, and consumers demanding. Stay ahead of the curve with the latest interactive video technology using Spott's interactive video features.