How to create Shoppable Blog Content: tips and best practices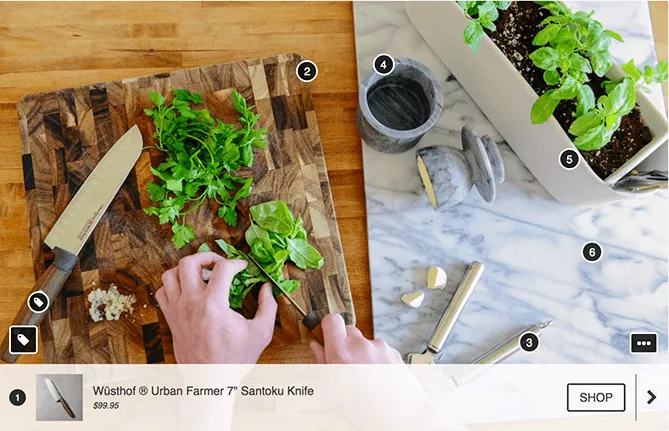 Blogs are the perfect arena for shoppable content, and shoppable content the perfect tool to monetize any ecommerce blog. While combining this info shoppable blogs can be very usefull!
It's no secret that content sells, whether that be images or video.
High-quality content that displays or showcases your product prominently is effective for generating sales.
But what happens when you're able to connect the two more concretely, literally allowing your prospects and customers to purchase
from the content itself.
That's shoppable blog content, and it's changing ecommerce the game forever.
Below, we'll dive deep into:
What shoppable blog content looks like

Show some great great-life examples, and

Explain how it actually works– and how you can make your own blog content shoppable in a matter of minutes.
Let's start by looking at the different types of shoppable blog content you can employ by exploring some real examples.
3 Types of shoppable blog content
Shoppable blog content is any blog content that allows users to purchase from within the content itself.
No more posting videos or imagery then linking to the products viewed in the description.
Now, you can provide links to product pages, catalogs, and even add to cart buttons right from within those videos and images.
So, let's look at the 3 main types of shoppable blog content.
Shoppable images typically employ shoppable tags and hotspots, which allow users to click on pre-determined areas of the image where your product appears.
If you sell office furniture, you can make it to where clicking on any of the hotspots opens up your newest catalog.
However, the most powerful version of this typically uses an add to cart button right from within the image.
Let's look at some examples to give you a better idea of how it works.
Crate & Barrel
masterfully employed interactive, shoppable images on its blog in recipe tutorials, including clickable hotspots to its own products: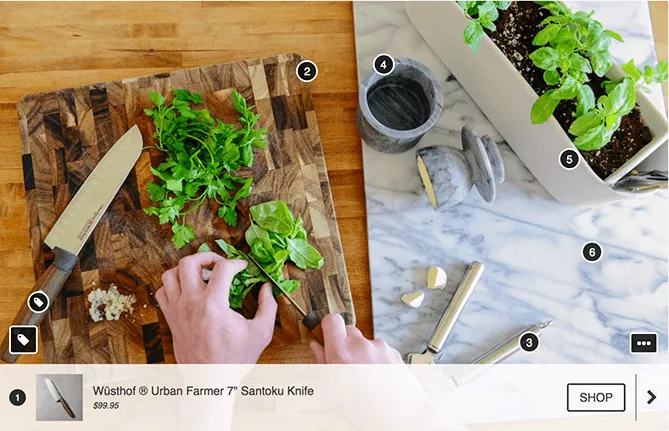 This timely and creative use of shoppable images means users are exposed to their products at the perfect moment, right when they'd be most interested.
Here's another example from ELLE's ELLE x Mango campaign:
Spott
worked with ELLE to implement shoppable images into their campaign, providing simple and easy ways to grab items from the collection right from within the content.
These hotspots aren't just a minor convenience, though. By implementing Spott's interactive layers, ELLE was able to increase interactions by 25% on a product level, with conversion rates far above the average at 6.5%.
Interactive images like these are effective at converting because they can remove entire steps from the buying process, often bypassing product pages entirely.
Which can be very useful for your shoppable blog too!
However, all interactive and shoppable content is great at that.
Let's look at another great example.
2. Shoppable UGC galleries
Shoppable UGC, or user-generated content, galleries take shoppable images to the next level.
They employ an added layer of interactivity, so we're separating them into their category.
A great example of a shoppable UGC gallery is
All Saint's
user-generated product galleries, which automatically pull images from social with a specific hashtag: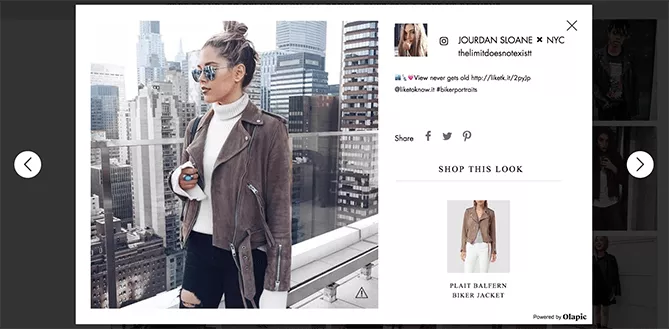 Real customer images serve the dual-use of being product images
and
social proof (i.e. endorsements) of their product.
Here's another example from jewelry retailer
Cluse
: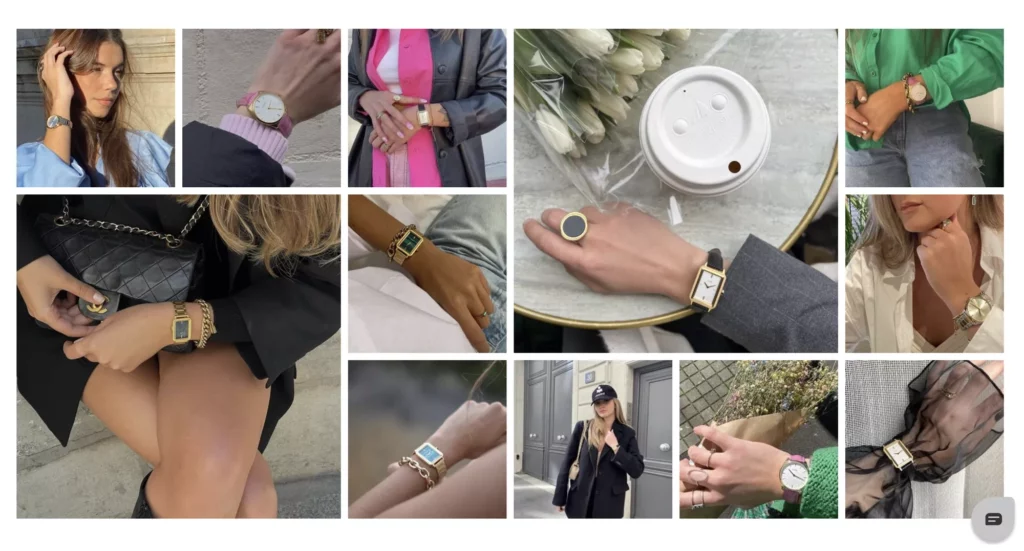 Each image in the gallery is automatically pulled from Instagram using their hashtag #CLUSE by real customer images.
Users can click on an image, which then automatically pulls up the related products shown in the image under a "Shop the Look" widget.
Each of these examples shows clearly why shoppable UGC galleries are so powerful: they combine the power of social proof with the engagement and conversion power of interactive, shoppable content.
Plus, you're making use of user pics, which means less work for you.
Shoppable video is the final type of shoppable blog content on our list, but don't think it's less important than the first two. 
In fact, it's the most powerful form of shoppable blog content of all, with the ability to drive more engagement and conversions than any static content can.
Take this example from Damart:
While watching, users could scroll through a sidebar that listed the products that currently appeared in that video, allowing them to view the details of the specific product.
If you want to learn more about how to create shoppable videos click
here
.
What do you need to get started with shoppable blog content?
So far, we've covered some amazing benefits of using shoppable blog content.
Making your blog shoppable, no matter what the interactive feature:
Increases engagement, and

Improves conversion rates
Can you think of two more important numbers than those? We can't.
However, the best part about shoppable content might not be either of those things.
Another huge benefit of shoppable or interactive content is that
you don't have to create new content
to take advantage of these kinds of interactive features.
That's right: you can use preexisting content to make your blog shoppable.
All those amazing photoshoots you've done with your products? Add hotspots tagging your products that allow users to go straight to the product page.
That video you did showing your product in action? Add a sidebar that allows viewers to see what products appear in the video as they appear.
Or, add those very same hotspots that are so effective at catching user's attention and allow them to add the product straight to their cart from the video.
So, the point is this: you don't need
anything
to create shoppable blog content but
the content you already have
.
Well, except for an interactive content platform…
Create you first piece of shoppable blog content with Spott
To create interactive content with Spott, you bring the content… we bring the easy-to-use platform.
Curious about learning more? Simply book a demo or try our interactive software for free below.